The venerable Wexford Festival's M.O. is rehabilitating forgotten operas from the past, and few are further beyond recollection than Camille Erlanger's competent potboiler, L'Aube rouge (The Red Dawn).
The libretto by Arthur Bernède and Paul de Choudons centers on Olga, daughter of the hated Russian Général Lovarov, who is in love with the anarchist student, Serge. Although Olga purports to want to join the group of rebels in St. Petersburg, she and Serge are actually from different political camps. Nonetheless, they decide to hope their intense love can surmount their ideological mismatch as they return to Moscow.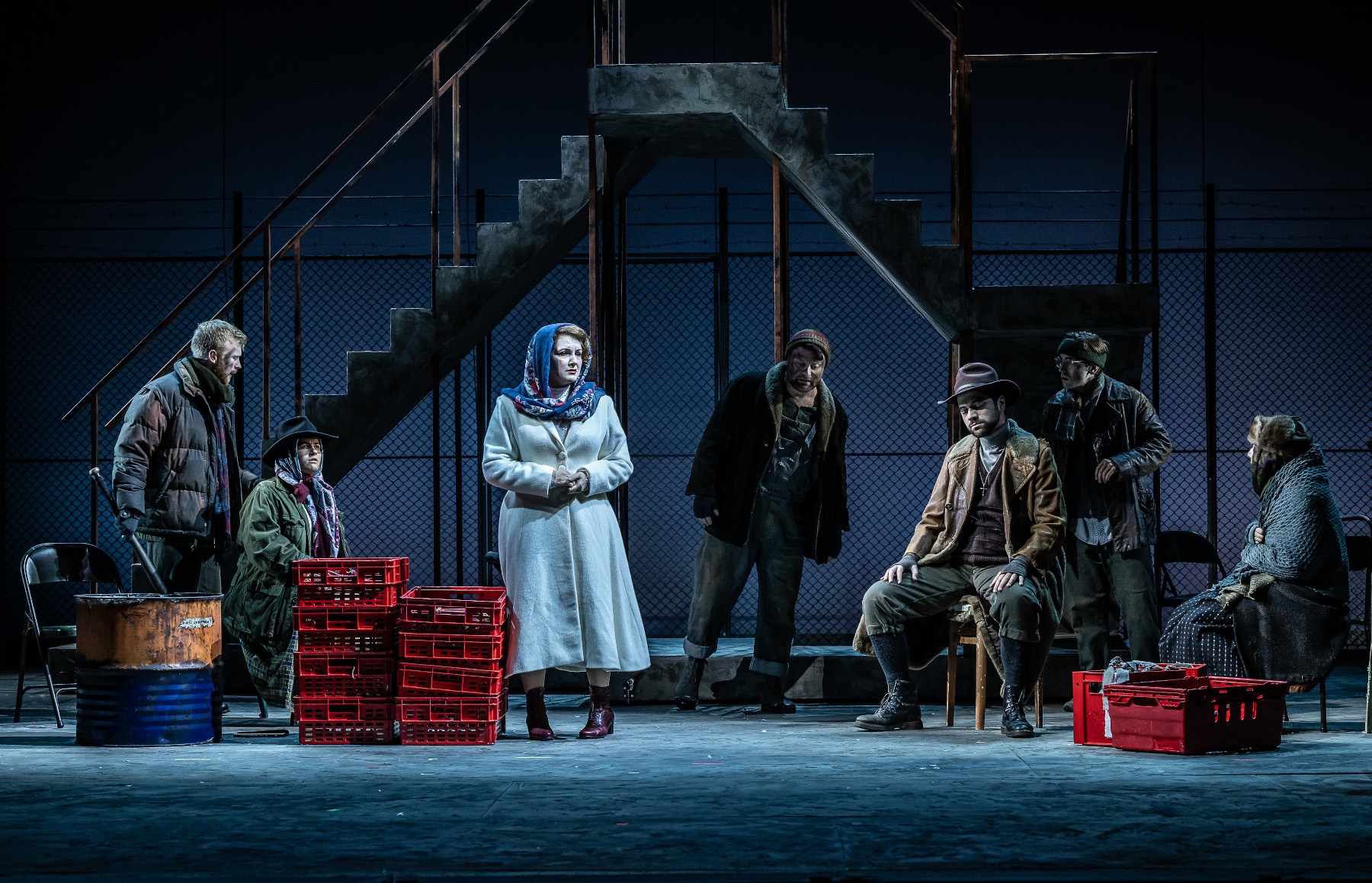 Fate has other plans in Act II. Olga, believing Serge dead, is about to wed physician Pierre de Ruys, to forge a political alliance between Russia and France. When Serge turns up very much alive, she jilts Pierre and the couple run off to Paris. As a group of ex-pats join the couple to reminisce about the homeland, comrade/dissident Vassili persuades Olga to draw names to determine who will right the course in Russia and assassinate Grand Duc Gregorieff. She draws Serge's name, who refuses, only to be shot by Vassili in retaliation.
The wounded Serge is rushed to the hospital where the attending surgeon is (wait for it), Olga's spurned fiancé, Pierre, who saves Serge's life after Olga pleads to the doctor's better angels. Serge and Olga return to Moscow with Serge now intent on completing the assassination of the Duc (unbeknownst to Olga) by a suicide bombing. Serge assures Olga of his undying love for her, but pretty promptly dies anyway in an off-stage explosion. Olga, realizing what has happened and mad with grief, dies of a broken heart.
There is no denying that even given the implicit implausibilities of that outline, there is potent operatic potential with its oversized emotions. While composer Erlanger had some success with his musical effects, the librettists did not prove up to the task of creating a cogent drama, often resorting to Hallmark Greetings sentiments, and failing to identify characters even adequately by name. If, after having read the plot synopsis in the program, you still aren't quite sure which of the many minor characters is which, the writers have fallen short.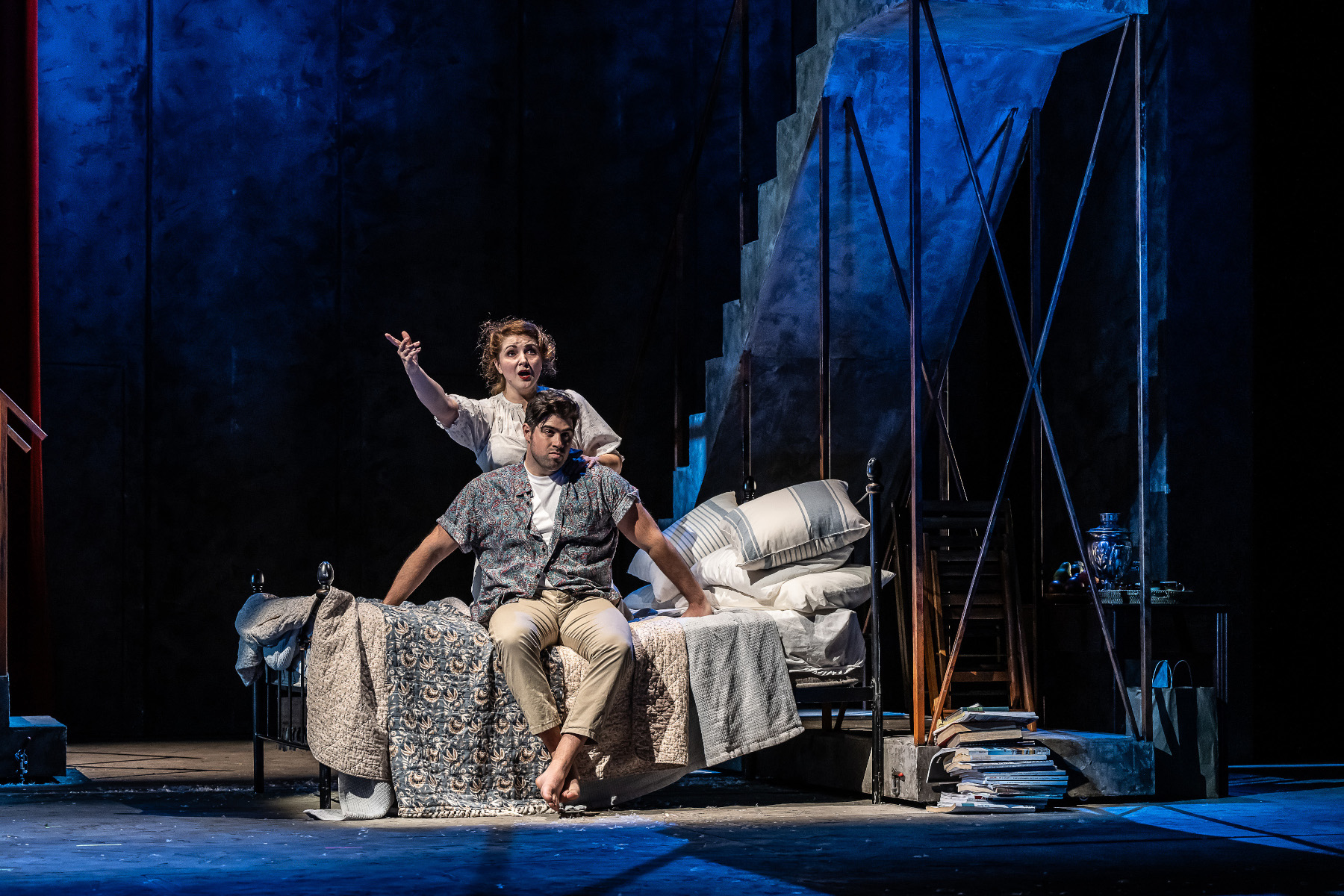 Happily, Mr. Erlanger has fashioned an aurally pleasing score that is one part Wagner, one part von Weber, with a hint of Puccini tossed in, featuring grateful vocal writing. While it all falls easily on the ear, its unchallenging, often generalized charms frequently fail to adequately stir the soul. Erlanger deploys recurring figures liked restless chromaticism, thumping doomsday rhythms, soaring sixths and octaves, and undulating minor and major seconds like the tried and true musical vocabulary they are.
There is no doubting the composer's skill, modest invention, and best intentions, and he does evoke some attractive approximations of Russian folk songs/dances. But in the end, the score is a pale comparison to the complex, richly detailed operas being created by the other contemporary composers of Erlanger's period (Strauss, Schoenberg, Puccini, Zemlinsky).
The artistic limitations of the material notwithstanding, the Wexford Festival mounted as compelling a staging of L'Aube rouge as is likely possible, starting with a satisfying cast of accomplished soloists.
As the doomed Olga, the attractive Franco-Romanian soprano Andreea Saore is decidedly a force to be reckoned with. Her ample, pointed tone fills the house with ease, and she commands a polished and impressive control throughout the range. She can pin your ears back one minute with searing high notes and draw you in with hushed introspection the next.
If Ms. Saore's assured musicianship is unerring, and her dramatic intentions are sound, it seemed that her emotional embodiment of the role was too often on the surface. That is partly a challenge of assuming a sometimes underwritten role with no performance history, coupled with not having had all that much time to let it mature in one's repertoire. That said, every instinct she followed was sound, and the audience received her rapturously for her efforts.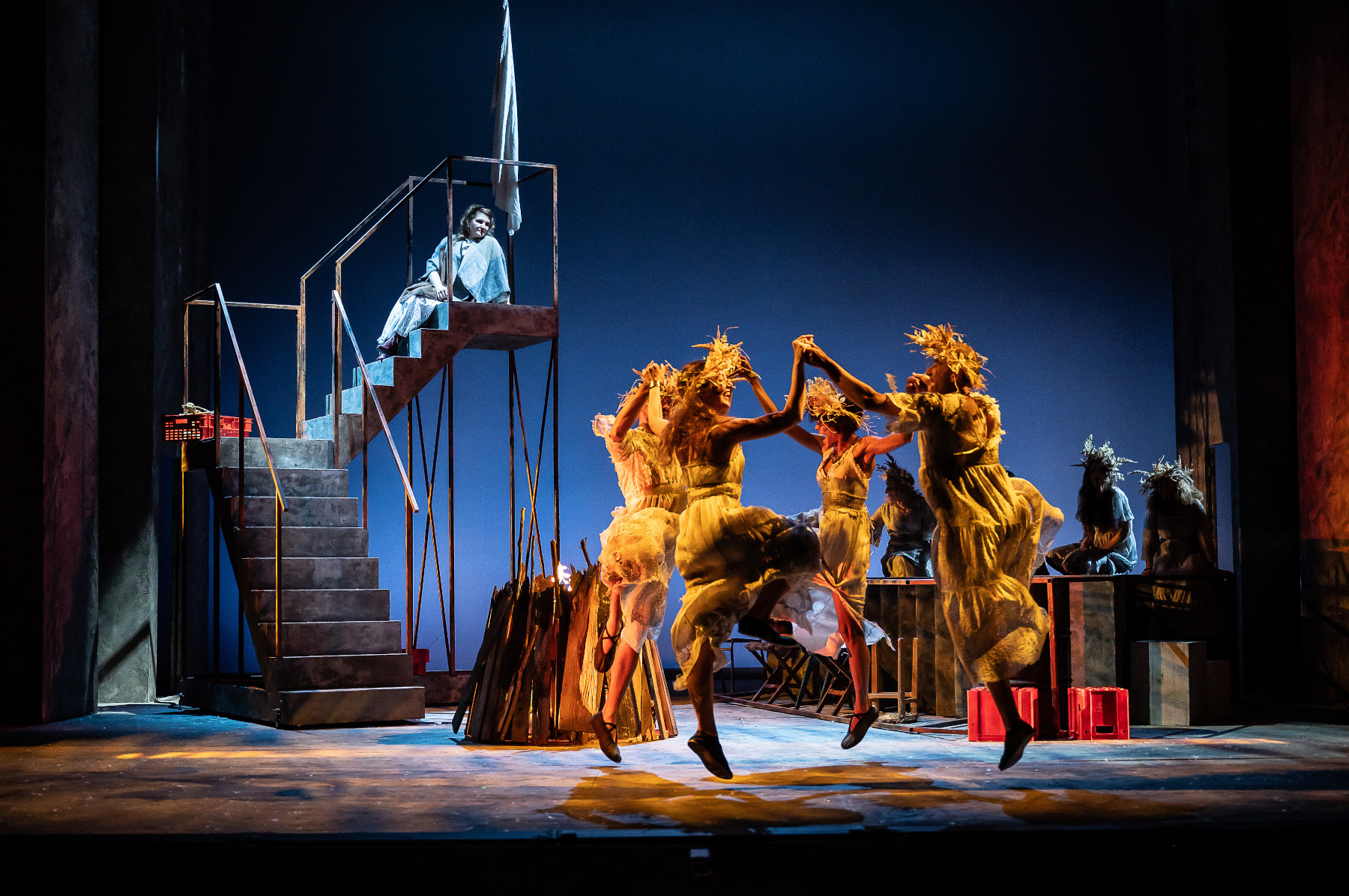 American tenor Andrew Morstein is equally assured/challenged in his role assumption as Serge. He has an appealing ping in his well-schooled, honeyed tenor, has good presence in every register, and he seems to really verge on virtuosic styling in the upper reaches. Being totally committed to intense dramatic vocal effects, Mr. Morstein tends to push held top notes as though he is a Cavaradossi who is really yet a Rinuccio, and force mid-register declamations causing his otherwise vibrant tone to harden. Still, he handily won over the appreciative crowd.
Phillipe Nicolas-Martin made a very persuasive impression as the doctor-left-in-the-lurch, Pierre de Ruys. Although the exposition of his role is seriously under-written, Mr. Nicolas-Martin seemed to ably fill in the blanks, his pliant, burnished baritone eliciting empathy, and ringing out with conviction, pain, and compassion. His was arguably the evening's most fully realized and beautifully vocalized performance.
Close behind, Giorgi Manoshvili's potent, generous, rolling bass commendably compensated for the undeveloped role of the friend-in-need, Kouraguine. Mr. Manoshvili's lanky presence and searing delivery were impactful indeed. In smaller cameos, Thomas Birch deployed a satisfying Heldentenor as Vassili; Domenica Williams' dusky mezzo made the most of her stage time as Olga's mother, the Comtesse; and Rory Musgrave's strapping baritone fleshed out the pronouncements of Le Grand Duc Gregorieff.
At first, I found Holly Piggott's set and costume design a bit slapdash with its minimal A-frame high staircases, its borrowed props look, and its mostly casual-grunge costuming, but it won me over as it unfolded. As the stairs were repositioned and the look was enhanced by a textured back wall, draping, and minimal but telling set pieces, it slowly evolved into an exceedingly well-considered concept. The hospital scene with its searing illuminated red cross was a visual highpoint.
Ms. Piggott was ably abetted by the effective lighting design from Daniele Naldi, who beautifully punctuated the dramatic beats, most especially with the stunning red wash, instantaneous with the detonation that kills Serge.
Ella Marchment has directed with a sure hand and has certainly succeeded in telling the story in a direct and uncomplicated manner. Ms. Marchment has done her level best to fill in some gaping holes in the dramaturgy by creating blocking and groupings that help define the relationships. Her stage pictures and variety of movement were most often solid assets, although sometimes the principles were more interested in playing to the balcony with semaphoric gestures than relating to each other.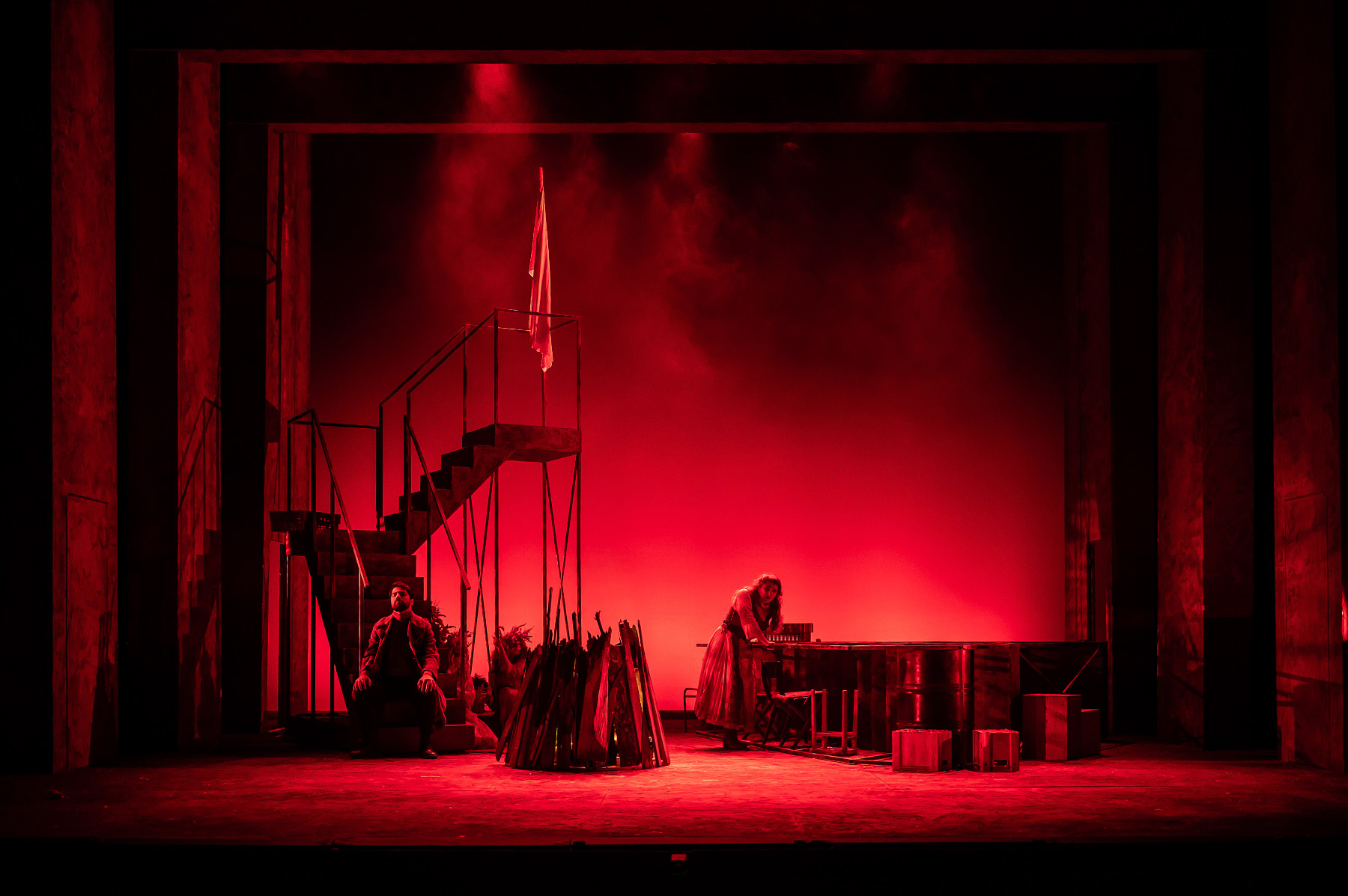 Although Olga and Serge were going through all the right motions, I wished the director had been able to elicit more palpable heat in their supposedly passionate relationship. This was evidenced by one very problematic positioning for me during the final, intense love duet before the lovers were fatally parted, which had the two far apart on the stage singing to us, when they should have been clinging tight and addressing each other.
However, I have to say that the hospital scene was sheer perfection. Composer and librettists had their best success in this pivotal act, and director Marchment and her cast leapt to the opportunity. Suddenly, everyone was connecting. Feelings were coming from the depths of the soul. Characters were really relating, and the pain, sacrifice, and yes, loving heartbreak spilled off the stage. Would that that intensity and honesty have permeated the entire performance.
Luisa Baldinetti's unique choreography did not always seem attuned to the piece, although it was marked by invention and fluidity. It was hard to square the repetitive simplicity of the musically/dramatically extraneous, over long Russian folk segments with the twitchy writhing of the paganistic ritual in the final act, but it was all done with complete dedication to the effect. I was under the impression that talented dancers were capable of far more than was required of them.
In the pit, Christophe Manien led an assured reading, and ably collaborated with his singers to make the most of the material at hand. There was fine orchestral ensemble work, lovely wind solos, and the concertmaster shone in evocative violin solos. If the overall musical impression was a bit generic, I don't fault Maestro Manien who wrung every last bit of variety and nuance out of this dusty curiosity.
When a piece like this has been in the trunk for so long, it is hard to know whether it still has legs except by performing it. Wexford Festival is to be highly commended for its decades long crusade championing lesser, or downright unknown works. In the case of L'Aube rouge, it is telling that in the company's online audio preview, the narrator/producer was unable to offer one single recorded excerpt from any opera by Camille Erlanger, having to settle for a bit of the composer's trumpet solo with piano. Makes you go: Hmmm.
Women & War is the theme for Festival 2023, the fruition of a long-held concept of Artistic Director Rosetta Cucchi, who is intrigued to delve into the implications of this theme in opera. Each of the chosen operas highlights a different aspect of the struggles faced by women: conflict, prejudice and in making their voices heard. Olga in L'Aube rouge is struggling to change a nihilistic partner.
In the two other Main Stage productions Zoraida in Gaetano Donizetti's Zoraida di Granata is in a political fight against her destiny; and Rosetta in Armand Trovajoli's La ciociarais fighting for survival for herself and daughter. These three operas are among other copious musical programming scheduled from 24 October to 5 November 2023.
James Sohre
---
L'Aube rouge
Music by Camille Erlanger
Libretto by Arthur Bernède and Paul de Choudons
Olga: Andreea Saore; Natacha/Soeur Therese: Emma Jüngling; La Comtesse/Soeur Marthe: Dominica Williams; Pierre de Ruys: Phillipe Nicolas-Martin; Vassili/Un Chanteur Napolitain: Thomas Birch; Dame 2: Leah Redmond; Dame 4: Judith Le Bruilly; Tatiana: Hannah O'Brien; Danilo: Rory Lynch; Une Autre Voix: Vladimir Sima; Serge: Andrew Morstein; Sonia: Eva Dodd; Kouraguine: Giorgi Manoshvili; Le Grand Duc Gregorieff: Rory Musgrave; Dame 1: Amy Hewitt; Dame 3: Corina Ignat; Le General Lovarof: Conor Baiano; Un Capitaine/Un Interne: Andrii Kharlamov; Yvan: Gabriel Seawright; Dancers: Andrea Bassi, Roberto Capone, Yaimara Gomez Fabre, Andrea Zanforlin; Conductor: Christophe Manien; Director: Ella Marchment; Set and Costume Design: Holly Piggott; Lighting Design: Daniele Naldi; Choreography: Luisa Baldinetti; Assistant Director: Eloise Lally
All photos by Clive Barda courtesy of Wexford Festival Opera.