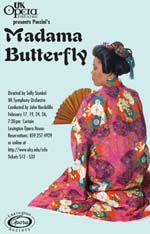 Singer found voice, home and wife in Lexington
By Rich Copley [Lexington Herald-Leader, 18 Feb 05]
Phumzile Sojola got the call less than 36 hours before the concert.
University of Kentucky alum Gregory Turay, who was set to be the featured soloist on the Lexington Philharmonic's Feb. 4 concert, was sick and might not be able to sing. The orchestra needed a tenor in the wings. OK, Sojola thought. He knew the scheduled arias.
Sojola put on his "church clothes" and went to the philharmonic's rehearsal.
"I go to sing the first aria, Questa o quella, the first aria from Rigoletto, and I thought it went well," he said. "That didn't feel so bad. Then we go to the second, La donna e mobile. It's harder. I'm like, 'Oh my God, this is hard.' All of a sudden, the pressure is getting to me. … I thought it was going really bad."
But he got encouragement from members of the orchestra and his voice teacher, Everett McCorvey. And the following night, when he did have to fill in for the ailing Turay on a portion of the program, Sojola turned in a crowd-pleasing performance that probably sold some tickets to the UK Opera Theatre's production of Madama Butterfly, which opened last night and continues through next weekend. Sojola plays the male lead, Pinkerton, in Saturday night's show.
Click here for remainder of article.