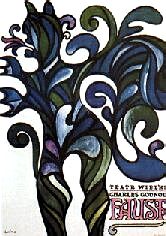 Jan Lenica: Faust (Gounod)
Cleveland Opera tweaks dark, lovely `Faust'
UA's Brian Johnson sings heavy role in tale of pact with the devil
By Elaine Guregian [Akron Beacon Journal, 14 Feb 05]
"Making a pact with the devil" is one of those expressions that have gotten diluted with overuse. Nobody really means it when they say it, unless maybe they happen to be talking about Charles Gounod's opera Faust, where the music is as transcendently lovely as the story line is dark.
But what if Gounod's Faust had, if not a happy ending, then one more like A Christmas Carol or It's a Wonderful Life or even that famous season of Dallas? Would it be a relief to turn back the scenes of the elderly Faust trying to regain his youth and in so doing, running roughshod over the life of an innocent young woman?
Click here for remainder of article.