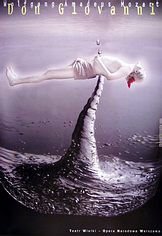 Ryszard Horowitz: Don Giovanni
A 'Don Giovanni' to fall for
BY MARION LIGNANA ROSENBERG [Newsday, 1 Apr 05]
Bleak but uproarious, bawdy but singed with hellfire, Mozart's opera "Don Giovanni" is just as elusive as its title character. Philosopher Søren Kierkegaard identified Don Giovanni with music and desire: "a force, a wind, impatience, passion," forever ungraspable.
Click here for remainder of article.
Click here for additional commentary by the article's author.