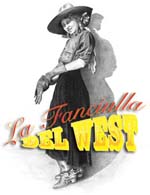 Nuggets of True Romance, With Weepy Gold Miners Singing in Italian
By ANNE MIDGETTE [NY Time 3 Apr 05]
Conventional wisdom has it that Puccini's operatic tale of the wild West, "La Fanciulla del West," is too melodramatic to be fully credible – a reason it hasn't joined his "Tosca," "La Bohème" and "Turandot" in the top-most echelon of audience favorites. And it's true that there are lots of things in it that seem silly today (like a bunch of weepy, childlike gold miners singing in Italian) or even offensive, like American Indians whose pidgin vocabulary frequently includes "ugh!" . . . .
The real Achilles' heel of "Fanciulla" may not be that it is over the top or dated, but that the romance it depicts is too real, its characters too flawed, and under their patina of local color, even too familiar. Which makes this opera all the more worth seeing and certainly hearing, even if ideally it would get a more sensitive production than this one.
Click here for the complete article.
---
A Rebuttal
I think there are a number of things that conspire to make
La Fanciulla del West
hard for some Americans to embrace, including a real lack of knowledge of our own history.
David Belasco was the great realist of his generation in the theater. He once purchased an actual Child's Restaurant, a chain somewhat akin to the old Howard Johnson's or the current Friendly's, dismantled it and had it reassembled on stage in New York because a Child's was the setting for a particular play. Melodrama was, of course, a recognized and appreciated form in the American Theater of the time. But how over the top Minnie and Co. actually are depends on your reading of "the Old West." Clearly some astonishing and unusual things went on out there. I think the Donner Party's cannibalism or the High Meadow Massacre during which Mormons exterminated an entire wagon train coming west indicate that just about anything could happen.
Ms. Midgette jeers at Minnie's "single kiss before chastely bedding down in separate bunks." During the high Victorian, whether in a city or in the high Sierras, a woman's virginity was a closely guarded thing. But
listen
to the feverish, sensuous music as Minnie and Johnson cling to each other after the kiss, punctuated by several highly suggestive gunshots from offstage, to get an idea of what's really going on. Our Minnie may not be as coldly chaste as Ms. Midgette thinks, and she certainly isn't by act three–her month consorting with Johnson during the second intermission is clearly driving Rance wild with jealousy.
As to the miners, Midgette says they seem silly today, "a bunch of weepy, childlike gold miners singing in Italian." Well,they sing in Italian because it's an Italian opera. Do we jeer because Carmen and the other Spanish characters sing in French? Or Verdi's ancient Egyptians sing in Italian? The miners who stampeded westward during the gold rush were frequently lacking in education, many were incredibly young boys, and they all found themselves in a place where only a few would ever find gold and make a fortune. In a highly sentimental age, their emotional vulnerability and total lack of sophistication is not only understandable but can actually be very moving if depicted properly in an opera that's all about loss, isolation, loneliness, and broken dreams. I frequently remind people that the educational and cultural level we have today cannot be assumed for people from the past. Not so very long ago, a grammar school diploma–the equivalent of what Minnie is trying to give her boys, was the highest most people could hope to get and many never achieved it.
I'm glad she recognized the "wonderfully rich, dense score," that many of us feel is Puccini's finest. And she is spot on about the reality of the characters — Rance, for example, is no cardboard heavy but a deeply conflicted, emotionally desperate man. Her point about the characters being "too real, too flawed" for a modern audience could be right on the button. At Carnegie Hall a large part of the audience walked out after the first act of Donizetti's
Marin Falliero
because they had been given a libretto and could see there were no conventional love duets and no climactic mad scene for the soprano — merely a deeply human drama with a serious, not happy ending. The population embraces "reality shows" that are ludicrous for their actual lack of anything real or human. In
Fanciulla
the characters are in our faces, they hurt us and make us think and yearn and feel loss. That's what art's all about.
William Fregosi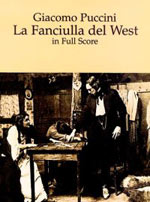 La Fanciulla del West in Full Score