Franz Schubert: Die Schöne Müllerin
Dietrich Fischer-Dieskau, baritone; András Schiff, piano
Filmed at Schubertiade Feldkirch 1991
TDK DVDUS-CODSM [DVD]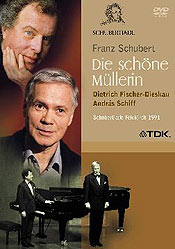 An important thing to realize about this DVD is that it is not so much about Die Schöne Müllerin as about the performers, pianist András Schiff and especially baritone Dietrich Fischer-Dieskau. There are no liner notes about the song cycle itself, and if you want to see texts or translations you watch them go by as subtitles during the performance (you may choose German, English, French, Spanish, Italian, or none.). But, since the cycle is quite well-known, largely through the earlier recordings by Fischer-Dieskau with other collaborators, this omission is not grave enough to detract from the real focus of the DVD: to make publicly available a 1991 performance at the Feldkirch Schubertiade, in which two Schubertiade regulars, Fischer-Dieskau and Schiff, performed together for the first time. The record of the performance is doubly significant because, while Fischer-Dieskau earlier in his career had been one of the preeminent performers of Die Schöne Müllerin, he had not performed it since 1971, and he was to retire from public performance two years later.
I have never seen Fischer-Dieskau perform live, but I came to this DVD with great respect for the clarity of emotional expression and the distinctive interpretations that I had heard on his audio recordings. I also had received impressions from people who had seen him perform. A friend had recalled the power of Fischer-Dieskau's live presence when she watched from a seat on the stage behind him, despite the fact that his voice was directed away from her and she never saw his facial expression. By contrast, a voice teacher with a strong preference for lyrical Italianate singing found Fischer-Dieskau too intellectual and mannered in many of his performances. As a recitalist myself who has learned much from Fischer-Dieskau's published scholarship about the songs he has performed, I was very pleased to have this belated opportunity to watch him in recital and form my own impression.
What emerges most strongly in watching this performance is the intense connection between Fischer-Dieskau and the music, the accompanist, and the audience (including the home audience, through the camera). His gestures are rarely specific, but he remains solidly grounded while leaning forward, turning toward the accompanist, or resting his hands on the piano lid, and his face is particularly expressive, vividly articulating the endings of "Tränenregen" and "Trockne Blumen", to mention just two moments. The music appears to pose no great difficulties for his voice, the tops of some phrases perhaps a bit less smooth than in a recording with Gerald Moore made decades earlier, but there is plenty of lovely tone color and dynamic control.
The DVD includes a 20-minute film of a conversation between Fischer-Dieskau and Franz Zoglauer, augmented by some narration about Fischer-Dieskau's approach to recitals, a visit to an exhibition of some of his paintings, and a brief interview with the singer's son, who was playing the cello as part of an ensemble during the 1985 Schubertiade. The conversation is wide-ranging and sheds additional light upon Fischer-Dieskau's approach to this performance, when he says he views any recording as a snapshot of a single moment, and that in any performance he aims for a spontaneous interpretation, influenced by what he senses in the accompaniment and even the audience. Some of this process is evident on the DVD performance, as the repetition of "das Wandern, das Wandern", which ends the first strophe of the first piece, is almost too obviously taken as simply a softer echo, but by the end of the cycle, the changes worked by the performers on each repeated strophe of the final song sensitively recall each aspect of the cycle's simple, sad story. So, despite the DVD's lack of helpful notes to connect the twenty-first century viewer with the Romantic tale of lost innocence, a story so na&iumlaut;ve that even the poet Müller felt a need to gently distance himself from it, we can still connect through Schubert's wholehearted musical setting and the performers' detailed expression of it. If you have been fortunate enough to enjoy a live recital by Dietrich Fischer-Dieskau during his career, this disk may provide a valuable reminder of the experience. For those of us who will never have that opportunity, this disk is a gift.
Barbara Miller
---
The legendary German baritone Dietrich Fischer-Dieskau (b. 1925) made four studio recordings of Franz Schubert's song cycle,
Die schöne Müllerin
— two for EMI, and two for DGG, all but one with the great accompanist, Gerald Moore. That final recording (DGG) took place in 1971. For the next 20 years, Fischer-Dieskau neither performed nor recorded the piece.
In June of 1991, Fischer Dieskau and pianist András Schiff collaborated on a performance of
Die schöne Müllerin
at the Schubertiade Feldkirch. That performance was recorded by Austrian television. Thanks to the approval of the artists, it has been issued by TDK in honor of Fischer-Dieskau's 80th birthday.
In many ways, I think it's best to avoid comparisons of this 1991 recital with the studio recordings. At the time of the Schubertiade Feldkirche recital, Fischer-Dieskau was 66, and had been performing for almost 45 years. It would be dishonest to suggest that his voice on this occasion comes close to matching the freshness of those earlier renditions. It also takes Fischer-Dieskau a bit of time to warm up, with some pitch difficulties and breath control problems early on. For the most part however, these flaws disappear over the course of the cycle.
Even with all these reservations, I found this
Schöne Müllerin
to be an extraordinarily moving document. Despite the reduced vocal forces at his disposal, Fischer-Dieskau gives an unforgettable performance. I particularly recommend this DVD to people who view Fischer-Dieskau as an overly intellectual singer, who often italicizes the text and music at the expense of its overall flow. Here, Fischer-Dieskau relies on his gorgeous diction, impeccable legato, and subtle inflection of the text to the greatest effect. Likewise, Fischer-Dieskau's stage presence manages to find the perfect balance of elegance, dignity, and dramatic involvement. The singer's facial expressions alone are worth the price of this DVD. Overall, my impression of Fischer Dieskau's interpretation was one of nostalgic recollection, as opposed to a contemporaneous narrative. In that context, I found it most compelling, and a highly worthwhile addition to Fischer-Dieskau's body of recorded work.
The compelling nature of this performance is due in great part to the contribution of Fischer-Dieskau's accompanist, the superb pianist András Schiff. As in any great lieder performance, the term "accompanist" is inappropriate. Schiff plays exquisitely throughout, with a constant attention to the shifting colors that reflect the cycle's dramatic flow. It is also clear that Fischer-Dieskau and Schiff view this cycle as almost a duet for voice and piano. Time and again, Fischer-Dieskau and Schiff match the timbres and inflections of their instruments to create almost a single entity. This sense of partnership is reinforced by Fischer-Dieskau's frequent and often touching glances to his partner.
The straightforward camerawork by Austrian Television complements the understated eloquence of this performance. The sound is excellent as well. The DVD also includes a 1985 interview with Fischer-Dieskau by Franz Zoglauer, illustrated by samples of Fischer-Dieskau's recordings, performances, and paintings. The DVD includes English, French, and Italian subtitles for both the song cycle and the interview.
I think that admirers of Dietrich Fischer-Dieskau will find this
Schöne Müllerin
an inspiring and moving document. For those wishing to hear Fischer-Dieskau in this glorious cycle for the first time, I would first seek out one of the studio recordings, all of which have considerable merit. But in the final analysis, I would urge all admirers of lieder and master singing to give this DVD a try.
Kenneth H. Meltzer