Past the stately gates of the medieval city hall, a
breath-taking sight: the Sala del Mappamondo, a large hall studded with the old regalia of the
proud Tuscan Republic that once competed with Florence over supremacy of Europe's
financial markets. Images of saints and sinners; angels, bankers, friars and warriors frescoed by
Simone Martini, Duccio di Buoninsegna, Sano di Pietro — names echoing like clarions. And the
clarions are actually there, arranged within crystal shelves: precious originals of the long
trumpets whose copies still resound twice in a year for the Palio horse race. From Autumn 2008,
this is planned to become one more regular series, a so-called "Festival Contemporaneamente
Barocco" storming a variety of historic venues in the city — including two recently-restored
opera houses, the cathedral, the university and more — with events connected to opera, music,
drama and cultural heritage at large.
To Italian concertgoers who missed the seldom chance to hear him live, countertenor Derek Lee
Ragin is a sort of media avatar, the lower half of Farinelli's voice as heard in the gorgeous
soundtrack of a (quite despicable) 1994 feature film on the legendary Neapolitan castrato. The
upper one, as largely spread at that time, was provided by the Polish soprano Ewa Mallas
Godlewska, with a French computer digitally processing both halves into the virtual
reconstruction of a voice which, around 1725, could boast a range of two octaves and a fourth
(from A to D''') — and later extended by a few more pitches downward, thus to around three
octaves! (However, there is no surviving evidence in the scores that Farinelli ever used all of
them in any single piece…).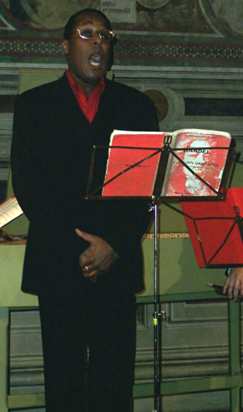 As to Ragin, his voice sounds most effectively in the range just around the middle C up to a tenth
above. It might have grown darker in years, yet without losing the appeal of an other-wordly
color, something of an alto of warm polish and purity, all of a sudden opening up towards high
notes generally forbidden to the male falsetto. At those dizzying pitches, he doesn't either squeak
or resort to a metallic compression that betrays strain, like many among his peers tend to, but
emerges with a lustrous full-pressure resonance, apparently with some major support from the
chest. If only he could smooth the transition between both ranges, you would call him a monster;
nevertheless, he remains a singer of superior class and versatility, equally at ease in Baroque
arias, contemporary music and the Negro spiritual. Add to that a technical refinement matching
the stipulations of early Bel Canto style. His opening messa di voce in "Alto Giove", from
Porpora's Polifemo, pierced the gloomy instrumental atmosphere like a sunbeam from a cloudy
sky — a terrific effect. One more piece from Farinelli's suitcase repertoire — "Ombra fedele
anch'io", set by the castrato's profligate brother Riccardo Broschi in his opera Idaspe — was
lamentably shortened of its second section and subsequent da capo. A pity indeed, considered
Ragin's heart-rending delivery of the first plaintive section, featuring a good deal of
appoggiaturas and inter-registral leaps in slow tempo. Before that, a pair of Handel cantatas (Mi
palpita il cor, HWV 132d and Lungi da me, HWV125b) displayed bravery in fast syllabic
passages, meaningful switching between staccato and legato, polished fast trills, evidence of
dramatic sensitivity in the recitatives. By the way, Ragin's Italian diction was more than
acceptable throughout, reaching a peak in the favorite encore "Ombra mai fu" from Xerxes,
whose notorious text clumsiness often fires jokes among native hearers.
Besides providing a spirited accompaniment to Ragin's vocal solos, the resident period band "Il
Rossignolo" (a gentle archaism for nightingale) showed off with notable panache in the fillers: a
four-parts sonata and a concerto for the same forces by Telemann, plus Vivaldi's Concerto for
recorder, RV 106. All of the players emerged in turns for their individual merits and deserve
quotation: harpsichordist-cum-conductor Ottaviano Tenerani and flautist Marica Testi for their
assured elegance of phrasing, the mercurial cellist Ludovico Minasi for his bold strokes, Luca
Giardini, a young violinist in growing international demand, both for finery of sound and fanciful
embellishments. Oboist Martino Noferi, a promising virtuoso on the baroque oboe, didn't
perform equally well on the recorder. He should probably choose for the better opportunity,
sooner or later.
Carlo Vitali

image=http://www.operatoday.com/ragin.png
image_description=Derek Lee Ragin
product=yes
product_title=Recital by Derek Lee Ragin, alto; Il Rossignolo (with original instruments)
product_by=Palazzo Pubblico, Siena, December 1st, 2007
product_id=A Festival Contemporaneamente Barocco preview production