Jean-Pierre Ponnelleís 1984 staging of La Clemenza di Tito
that returned to the stage of New Yorkís Metropolitan Opera in May would be
an obvious candidate for such preservation.
The opening scene of this production of Mozartís last opera is
sufficient to identify Ponnelle as a major master of his profession.
Clemenza, the last significant work of opera seria, is a work
mammoth both in its dimensions and its emotions. Ponnelleís recreation of
first-century Rome at its colossal height brings to mind Winckelmannís
characterization of the art of antiquity as ìnoble simplicity and calm
grandeur.î
Tamar Iveri as Vitellia
Ponnelleís Rome ó it fills the Metís mammoth stage ó is grand in
its columns, arches, balconies and stairs, and if a certain amount of decay
is evident, these fissures are only a reflection of the dysfunctional figures
in this drama of treachery and treason, all more interesting as character
studies than as living humans. For in opera seria it is the drama within that
is of the essence, and arias are largely confessional. Play the first scene
of Don Giovanni on an empty stage in street clothes and you have
more absorbing action than in the entire three hours of Clemenza.
Happily Ponnelle understood this and designed sets and beautifully
painted, luminous scrims that are drained of color and serve as a perfect
environment for the half a dozen ill-focused people all seemingly in love
with an inappropriate ó or unavailable ó mate.
Only recently has Clemenza, written for the 1791 Prague coronation of
Joseph II of Austria as emperor of Bohemia, come to be regarded as worthy of
staging. For over a century, scholars apologized for the opera ó a
by-product of The Magic Flute and the Requiem, a work
written in great haste. Some accounts assert that Mozart composed it in 18
days and assigned the recitatives to his pupil Franz Xaver S¸ssmayr. The
fact that opera seria was already out of fashion when Mozart wrote
Clemenza further complicates its place in history.
RamÛn Vargas as Tito
All this was no problem for Ponnelle, who recognized the quality of the
music that Mozart had written and took his cues from the score in making the
opera an impressing experience on stage. For the revival the Met came up with
an ideal cast that ó no matter what the title says ó was headed by Susan
Graham, who ó now in her late 40s ó remains the reigning mezzo of her
generation. As Sesto, Grahamís combination of vocal and acting gifts ó
plus her stature of almost six feet ó makes it difficult to see this best
friend ó and almost assassin ó of Emperor Tito as the weak-willed
courtier described in opera guides.
Magnificent in everything she does, Graham stole the show in the packed
performance on May 6 and no doubt did much to inspire those on stage with
her. (For the Prague premiere castrato Domenico Bedini was brought from Italy
to sing Sesto.)
Heidi Grant Murphy (Servilia), Tamar Iveri (Vitellia) and Anke Vondung (Annio)
RamÛn Vargas, the Metís Rodolfo of the season, brought baritone heft to
his portrayal of Tito, whose ability to forgive even those who would have
killed him gives the opera its title.
Most difficult figure in the cast is Vitellia, the rotten apple without
whom there would be no story. (The worm at her core was planted there, of
course, by Tito, who unjustly usurped power from Vitelliaís father.) For
Georgian soprano Tamar Iveri the changing moods of the woman determined to
kill Tito if she could not marry him were handled with enviable ease.
Servilia and Annio, the innocent young lovers who barely manage to stay
out of the way of the machinations of others, were lovingly sung by Heidi
Grant Murphy and Anke Vondung. Bass Oren Gradus brought dignity to Titoës
advisor Publio.
Responsible for much of the success of the revival was the conducing of
Englandís Harry Bicket, a young man seen with increasing frequency in opera
houses and with orchestras on this side of the Atlantic. Bicket, a leading
authority on early opera, seemed to relish Mozartís extensive use of the
clarinet in the score. (The instrument was still largely alien to classical
orchestras in this year of Mozartís death.)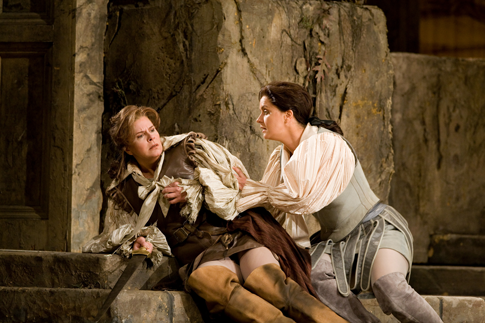 Susan Graham (Sesto) and Anke Vondung (Annio)
As stage director of the revival Laurie Feldman was marvelously loyal to
Ponnelleís intentions.
The overall excellence of the Met performance sharply contradicts the
opinion of Leopoldís Spanish-born throne-mate who at the premiere found
Clemenza ìGerman hogwash.î But above all it was Ponnelleís
wisdom in taking the opera at face value rather than trying to make of
Clemenza something that it is not who deserves the highest praise of
the success of the staging.
Wes Blomster

image=http://www.operatoday.com/Graham_Clemenza_Met.png
image_description=Susan Graham as Sesto (Clemenza di Tito) [Photo: Marty Sohl courtesy of The Metropolitan Opera]
product=yes
product_title=W. A. Mozart: La Clemenza di Tito
product_by=
product_id=Above: Susan Graham as Sesto
All photos by Marty Sohl courtesy of The Metropolitan Opera