Happily, a constellation of
circumstances caused Nigel Redden, general director of Spoleto USA, to see
Amistad as an ideal work for the 2008 season of the Charleston, South
Carolina, festival.
Amistad tells the true story of a Spanish ship taking captive Africans to
America to be sold as slaves in 1839. The Africans mutinied, killed most of
the shipís crew and intended to return home. Misguided by the surviving
navigator they landed on Long Island. The Spaniards demanded their return,
but the still young United States was sharply divided on what action should
be taken. The Africans found an eloquent defender in former president John
Quincy Adams who pleaded their case before the Supreme Court. Two years later
they were released from jail and allowed to return to Africa.
And the circumstances at Spoleto USA? Charleston, commercial and cultural
center of the old South, was the epicenter of the slave trade, which ó
although outlawed by Congress in 1808 ó continued illegally. The cityís
slave market is maintained as a museum that recalls painful past history.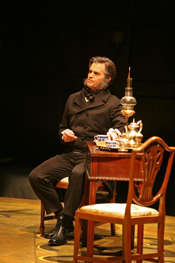 Stephen Morscheck (John Quincy Adams)
The site for Amistad was the totally reconstructed Memminger Auditorium, a
1939 building devastated by Hurricane Hugo in 1989. Once the cityís major
performing arts venue, the building stands at the edge of a mixed
neighborhood near the historic heart of Charleston. What better work to
pinpoint Charleston on the historical map than Amistad?
Redden insisted upon major revision of the score and he, along with
Spoleto director of opera and orchestras Emmanuel Villaume, played an active
part in the project. With their help Davis and his librettist cousin Thulani
Davis made Amistad an opera much leaner, more focused and dramatically far
more effective than the original. And in so doing they created not only a
masterpiece of American opera, but further a work that ó against a
contemporary horizon darkened by undercurrents of racism ó resonates today
far beyond Memminger and Spoleto USA.
The Davises eliminated characters and scenes, and the composer reduced the
orchestra from 65 to 45. Amistad ó now only slightly more than two hours of
music ó is a work transparently coherent both in narrative and music, and
Spoleto assembled a creative team and cast that made the work, seen at its
premiere on May 22 and again on May 25, an opera that should be widely
performed. Amistad now has a mass hero of eight Africans, each with
significant solos. As their leader Cinque, bass-baritone Gregg Baker was a
commanding presence on the oblong Memminger stage, and as Margru, soprano
Janinah Burnett gave a poignant account of how women were treated by their
captors. It was followed by the overpowering chorus ìAnkle and Wrist,î
referring to the chains the Africans had worn.
Gregg Baker (Cinque) and ensemble.
Tenor Dennis Petersen led a quartet of reporters out to exploit the
Amistad case as a public sensation, while tenor Brian Frutiger brought
passion to forces advocating abolition of slavery. Bass-baritone Stephen
Morscheck, tall and lean, was an imposingly agitated ex-president Adams in
his confrontation with the Supreme Court.
Davis has woven hints of jazz, blues and even scat so seamlessly into the
score that they surrender their identity to his uniquely personal idiom. His
use of the hymn ìJesus Savior, Pilot Meî is one of the most moving
moments in the opera. Thus the dialectic of American history ó the
commitment, on the one side, to free men and, on the other, the acceptance of
slavery despite the noble wording of basis documents ó played out before
the Memminger audience. The Davises brought a mythic gloss to Amistad by
placing the story of the ship and its captives in the hands of a pair of
deities from African mythology. As the Trickster God tenor Michael Forest,
both narrator of the story and participant in it, had the lead role in the
huge cast, while Mary Elizabeth Williams brought humane concern to the Queen
of the Waters with her warm and winning mezzo.
Director Sam Helfrich, set and costume designers Caleb Hale Wertembaker
and Kaye Voice, and lighting designer Peter West collaborated to make Amistad
flow with ease across the stage in Memmingerís black-box interior. Indeed,
the production is a coup of music theater for Spoleto ó an experiment in
opera grand and intimate and timely in its content. The trial that consumes
most of the second act is a superlative achievement of dramatic narrative
that reaches back to the beginnings of slave trade and culminates in a vivid
reenactment of the mutiny on board the Amistad.
A major contributor to the success of the production was conductor
Emmanuel Villaume. Working ó he noted ó as the many-armed Indian god
Shiva, he led his gifted ensemble of young instrumentalists through Davisí
complex score, unfazed by its multiple meters and shifting rhythms to bring
musical and dramatic drive and continuity to this compelling story.
Janinah Burnett (Margru), Herbert Perry (Burnah), Norman Shankle (Kaleh), Mary Elizabeth Williams (Goddess of the Waters), Crystal Charles (Captive).
It is significant that the Spoleto revival of the revised Amistad comes
less than a month after the world premiere of another opera that confronts
the question of slavery in the years prior to the Civil War: Kirke Mechemës
John Brownís Body, premiered by the Kansas City Lyric Opera on May 3. Both
works call for careful reconsideration of truths long ó and uncritically
ó held self evident.
It is of interest that while most of the Amistad captives returned to
Africa, one ó a woman ó stayed in this country and earned a degree from
Oberlin College.
The 2008 season of Spoleto USA runs through June 8. Visit www.spoletousa.org.
Wes Blomster

image=http://www.operatoday.com/lrg-290-img_1412.png
image_description=Gregg Baker (Cinque) and Fikile Mvinjelwa (Antonio) performing in Amistad at Spoleto Festival USA, May 22- June 8, 2008. Photo by WIlliam Struhrs.
product=yes
product_title=Anthony Davis: Amistad
product_by=The Trickster God: Michael Forest; Navigator: Ra˙l Melo; Don Pedro: Jeffrey Wells; Kinnah: Robert Mack; Grabeau: Kevin Maynor; Burnah: Herbert Perry; Margru: Janinah Burnett; Bahia: Kendall Gladen; Kaleh: Norman Shankle; Captive Girl: Crystal Charles; Cinque: Gregg Baker; Lieutenant: Edward Parks; Antonio: Fikile Mvinjelwa; Reporter 1: Dennis Petersen Reporter 2: Zachary Coates; Reporter 3: Jan Opalach; Reporter 4: Jonathan Green; Phrenologist: Dennis Petersen; Abolitionist Tappan: Brian Frutiger John Quincy Adams: Stephen Morscheck; Judge: Edward Parks; Goddess of Waters: Mary Elizabeth Williams; Ship Cook: Brian Matthews. Director: Sam Helfrich; Conductor: Emmanuel Villaume; Assistant Conductor: Olivier Reboul; Accompanist: Lydia Brown; Costume Designer: Kaye Voyce Set Designer: Caleb Wertenbaker; Lighting Designer: Peter West.
product_id=Above: Gregg Baker (Cinque) and Fikile Mvinjelwa (Antonio).
All photos by WIlliam Struhrs courtesy of Spoleto Festival USA.