It was composed to a typical buffo libretto by Giovanni Bertati,
his collaborator on twenty farces, in Venice in February 1787, where its
success inspired someone to send the score to Lorenzo da Ponte in Vienna. He
rewrote and expanded the piece, borrowing many of Bertatiís ideas, and gave
it to Mozart, who presented his version at Pragueís Tyl Theater on October
29.
One goes to hear Gazzanigaís Giovanni for foretaste, a
prediction, a glimpse of the glory soon to come ó a hint of Mozartís
inspiration ó but there is little sign of it. The piece opens with an
attempted rape and a murder all right, there is a catalogue aria (someone has
altered the numbers! Aha!), a peasant wedding, a statue invited to dinner, a
ghostly return. There are many moments when you expect to be stunned,
enlightened, exalted, shocked, as Mozartís opera does even on the twentieth
hearing ó but Gazzaniga keeps missing the chance to startle, to amaze, to
create wonder. Donna Anna has the perfect moment for an aria of vengeance
when she finds her fatherís body (or a duet of vengeance, as in Mozart),
but in Gazzaniga Ö she simply departs, never to return. Don Giovanni has
many moments for a seduction duet, but it does not enter his brainless tenor
head. Elviraís last entreaty for Giovanniís repentance is not an outburst
ó itís a full-length aria at a moment when the drama should be snap,
snap, snap. The statueís return sends no cold shivers ó the experience of
the afterlife has not transformed his vocal manner, as Mozart felt it should.
And, having heard Mozart, we know he was right.
It is impossible not to make such comparisons, but it is most unfair to
Gazzaniga, and to an evening pleasantly spent. There are lovely tunes in this
opera, justifying a long and successful career (51 operas, all but this one
forgotten), some elegant ideas, and Ö a lot that fizzles. With pretty
voices, it is a delicious way to pass ninety minutes ó ideally by
candlelight in a baroque garden theater. (A remodeled warehouse in
Torontoís Distillery District will do in a pinch, and the acoustics are
ace.) Gazzaniga was good but ordinary; attending his opera reminds one that
Mozart was Ö extraordinary.
The most effective music, it seemed to me, was the scene of the peasant
wedding: the chorus had a Spanish style to it that Mozart did not bother
with, and the arias of Biagio (infuriated at his wayward girlfriend) and
Maturina (the girl in question, who is falling for the tall, handsome
stranger) were very fine and sung by the finest voices in the company,
Canadian Operaís Studio (i.e., their young artistsí program). Justin
Welsh, a baritone of energy and smooth production, made the most of Biagio,
who has rather more presence in this version ó da Ponte and Mozart rightly
abbreviated his protest in order not to interrupt the rush of the drama.
Gazzaniga gives him a full da capo, and Welsh sang it beautifully ó but it
interrupts. Maturina was Lisa DiMaria, a sweet, clear, luscious soprano who
will mature (no pun intended) into a splendid Susanna and Zerlina in a very
short time. I look forward to hearing both of them again.
The other singers, all young, healthy and good actors, did not seem quite
so polished, so ready for the major leagues. Jon-Paul DÈcosse had the most
to do as the servant, Pasquariello ó he opens the show (just as Leporello
does) and sings the catalogue, and serves as his masterís foil in the tomb
and dinner scenes. His baritone is strong and supple, but his vigorous antics
ó sometimes humorous, sometimes menacing ó will make him a particular
asset to the livelier school of buffo staging. Melinda Delorme, afflicted
with a wig that would alienate any lover, made a poignant and energetic Donna
Elvira ó in this opera the unchallenged prima donna, with two ornamented
arias and a comic duet in which she and Maturina fight over ìtheirî man,
who of course has set them on each other while he pursues another lady
entirely. (That duetís an idea Bertati might have stolen from Act I of
Mozartís Figaro, but it was probably a buffo staple.) The
Commendatore of Andrew Stewart looked gaunt and (as a statue) immobile, but
did not succeed in creating shivers where Gazzaniga had neglected to provide
them in the score. Michael Barrett (Ottavio) and Adam Luther (Giovanni), the
two tenors, sounded uncomfortable with the style of the music, forceful where
they should have been graceful, sensuous, ardent. They bit off the ends of
notes that should drift into the aether. I suspect both are aiming for
nineteenth-century tenor roles, and I applaud that ambition, but precise
vocal control always comes in handy.
The production by Tom Diamond was basic and clear, with one annoying,
pointless touch: Instead of nobly killing the Commendatore face to face, Don
Giovanni sneaked up behind him and stabbed him in the back. This did not suit
the story or the personality of our antihero. A consort of nine musicians
played the score ó undoubtedly it would sound grander with a full
orchestra, but the subtle touches of Mozartís version would still not have
been there.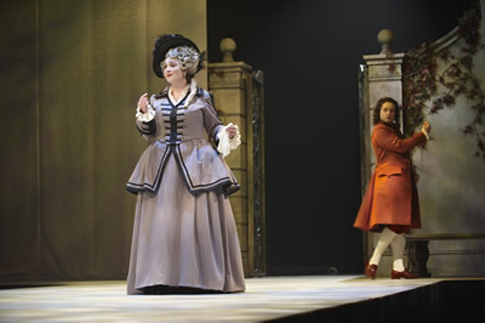 Melinda Delorme as Donna Elvira and Adam Luther as Don Giovanni in the COCís Ensemble Studio production of Don Giovanni. Photo © 2008 Michael Cooper
The second half of this double bill ó for a rather larger band of
musicians, tackling a self-consciously brilliant score with aplomb ó was
Stravinskyís brief retelling of a couple of farmyard folktales,
Renard, composed for the Paris salon of his buddy Princess de
Polignac ó thatís Winnaretta Singer, the sewing machine heiress, to you.
The piece was not meant to be staged, merely sung by a quartet of male
singers ó but Mr. Diamond could not resist. His production derived from
World Wide Wrestling matches (the witty costumes were by Yannik LarivÈe),
and no doubt I missed a lot of in-jokes, but the four hammy singers hurled
themselves joyously into it. (No limbs were broken ó but it was close.)
They sang well, too, in clearly pronounced English ó again, I especially
enjoyed tiny Mr. Welsh, but the standard was high across the board.
John Yohalem

image=http://www.operatoday.com/dong01.png
image_description=Andrew Stewart as Il Commendatore and Yannick-Muriel Noah as Donna Anna in the COCís Ensemble Studio production of Don Giovanni. Photo © 2008 Michael Cooper
product=yes
product_title=Giuseppe Gazzaniga: Don Giovanni
Igor Stravinsky: Renard
product_by=Don Giovanni: Don Giovanni (Adam Luther), Donna Anna (Lisa DiMaria / Yannick-Muriel Noah), Donna Elvira (Betty Allison / Melinda Delorme), Donna Ximena (Erin Fisher / Betty Allison), Il Commendatore (Andrew Stewart), Duca Ottavio (Michael Barrett), Maturina (Teiya Kasahara / Lisa DiMaria), Pasquariello (Jon-Paul DÈcosse / Alexander Hajek / Justin Welsh), Biagio (Justin Welsh), Lanterna (Michael Barrett). Conductor Steven Philcox. Director Tom Diamond. Set and Costume Designer Yannik LarivÈe. Lighting Designer Bonnie Beecher.
Renard: Tenor 1 (Adam Luther), Tenor 2 (Michael Barrett), Baritone 1 (Justin Welsh / Alexander Hajek), Baritone 2 (Andrew Stewart). Conductor Derek Bate. Director Serge Bennathan. Set and Costume Designer Yannik LarivÈe. Lighting Designer Bonnie Beecher.
Canadian Opera company Ensemble Studio Production, performance of June 16.
product_id=Above: Andrew Stewart as Il Commendatore and Yannick-Muriel Noah as Donna Anna in the COCís Ensemble Studio production of Don Giovanni.
Photo © 2008 Michael Cooper