She was delighted ó as were
all those who heard the world premiere of ìSneakersî at Coloradoís
Bravo! Vail Valley Music Festival on July 15.
ìI met Ricky two years ago,î says Zukerman, who as its artistic
director had invited Gordon to be 2008 composer-in-residence at the Festival.
ìI had heard his Orpheus & Euridice, and he wrote me a flute
obbligato for several of his songs. I was eager to have him in Vail and to
commission a new work by him.î
In September, however, Gordon called Zukerman; he said he was working on a
big piece and could not stop. ìHe read me the poems that were the libretto
for the work,î Zukerman says. ìThey were gripping. I told him we would do
it!î
Zukerman first contacted Gordon about a year ago, when he was in Salt Lake
City for the second production of his opera The Grapes Of Wrath. At
the time she suggested collaboration with the Miami String Quartet, an
ensemble with a long Vail association. Gordon remembered a set of poems that
he had written following the AIDS death of his long-time companion Jeffrey
Grossi in 1996. He saw a new score taking shape on stage around an empty
chair.
ìI had a sense of the atmosphere that the work would have,î says the
composer, who goes on to explain the title. There was a day after Jeffreyís
death when I was staring into our closet from the vast desolation of our
bed,î he says. ìThese sad little green sneakers suggested a text about
the day we bought them together. It poured out of me and ended up a cycle of
poems that tells the story of that day and the period after it ó all the
way up to Jeffreyís death.î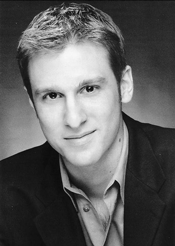 Jesse Blumberg
Gordon knew that the vocalist for Sneakers had to be Jesse
Blumberg, the baritone who had created the role of Connie Rivers, the wayward
husband of Steinbeckís pregnant Rosasharn, for the premiere of
Grapes a year earlier at Minnesota Opera. ìIn watching rehearsals
of Grapes I noted Jesseís artistry ó his charisma, his honesty and his
simplicity as a performer,î Gordon says. ìBecause of the honesty and
intimacy of these poems I knew that a performer who was false in any way
would kill Sneakers. It had to be a singer who was essentially an
open vessel. Jesse is like that with his unusual combination of strapping
casual masculinity and comfort in his own body. Heís unsaddled by any kind
of ego that gets between him, the music he is singing and the words he is
conveying.î
Gordon sent Blumberg the texts and asked whether he would be willing to
perform Sneakers. ìHe wrote back almost immediately that he would
be honored,î the composer says. ìI am honored to have him.î
Gordon compares Blumberg with veteran mezzo Frederica Von Stade. ìLike
her, Jesse has a quality that many great singers have.î he says. ìIt is
the inability to sing a single note without imbuing it with his entire
personality, his opinion about life. Each note screams with life and
dances.î
Green Sneakers originally ended with ìProvincetown,î a poem
that documents Gordonís search for others who had survived the loss of a
lover. But, once at work on the new score, he added as an epilogue
ìSleep,î a poem (or lullaby) that he had once written for Grossi as a
birthday gift. ìI wanted to end the piece with a lullaby,î Gordon says,
ìand with a celebration of what we had together.î Grossiís death is an
experience that the composer had treated in his 2005 song cycle Orpheus
& Euridice.
In Sneakers, however, the objectifying veil of myth is absent.
Here Gordon faces Death head-on. The immediacy of the first person makes the
narrative overwhelmingly direct. ìI have questioned whether this was the
right thing to do ó to tell a story this baldly and to expose myself and my
life with Jeffrey this way,î the composer says. ìAnd my explanation is
that after Jeffrey died I sought solace in reading everything I could find
about grief. I was grateful to those who were generous enough to reveal in
great detail the ways in which they endured loss and bore their own
tragedies. So maybe there is a sense of mission here. Perhaps others have
gone through what I went through and this might bring them some peace,
identification, or understanding.î
Miami String Quartet (Photo by Paul McGuirk)
It is amazing that in this his first work for string quartet Gordon has
perfected an idiom that goes to the edge of tonality to create a microcosm of
pain and despair that has all the markings of a contemporary
Gesamtkunstwerk. Indeed, at the premier, members of the Miami String
Quartet were no longer mere strings, but humanized voices that formed a
seamless dramatic unity with Blumberg. Yet, despite its obvious personal
intensity, Sneakers is in no way confessional.
Like Orpheus, but in its own way, the new work elevates its
contents to the level of universality. There is nothing of ìletting it all
hang outî in the score. Gordon locates models in Handelís cantata
Lucretia and in Brittenís Phedre, pieces where one singer
tells and lives the story simultaneously. Because of its intimacy I
approached the story in a ëclassicalí way with a prologue, an epilogue
and interludes throughout,î he says. ìThat not only gives the listener
time to think and reflect, but also gives the performer space to gear up for
the next event. Even the use of a string quartet felt like a slightly
distancing formal device.î
Praised for his Monteverdi and Bach, Blumberg at the premiere made this
story his own, singing with a richly nuanced voice and, at 29, the stage
presence of a veteran actor. In the most wrenching moment of
Sneakers he went to the piano and played a phrase before turning to
the epilogue of Gordonís libretto. ìThis introduces the epilogue,î
Gordon says. ìIn the score, there are two versions. One is very easy,
essentially for two fingers, which any singer could play. The strings come in
softly under the piano and take over when the singer leaves the keyboard.
Thereís the harder version, which is the one Jesse bravely opted for. He
played the introduction to the epilogue, which, if the singer had no piano
skills, would be hard, but luckily, with Jesse, you get everything. Thatís
why I hope it is he who does many productions of this piece, because along
with being a wonderful singer and artist, he is brave!î
On the printed page Sneakers is a traditional song cycle: 14
free-verse poems plus two instrumental sections. The total absence of stage
directions calls for a director, whom Gordon found for the premiere in
Jonathan Solari, whose previous experience has been largely in spoken
theater. ìIt was my job to support what Ricky had written,î says Solari,
who went to work on the piece with Blumberg in Gordonís New York apartment
weeks before coming to Vail. We pushed the furniture aside and sat down with
the music to develop a staging that peers into the soul of the narrator,î
he says. Solari focused on having Blumberg interact with the string quartet
and he wanted the audience to have an image of Jeffrey in the vacant chair on
stage.
Where does Sneakers leave Gordon, a dozen years after Grossiís
death? Is this closure? ìNo, itís not closure,î the composer says,
ìbut a kind of unbelievable fulfillment, as if I have made something out of
an experience that was excruciatingly painful as well as exultingly joyous.
For what kept me alive ó and probably Jeffrey for longer than anyone
expected him to live ó was a tremendous love, for which I will always be
grateful and treasure as my good fortune.î
With the repetition of ìSleep Dear,î the final words of Green
Sneakers, one heard in Vail a distant echo of the ìEwigî that
concludes Mahlerís monumental Abschied. For this is a song of
todayís earth, a farewell lamentation that transcends death.
Wes Blomster

image=http://www.operatoday.com/RIGordon_Hannah.png
image_description=Ricky Ian Gordon (Photo: Duncan Hannah)
product=yes
product_title=Ricky Ian Gordon: Green Sneakers for Baritone, String Quartet and Empty Chair
Bravo! Vail Valley Music Festival
product_by=Miami String Quartet, Jesse Blumberg (baritone)
product_by=Above: Ricky Ian Gordon (Photo: Duncan Hannah)