Hickox, who died suddenly on
Sunday, had conducted the 2004 revival of this opera, the production in which
Rolando VillazÛn created a sensation in the title role and instantly became a
household name.
Returning to the role, one which is a gift to such a versatile and
committed character player, VillazÛn seemed older and wiser: more mature in
his interpretation, instantly establishing his presence with the inebriate
bluster of the Prologue's Kleinzach song but equally comfortable with
the nostalgic reveries of the Epilogue; and more astute in his pacing,
somewhat restrained at the start but sensibly conserving his voice, relaxing
and releasing a tone of warmth and ardour in the final scenes.
Katie Van Kooten as Antonia
The production itself cannot be said to have made the same graceful
passage to maturity. The revival director, Christopher Cowell, has retained
the original Personenregie, with scarcely a fresh gesture. And, the
old sets looked tired and fussy, even tawdrily camp: sumptuously extravagant
and evocative of the opera's various locations they may be, but the
accumulation of superfluous detail results in a rather dated literalism
— the 'real' gondola, the giant 'floating' bed
and miles of vermillion velvet hammer home their points but leave little room
for subtlety or imaginative nuance. Hoffmann's original short stories
combine artistry and grotesquery, sparkling glitter and dark, ponderous
depths; yet this production seldom scratches beneath the surface, frequently
lapsing into gratuitous, pantomimic clichÈs.
This was a solid rather than a stunning cast. Of the female roles,
Ekaterina Lekhina as Olympia was the audience favourite although this
listener found her rather underwhelming; but she was jerkily, jitteringly
suggestive of a soulless automaton, and certainly conquered the vocal peaks
with confidence and accuracy of intonation, although there was little sense
of continuity of line as she scaled the precipices. Katie van Kooten was an
impressive Antonia, her radiant upper range strong and clear, although
underneath the intonation was sometimes suspect and marred by unfocused note
production. Christine Rice's Guilietta was an intelligent, dramatically
convincing performance, the powerful lower register of her resonant dark
mezzo delightfully sensuous, perfectly conveying the courtesan's
allure. However, at times she overpowered VillazÛn in their duet textures,
for while his high-lying lines were delivered with cleanness and panache, he
was more subdued in the lower registers. Moreover, the erotic intertwining of
the intended soprano and mezzo timbres in Guilietta's duet with
Niklausse, another mezzo, were diminished. Indeed, despite Rice's
intelligent portrayal, the Venetian act was the least successful; the
assorted writhing couples languorously scattered about the opulent milieu
evoked little genuine sensuality, and the whole lacked dramatic tension.
In the dual role of Niklausse/Muse, Kristine Jepson's bright,
animated tone projected well. Jepson has much stage confidence and natural
ease; and she established an engaging relationship with VillazÛn which would
have benefited from more sensitive and encouraging direction.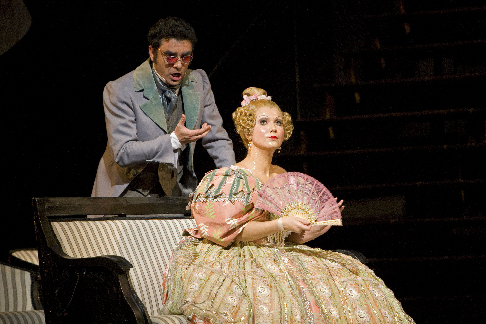 Rolando VillazÛn as Hoffmann and Ekaterina Lekhina as Olympia
Gidon Saks was a pantomime villain and rather underpowered nemesis. While
his Act 2 Dr Miracle oozed menace and malevolence, both characterisation and
projection weakened in the later stages of the opera. The veteran character
tenor, Graham Clark, had tremendous fun in his multiple roles as the four
servants, raising many a laugh; but his grotesque shrieks and exaggerated
affectations destroyed the poignancy of Hoffmann's demise.
The minor roles were uniformly compelling: Matthew Rose was Crespel, Robin
Leggate, Spalanzani, and Gaynor Keeble, the spirit of Stella's mother.
Kostas Smoriginas was a commanding Schlemil.
Antonio Pappano led the orchestra of the ROH on a competent, but rather
pedestrian passage through the score, with little feeling for the delicate
touch and deft subtleties of French frivolity. The orchestral playing was
often heavy and sluggish, and even the renowned Barcarolle lacked shimmer and
transparency. Overall, Pappano created little energy and forward momentum;
and occasionally the pit-stage ensemble was insecure, particularly in the
choruses.
Rolando VillazÛn as Hoffmann and Gidon Saks as CoppÈlius
So, this was Rolando VillazÛn's evening. There have been endless
musicological speculations about missing, eliminated, reconstructed and
re-positioned material. Here the Venetian Act was placed second, making
nonsense of Hoffmann's progression from hope of first material, then
unworldly, fulfilment to disillusionment and despair. Thus, this production
relied on its Hoffmann to unite the self-contained acts and to provide
continuity and credibility. While some might complain that VillazÛn's
acting was at times overly frenetic and hyperactive, there is no doubt that
his commitment to the role is absolute: and he conveyed Hoffmann's descent
from youthful naÔf to alcoholic cynic with total conviction. If VillazÛn took
a little while to warm up vocally, this is understandable given the stamina
required for such sustained musical and dramatic commitment. And, in the
concluding moments, the slightly guarded tone of the earlier acts blossomed
into a radiating timbre of myriad colours. Just what the audience had been
waiting for.
Claire Seymour
A scene from The Tales of Hoffmann

image=http://www.operatoday.com/Hofmann_ROH_03.png
image_description=Rolando VillazÛn as Hoffmann and Christine Rice as Giuletta (Photo by Bill Cooper courtesy of Royal Opera House)
product=yes
product_title=Jacques Offenbach: The Tales of Hoffmann
product_by= Hoffmann (Rolando VillazÛn); Lindorf (Villain) (Gidon Saks); CoppÈlius (Villain) (Gidon Saks); Dappertutto (Villain) (Gidon Saks); Miracle (Villain) (Gidon Saks); Nicklausse (Kristine Jepson); AndrËs (Servant) (Graham Clark); Cochenille (Servant) (Graham Clark); Pittichinaccio (Servant) (Graham Clark); Frantz (Servant) (Graham Clark); Olympia (Ekaterina Lekhina/Vassiliki Karayanni); Giuletta (Christine Rice); Antonia (Katie Van Kooten); Spalanzani (Robin Leggate); Schlemil (Kostas Smoriginas); Crespel (Matthew Rose); Luther (Lynton Black); Hermann (Changhan Lim); Nathanael (Ji-Min Park); Voice of Antonia's Mother (Gaynor Keeble). The Royal Opera. Conductor: Anthony Pappano. Original Production: John Schlesinger. Revival Director: Christopher Cowell. Set Designs: William Dudley.
product_id=Above: Rolando VillazÛn as Hoffmann and Christine Rice as Giuletta
All photos by Bill Cooper courtesy of Royal Opera House