So, anticipation and
expectancy were running high at this performance, the second of seven, of
La Traviata. Could Fleming bring the authority, emotional passion and
musical intensity which characterised her Desdemona to Verdi's dazzling
courtesan-turned-angelic sacrificial-victim?
Sir Richard Eyre's 1994 production has had countless revivals with
numerous divas in the title role (and it's scheduled for two more
showings next season), but Fleming and the rest of the cast benefitted from the
director's own, and first, return to his conception. A traditional
staging, this production convinces throughout, Bob Crowley's sets and
costumes raising many a gasp and round of applause. The assemblage of the sets
did, however, necessitate two long intervals but the lavish designs were worth
the wait — and, inadvertently, allowed the inter-act diners to avoid
indigestion.
Thomas Hampson as Giorgio Germont
A frisson went through the audience when Fleming made her
glittering entry, sweeping into the sumptuous, somewhat crowded, salon where
revellers drifted and twirled around the sparkling ice-sculpture. But the
audience were made to wait for the trademark golden, floating tone: Fleming was
rather restrained and hesitant, holding back throughout the first act,
negotiating rather than relishing the demands of the coloratura fireworks in
'Sempre libera'. She compensated for her musical caution with
exuberant dramatic gestures, flinging back the doors of the salon to hurl her
words contemptuously at those who judge her, tossing ice defiantly around the
room, and coughing loudly to foreshadow her demise. Fleming seemed a little
unhappy with Pappano's tempi and, surprisingly, her voice lacked depth
and beauty in places, but she relaxed in the subsequent act and the audience
were rewarded for their patience with singing of outstanding, velvety warmth,
poise and pathos. Fleming moved effortlessly between soaring pianissimi and
impassioned exhortations: as satisfying a demonstration of the meaning of
bel canto as one could wish for.
A dilapidated mirror leaning haphazardly against the flaking wall, cast a
sombre shadow over the now-bare stage for the famous death scene. Singing with
sublime beauty and tender radiance, Fleming held the audience spellbound.
'Prendi: quest'Ë l'immagine', in which Violetta
selflessly frees Alfredo to love another, was exquisitely poignant. Sadly,
however, the final moments jarred somewhat. Violetta's momentary
resurgence of physical health, a false respite from suffering, was cleverly
illuminated with a surge of light as Fleming sang 'Rinasce'
('I'm reborn'), accompanied by a rising scale of pulsing urgency.
But, rather than simply collapsing, overcome and exhausted by the intensity of
this moment of joy, Fleming rushed around the room, grasping each astounded
onlooker and informing them individually of her recovery. Then she fell to the
floor, dead. This was an unfortunately anticlimactic end to an otherwise superb
interpretation.
Joseph Calleja as Alfredo Germont and RenÈe Fleming as Violetta ValÈry
Fleming's partner, in the role of Alfredo, was the Maltese tenor,
Joseph Calleja. He more than matched her musical mastery. Possessing a sweet,
smooth voice, he sustained an Italianate warmth and took the Alfredo's
rigorous cabaletta, 'O mio rimorso', in his stride, although
surprisingly he offered us only one verse. Calleja is not a natural actor, and
the chemistry between him and Fleming was lacking in potency, but he inhabited
the role with increasing conviction as the opera progressed, and in Act 2 his
anger and bitterness were truly shocking as he hurled his gambling winnings at
Violetta.
There was no weak link among the central trio. As Germont – the bourgeois
father who disapproves of his son's paramour – Thomas Hampson commanded
the stage, immediately establishing his stern authority. He used his flexible
baritone in his second-act aria, 'Di Provenza', to reveal the
hypocrisy of this domineering emblem of wealth and respectability and his
domineering cruelty — he brutally pushes Alfredo to the ground – while
also hinting at the genuine regret which troubles his soul.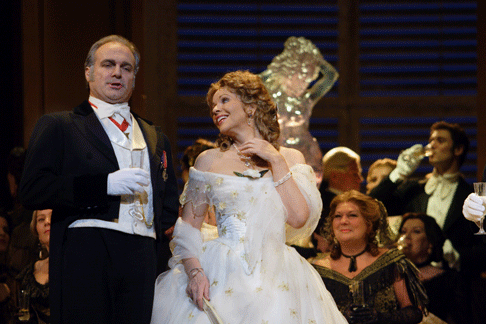 Eddie Wade as Baron Douphol and RenÈe Fleming as Violetta ValÈry
This stunning triumvirate put every ounce of energy, focus, musicality and
dramatic commitment to their task. And they were supported by some fine singing
by Jette Parker Young Artists present and past in the minor roles,
Monika-Evelin Liiv (Flora), Kostas Smoriginas (Marquis D'Obigny) and
Haoyin Xue (Gastone de LetoriËres). As Annina, Sarah Pring was dramatically
feisty and musically sure. The chorus, too, were in typically fine form, most
notably in the Act 2 gambling scene — stunningly lit from above in
complementary reds and greens — where the gypsy girls frolicked and
cavorted on the enormous green baize gambling table, while matadors strutted
and postured, entertaining the dissolute guests with wild abandon.
Offering a near-prefect reading of the score, Antonio Pappano gave the cast
eloquent support. The expressive dynamic range he drew from his players,
enlivened even the most mundane accompanying figures, powerfully colouring the
words. He coaxed a rich display of expressive hues from the members of the
orchestra, especially the superb clarinet solo which accompanies
Violetta's letter writing in Act 2, where the instrument's innate
variety of timbre perfectly conveyed her inner conflict and instability. The
Prelude was simply stunning: delicate, scintillating strings commented on sepia
projections of times past, images which anticipate the picture that Violetta
will present to Alfredo just before her death.
Scene from Act III — Sarah Pring as Annina, RenÈe Fleming as Violetta ValÈry, Joseph Calleja as Alfredo Germont and Richard Wiegold as Doctor Grenvil
The catastrophic premiËre of La Traviata at La Fenice in 1853 has
entered the annals of infamous operatic disasters. During rehearsals, the
librettist, Piave, had written to the Fenice management that the composer
'insists with renewed firmness that to sing Traviata one must be
young, have a graceful figure and sing with passion'. Fleming certainly
ticks all the boxes. Her Violetta ValÈry is neither angelic paragon of
innocence or knowing schemer, but rather a high-spirited young woman of noble
heart and pure soul whose self-contempt and fear of risking love win our
sympathy and, ultimately, our tears and love.
Claire Seymour

image=http://www.operatoday.com/Fleming_Violetta_ROH.gif
image_description=RenÈe Fleming as Violetta ValÈry [Photo by Catherine Ashmore courtesy of The Royal Opera House]
product=yes
product_title=Giuseppe Verdi: La Traviata
product_by=Violetta: RenÈe Fleming; Alfredo Germont: Joseph Calleja; Giorgio Germont: Thomas Hampson; Baron Douphol: Eddie Wade; Doctor Grenvil: Richard Wiegold; Flora: Monika-Evelin Liiv; Marquis D'Obigny: Kostas Smoriginas; Gastone: Haoyin Xue; Annina: Sarah Pring; Servant: Jonathan Coad; Giuseppe: Neil Gillespie; Messenger: Charbel Mattar. The Royal Opera. Conductor: Antonio Pappano. Director: Richard Eyre. Designs: Bob Crowley. Performance of Monday 22 June 2009.
product_id=Above: RenÈe Fleming as Violetta ValÈry
All photos by Catherine Ashmore courtesy of The Royal Opera House