There. I said it. Let the Glimmerglasswegians and the Santa Fesions rail and
fuss, but OTSL has really got the whole package together: top quality musical
offerings, exciting young singers well on the road to major careers,
well-considered theatrical stagings that rival any major house (any), and an
extra-musical ambiance that is just about unbeatable. Approaching the house
through the lawn area profuse with candle-lit tables, free to any pre-show
picnickers who care to use them, and being able to stay after the show to
party, applaud, and mingle with the artists in the large Fest tent, well, it is
sort of Glyndebourne without the 'tude.
Add to the mix the fact that this troupe has consistently performed their
repertoire in English, in a small house that fosters great immediacy of the
theatrical experience, at competitive prices, and, good God, it is 'popular'
opera! (Even when the title is not of the bread-and-butter variety). True, the
Loretto Hilton lobby is cramped on SRO evenings but. . .there is always a
stroll available on that candle-dotted lawn.
My recent visit found this resourceful company in its usual fine artistic
form, beginning with as enchanting a production as I imagine possible of
Mozart's Il Re Pastore (The Shepherd King).
Wolfgang's youthful (he was nineteen) work is set to a much-used libretto by
Metastasio, and is of the formulaic opera seria vintage. You know, the kind
that can be dead boring no matter how well it is performed. Not so here, thanks
to a wholly winning, and dramatically truthful production directed by Chas
Rader-Shieber.
For Mr. R-S has imagined it as a sort of Upstairs Downstairs
episode with high notes, set in an English country house in a prior century,
where a wealthy young woman and her fiance are hosting another well-to-do
couple for a visit. After perusing the actual score of Re in this
setting, our heroine becomes committed to the group's enacting the story as the
day's entertainment, assigning roles to not only the other society figures, but
also to the bustling servants.
This giddy, play-acting atmosphere yielded impressive results, not only in
filling the story with meaningful (and not distracting) stage business, but
also allowing for emotional honesty and invention in the many (usually) static
set pieces of this genre. It did not hurt that David Zinn's set was one of the
most beautiful I can recall on this St. Louis stage, impeccably dressed. Nor
that Robert Perziola's classy costumes spoke volumes in defining the character
relationships, and clarifying plot absurdities, including one
drop-dead-gorgeous beaded gown for "Arminta."
But all this technical brilliance would have been for naught without a top
notch cast, and this, too, OTSL delivered in spades. The Gerdine Young Artists
development program is a model of its kind, and this investment obviously pays
off handsomely as four of the five soloists are former participants.
L to R (foreground): Paul Appleby as Agenore, Daniela Mak as Tamiri, Alek Shrader as Alexander, Heidi Stober as Aminta, and Maureen McKay as Elisa in Il Re Pastore
Heidi Stober was radiant as the young affianced woman who is compelled to
impersonate the Shepherd King Arminta and enact his plight. Her ample,
well-schooled, warm lyric soprano blossomed especially above the staff, and her
stage demeanor served up a generous helping of star-quality. Miss Stober was
well partnered by her "betrothed," the tenor Alek Schrader, pressed into duty
to play the emperor Alexander. Mr. Schrader has an exceptionally pleasing
Mozartean timbre, and his bravura rapid-fire melismatic phrases were
heart-racingly delivered.
My favorable impression of Maureen McKay in last summer's Un Cosa
Rara was here confirmed with a securely sung Elisa, a maid who briefly
enjoys enacting the longings of a noblewoman. Miss KcKay is capable of regaling
us with accurate cascades of fioritura, likewise deploying her crystal
clear tone in melting legato phrases. Her spunky stage savvy is
equally bewitching. Paul Appleby has fewer fireworks to negotiate in the role
of Agenore (advisor to Alexander, in love with Tamiri), but he sang with style
and panache. As Tamiri, Daniela Mack complemented her cast mates with her
slightly darker rich tone and attention to every musical detail. All five
offered fine English diction, coached on this occasion by soprano Erie
Mills.
In the pit, conductor Jean-Marie Zeitouni discovered all the youthful spirit
and buoyant lyrical possibilities in the score (after a bit of a slack rhythmic
start in the first few bars), and there was wonderful solo instrumental work as
well throughout the evening. His conscientious partnering of the singers seemed
to free them to soar through this youthful-but-challenging work.
The baton was successfully passed the very next night to another conductor
whose stock is rising, Michael Christie, who helmed a musically rich reading of
The Ghosts of Versailles, by John Corigliano, libretto by William M.
Hoffman. After a sensational debut at the Metropolitan Opera in the early 90's
which was followed by several other revivals in major houses, Ghosts
languished, largely (it is believed) owing to the lavish original designs, and
massive instrumental and vocal forces required.
At St. Louis, the production team and composer have sought to down-size the
piece to make it more accessible to smaller opera companies. As evidenced here,
they have been largely successful in their attempt. Corigiliano is a brilliant
orchestrator, and his original score took full advantage of the huge pit and
full band of the Met. Here, Ghosts was re-scored in a new performing
edition commissioned by OTSL and executed by John David Earnest. It was quite a
successful trade-off, and much variety and color remained, many times
(favorably) suggesting the smaller scores of Benjamin Britten. While the
instrumental presence was almost always ample, there were a few climactic
moments that seemed a mite under-powered, not least of which was the very final
sting of Act One. These minor quibbles aside, this was a very fine re-working
of the piece, that retained its musical integrity.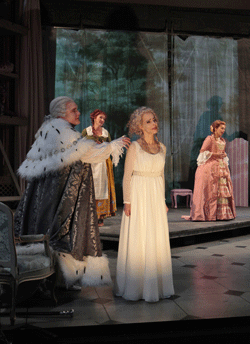 Kevin J. Glavin as Louis XVI and Maria Kanyova as Marie Antoinette with (at rear l. to r.) Dorothy Byrne as Susanna and Hanan Alattar as Rosina in The Ghosts of Versaille
We were equally fortunate with the physical production, directed by James
Robinson, with sets by Allen Moyer, costumes by James Schuette, and most
important, highly evocative video projections by Wendall K. Harrington. As we
entered the auditorium, we discovered the theatre at Versailles, on stage,
being refurbished by a contemporary restoration crew in blue jump suits. That
image segued into the arrival of the ghosts, attired in lavish period costumes,
and superb wigs/make-up by Tom Watson (a company treasure, he). The first notes
of the score sounded, sans the usual conductor's entrance, and the lighting
melded into disorienting video work that transported us to the deserted stage
of long ago, "beyond time" as the program noted. It should be said that Paul
Palazzo provided the uncommonly fine lighting designs for both evening's
performances.
One element of the work that resisted diminution was the large cast demand.
It took a village to get this work up, and there was great depth in the entire
cast largely thanks (again) to the company's young artists, who also formed the
chorus under Sandra Horst's direction. I did find that the dancers contributed
less to the overall dramatic experience than they might have, and elimination
of the dance corps might be a possible further cut-back. The stage got crowded
at times, although Mr. Robinson not only managed the traffic well, but focused
the important dramatic moments and developed believable characters and strong
relationships.
Without creating a laundry list, it is hard to single out all who were
excellent in this large ensemble cast. Certainly expectations were high for
Maria Kanyova (another former apprentice) as Marie Antoinette, and she did not
disappoint. Ms. Kanyova has a responsive soprano, with a hint of metal that
stands her in good stead in dramatic segments, but she can also scale her voice
down to float effective pianissimi that veritably float above the staff. She
was a worthy successor to the great Teresa Stratas who created the role.
Christopher Feigum was suitably winning as Figaro, although in his first big
aria all the acting seemed to be external. The internal spark of creation crept
in sometime during his (quite funny) Act One finale drag moments as the harem
girl and he remained fully engaged for the rest of night. His pliant, smooth
baritone gave considerable pleasure and he is a talent to watch.
Mr. Corigliano apparently loves his baritones and he created a fine
complementary foil in Beaumarchais, well-taken on this occasion by James
Weston. As should be, Mr. Weston has a little more maturity of tone and the
bronze patina of his upper register contributed to a very effective contrast.
His love for the doomed heroine was wonderfully embodied and his alternately
witty and sensitive delivery enabled a well-rounded character to emerge.
As stage characters in the concurrent Figaro comedy, a jewel of an ensemble
worked tightly together in a slightly heightened play-acting style. Samuel Read
Levine (Leon), Paula Murrihy (Cherubino), Sean Panikkar (Almaviva) were all
terrific, with young artist Jeanette Vechhione capturing the most applause for
her technically secure stratospheric singing as Florestine. Hanan Alattar and
Dorothy Byrne were exquisite in their limpid lyrical outpouring of the extended
Act Two duet for Rosina and Susanna, a musical high point.
The real-time bad guys were equally well-served by Lee Gregory, a vocally
assured and physically active (and fearless) Wilhelm, and by stentorian,
tireless tenor (and fine character actor) Matthew DiBattista as Begearss.
Elizabeth Batton did everything possible to amuse us in her star turn as
Samira. Originally created for the particular gifts of Marilyn Horne, Ms.
Batton made it her own with plummy tone, a well-modulated chest voice, and
sound technique in the middle and (ringing) upper reaches. Quite a comedian,
she wisely eschewed the baritonal power of Ms. Horne for an equally successful
and personalized performance.
If I had to mention only three more performers, I would include the
characterful Louis XVI from Kevin J. Glavin, the firm-voiced Marquis of Kevin
Park, and the delightful Woman with Hat sung by Erin Holland.
Upon re-visiting The Ghosts of Versailles I still found it a
particularly well-calculated mix of old and new styles, in turn challenging and
comfortable, telling a dramatically satisfying and captivating story of fate
and acceptance. If I still feel that the arias go on a bit longer than needed
to make their musical or dramatic point, they never become uninteresting,
especially in the hands of such a capable roster of performers.
This production will go on to fall's Wexford Festival, and it alone would
make it worth the trip to Ireland. It deserves many more performances.
James Sohre

image=http://www.operatoday.com/11_MG_8719a.gif
image_description=Alek Shrader as Alexander, Paul Appleby as Agenore, and Daniela Mack as Tamiri (all foreground) with supernumeraries Mark Goff and Elizabeth Zharoff in Opera Theatre of Saint Louis's 2009 production of Mozart's IL RE PASTORE. Copyright: Ken Howard 2009
product=yes
product_title=
product_by=Aminta: Heidi Stober; Elisa:Maureen McKay; Alessandro: Alek Shrader; Agenore: Paul Appleby; Tamiri: Daniela Mack. Jean-Marie Zeitouni: Conductor. Chas Rader-Shieber: Stage Director. Set Designer: David Zinn. Costume Designer: Robert Perdziola.
product_id=Above: Alek Shrader as Alexander, Paul Appleby as Agenore, and Daniela Mack as Tamiri (all foreground) with Mark Goff and Elizabeth Zharoff in Il Re Pastore
All photos by Ken Howard courtesy of Opera Theatre of Saint Louis