Then there's the length. Two years ago the Metropolitan Opera had a huge success with a new production in its first year of Live in HD telecasts to movie theaters. Last season Los Angeles Opera also got headlines for hiring Woody Allen to direct *Gianni Schicchi*, with another film director, William Friedkin, taking on the *Suor Angelica* and *Il Tabarro*.

Patricia Racette (Sister Angelica) in Suor Angelica
San Francisco Opera, for the second production of its 2009-10 season, pulled together an admirable cast, while borrowing a New York City Opera production of intriguing, if stark, sets, designed by Allen Moyer. Perhaps the rusted metallic plates that served as wharf and barge for *Il Tabarro* were more utilitarian than evocative, and setting *Suor Angelica* in a sanatorium clinic of aquamarine tiles gave that emotionally rich piece a clinical feel. Still, the power of Puccini's music and the efforts of a talented cast should make for a memorable evening.
Both the *Tabarro* and *Suor Angelica* felt flat, as seen on Friday, September 18th. The fault lay with the tepid conducting of Patrick Summers. Plum assignments go to this conductor, and his program essay revealed a keen intelligence aware of the qualities that make the music of *Il Trittico* so special. But the actual performance he produced with the estimable San Francisco Opera orchestra disappointed. Rhythms were flaccid, transitions awkward. The exquisite opening of *Il Tabarro* conveyed no sense of either water in motion or the tragedy to come. *Suor Angelica* had no pathos, and left the audience dry-eyed, despite the fine work of Patricia Racette. By comparison, a year ago James Conlon in Los Angeles and Sondra Radvanovsky in the lead role had their audience choking back sobs. The *Schicchi* went better, mostly because James Robinson's direction, sharp and incisive all night, produced so much laughter that it rode over any flaws in the conducting.

David LomelÌ (Rinuccio) and Patricia Racette (Lauretta) in Gianni Schicchi
Racette took on all three lead soprano roles, and with Robinson's help, each was a clearly defined characterization. Her Giorgetta played up the frustrated sexuality of the character, linking her to the *Pagliacci* Nedda. At times Racette seemed to be holding some power in reserve for the rest of the long evening, but then again Summers let the orchestra swamp other singers at times as well. Racette's Angelica was a subtle, restrained performance, and in this production, the ending leant toward tragedy rather than miraculous redemption. The highlight of the entire evening was the confrontation between Angelica and the Princess of Ewa Podle?. Podle?'s voice now has two quite separate registers, but the awkward gear shifts between the two only served to make her character more imposing and ominous. Racette returned for the *Schicchi* Lauretta, where she played up the lovestruck, not to say dumbstruck, teenage sex kitten. Her "O mio babbino caro" worked its manipulative magic even with Paolo Gavanelli's stubborn papa on the other side of a door.
Gavanelli also had moments of greatness as Michele in *Tabarro*, although the macho good looks of Brandon Jovanovich's Luigi made Michele seem obtuse for not guessing that his wife had taken up with the hunky cargo handler. Jovanovich sang with thrust and yet sensitivity – a real tenor to watch. David Lomeli did some nice work later in the evening as Rinuccio in *Schicchi*. If Lomeli can strengthen his lower range, he too will be on his way to a fine career. Andrea Silvestrelli in both *Tabarro* and *Schicchi* grabbed the spotlight with his relaxed but convincing acting and most of all, a huge, dark bass sound. Under many an other conductor, the whole evening would have been a considerable success.

Meredith Arwady (Zita), Catherine Cook (La Ciesca), Paolo Gavanelli (Gianni Schicchi), and Rebekah Camm (Nella) in Gianni Schicchi
The next night saw the fourth of SFO's telecasts from the War Memorial to the ATT ballpark, home of the Giants. Verdi's *Il Trovatore* filled the bill on Saturday the 19th. Your reviewer was one of an estimated 25,000 who kept the concession stand management happy with visits for overpriced treats of doubtful nutritional value. The ballpark turned out to be a surprisingly wonderful way to enjoy an opera on a cool but bearable San Francisco evening. The crowd was mostly quiet, although in the last act the slamming of concession stand windows could be heard, and most unfortunately, during Leonora's first aria a small girl escaped her guardian and ran around the roped-off infield for a couple of minutes, to the raucous laughter of the crowd.

Dmitri Hvorostovsky (Count di Luna) and Sondra Radvanovsky (Leonora)
But *Trovatore* and this cast made for an exciting ball park entertainment. The audio boomed out, sometimes echoing off the stadium heights, but the occasional moments of distortion did not eclipse the pleasures of this visceral performance under the commanding leadership of new SFO Music Director Nicola Luisotti. Stephanie Blythe staked her claim to be the Azucena of her generation – fearless in her attack, emotionally open, and most importantly, strict in never letting the characterization sink into comical extremes. Dmitri Hvorostovsky has received criticism for pushing his lovely baritone in a heavier Verdi role such as Di Luna, and he did bark out some lines, but his gorgeous tone and seamless legato dominated his performance, pushing aside any grumbles.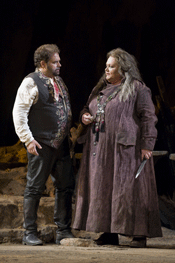 Marco Berti (Manrico) and Stephanie Blythe (Azucena) [Photo by Terrence McCarthy courtesy of San Francisco Opera]
Sondra Radvanovsky took the honors that evening, with her amazing breath control, agility, and the unique quality to her voice – smoky and yet utterly feminine. Arguably, the slower tempo of "D'amor sull'ali rosee" showed off more of Radvanovsky's incredible technique than it did Leonora's desperation, but Luisotti and Radvanovsky set up the challenge and she met it beautifully, earning a tumultuous response. For Marco Berti in the title role, it might be a back-handed compliment, but he does seem to be about the best the opera world can do right now in this role. The tone lacks color, and he brings no particular style to his efforts. But the voice is huge and undaunted by the role's challenges. Other tenors can do more with "Ah si ben mio," but for the rest of the role, Berti came through.

Burak Bilgili (Ferrando) and chorus
As seen on the ATT ballpark giant screen, David McVicar's production caught the hothouse atmosphere of the narrative well, and the revolving set facilitated much appreciated quick scene changes. Why the final scene found Manrico and Azucena imprisoned in a hole in giant rock confused your reviewer, but the darkness of the screen and the chilly lateness of the hour might be at fault there.
David Gockley, General Director of San Francisco Opera, has done very well in selecting Nicola Luisotti as Music Director. If only Luisotti had been at the helm of the *Il Trittico* performances as well as the *Trovatore* ones…
Chris Mullins

image=http://www.operatoday.com/Tab_JovRac.gif
image_description=Brandon Jovanovich (Luigi) and Patricia Racette (Giorgetta) in Il Tabarro [Photo by Cory Weaver courtesy of San Francisco Opera]
product=yes
product_title=Giacomo Puccini: Il Trittico
Giuseppe Verdi: Il Trovatore
product_by=Click here for cast list of Il Trittico
Click here for cast list of Il Trovatore
product_id=Above: Brandon Jovanovich (Luigi) and Patricia Racette (Giorgetta) in Il Tabarro
All photos by Cory Weaver courtesy of San Francisco Opera except as otherwise indicated