While the SFO program booklet credits the production to Mr. Hall it does not provide a biography of his accomplishments, a tool useful for placing a production in context. That Sir Peter founded the Royal Shakespeare Company and was the general director of Britain's National Theatre would tell us that we have a theatrically sophisticated director, that he was the general director of the Glyndebourne Festival well establish him as a sophisticated opera director. It would be interesting to know what Peter Hall opera and theater productions have previously played in San Francisco — Chicago Lyric boasts five Peter Hall productions, Denver premiered his ill-fated *Tarquinius*, Los Angeles Opera gave us his former wife Maria Ewing as his *Salome*.
However Peter Hall's *Otello* was staged in San Francisco by Australian Stephen Barlow for whom there is a biography that includes assisting many directors at Glyndebourne and Covent Garden and staging many revival productions, i.e. originally directed by someone else. Curiosity nags about the original Peter Hall Otello with Ben Heppner and its Glyndebourne revival with David Rendall and if these performances achieved the formidable stature of Mr. Barlow's San Francisco staging with Johan Botha.

Zvetelina Vassileva (Desdemona)
Perhaps key to understanding this fine San Francisco *Otello* is the Desdemona of Bulgarian soprano Zvetelina Vassileva, a role she has previously performed only in Sofia (according to the program booklet biography). Mme. Zvetelina possesses a large, quite beautiful Slavic voice, and seems to be a careful musician. She was able to project a waif like, lost presence, and hold these attributes for the duration of the performance, never complicating Verdi's heroine with an Italianate sweetness and beauty, or the pathos that Verdi imbued into his last act.
Dressed in white, with a blond wig, Mme. Vassileva evoked Bianca, the phantom lover of Cassio and she was the symbol of the vulnerable side of Shakespeare's fierce fighter, the inflamed warrior who would succumb to the power of Venus. This Desdemona was not presaging verismo's melodramatic heroine, rather she was the Venus that destroyed Otello, and therefore she was a part of Otello himself. Mme. Vassileva's quite powerful voice could indeed equate his presence. She was never his victim, as he himself was his victim.
Shakespeare's Otello is of course black though current custom proscribes black face, but even so the complete whiteness of the cloth draped stage was in absolute conceptual contrast to Verdi's moor dressed in brown robes, uniquely exotic among the otherwise Victorian clothed cast. The unit set of the first three acts was an abstracted old Globe wooden theater, abstracted shudders and a ceiling fan hinting a southern climate, simple wooden desks or benches placed to accommodate the actors' moves necessary to inflame and expose Otello's vulnerability.

Marco Vratogna (Iago)
In contrast to the Met's massive Zefferelli, grand opera production, the Peter Hall production is an anti-*Otello*, the storm is only seen in the reaction of the chorus, the beauty of the evening star is realized on the faces and in the voices of Otello and Desdemona. Verdi's opera became about Shakespeare's words, his poetry and Otello's tragedy, and not about the spectacle of nature's destructive and intoxicating powers.
In the San Francisco staging Iago was embodied by Italian baritone Marco Vratogna, small of stature, wily, a shaved head, an archetypical untrustworthy look. If Otello and Desdemona were abstracted black and white characters, Iago was real, and really mean, with strong TV drama body language, his powerful voice in grand theatrical contrast to his affected servile stance. He delivered his "Credo" as a shouted harangue, beautifully sung to be sure, downstage center directly at the audience. Chilling, and eminently satisfying.
South African tenor Johan Botha is a real Otello, vocally and temperamentally, a voice huge enough to overpower a melee of his soldiers and establish himself as the invincible warrior, with sufficient Italianate vocal gestures to supplicate the bacio from Desdemona, his hysteria and temper flaring all the while. It was all there in Verdi's first act, and played out in the following two, Iago's snakey treachery slowing engulfing Otello in the second act, the moor's tormented third act soliloquy delivered sotto voce unmoving, leaning against an upstage column in dim light, marred only by over-excited clarinets and cellos in the pit. Finally in a brilliant moment of complex cowardice Otello suffocated Desdemona with a pillow,
If Cassio, though striking in his Victorian profile, was vocally over-parted (i.e. we needed more), Locovico was gratefully under-parted to veteran *Don Carlo* Grand Inquisitor Eric Halfvarson (no Adler Fellow here). Mr. Halfvarson, as the production demanded, created the power and spectacle of Venetian authority entirely by his voice and presence (and just one small banner of the Venetian lion). Iago's wife Emilia was beautifully realized by Adler Fellow RenÈe Tatum, her servile demeanor unwavering until she unleashed our pent-up response to evil and tragedy, and became in those few lines one of the evening's principal singers.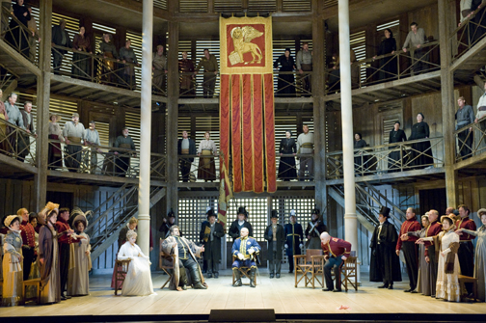 A scene from Act III
Teetering on the edge of mannered theatricality, the production made the fazzoletto almost a tongue-in-cheek topic. In fact all evening Mr. Hall's slick theatricality demanded an admiration that competed with the dramatic honesty of Shakespeare and Verdi, or maybe it simply exposed the virtuosity of Verdi's challenge to Shakespeare's obvious theatricality. Whatever detractions one may conjure, Mr. Hall's superb production can perhaps serve as a versatile platform for whatever resonances individual artists may bring to these iconic roles, open to the interpretive creativity of whoever may stage them.
San Francisco Opera's excitable music director Nicola Luiscotti was in the pit. As we have well perceived this fall Mo. Luiscotti is smitten with creating effects, and there were all the obvious ones amplified, and many more, not the least of which was the aggressive virtuosity of the mandolin accompaniment to Desdemona's second act entrance. Musically the production was indeed solid, but the music remained illustrative and theatrical, seldom penetrating the poetry. What contributions Mo. Luisotti may have made to the staging and the individual performances are not possible to know, but finally this theatrically brilliant evening was musically and emotionally cold.
Michael Milenski

image=http://www.operatoday.com/Otello_Botha.png
image_description=Johan Botha as Otello [Photo by Terrence McCarthy courtesy of San Francisco Opera]
product=yes
product_title=Giuseppe Verdi: Otello
product_by=Otello: Johan Botha; Desdemona: Zvetelina Vassileva; Iago: Marco Vratogna; Cassio: Beau Gibson; Emilia: RenÈe Tatum; Lodovico: Eric Halfvarson; Roderigo: Daniel Montenegro; Montano: Julien Robbins; Herald: Austin Kness. Conductor: Nicola Luisotti. Director: Peter J. Hall. Revival Director: Stephen Barlow. Production Designer: John Gunter. Lighting Designer: Duane Schuler. Chorus Director: Ian Robertson. Choreographer: Lawrence Pech.
product_id=Above: Johan Botha as Otello
All photos by Terrence McCarthy courtesy of San Francisco Opera