A couple of weeks ago I reviewed a new Tosca which looked suspiciously like Tristan und Isolde — now, we have a new Pearl Fishers which, if I hadn't been able to hear the music as the curtain went up, I would have taken to be the opening of Das Rheingold. The series of major triads towards the end of Bizet's prelude has never before struck me as sounding like Wagner, and I dare say it never will again — but its presence, coupled with the stage picture, makes for a disorientating few seconds of opera.
It is a stunning piece of visual theatre, making effective use of the vast dimensions of the Coliseum's proscenium arch to emphasise the insignificance of humankind in comparison with the might of the sea. The precariousness of the pearl-fishing community's existence is further underlined by designer Dick Bird's Act 1 set — a shanty town on stilts, with little rickety wooden huts piled on top of one another up the hillside (small wonder that the announcement of a rapidly spreading fire causes such instant panic) — and by the fiercely billowing ocean waves which surround LeÔla's Act 2 sanctuary.
Woolcock's production attempts to strip away most of the kitsch traditionally seen in 19th-century operas by European composers about the exotic East. Instead she gives us a hyper-realistic contemporary setting, in which shacks have rudimentary TV aerials rigged up on the roof, the locals wear an eclectic mix of Western and traditional Ceylonese clothing, and Western tourists with cameras are occasionally seen weaving through the dense crowd of locals. She doesn't go quite so far as to replicate the litter-strewn shallows depicted in one of the photographs in the programme, but one suspects it is probably a good job this staging does not contain an olfactory element (it would surely be far less fragrant than Philip Prowse's old production, last revived in 2000, with its heady scent of incense)!
The Act 1 set does, at least, look breathtakingly pretty when night falls and lights twinkle from the hillside huts, but the designs do create a few dramatic problems — the huts in the foreground are arrayed stage left and right, separated by a water-channel centre stage, so when Nadir and Zurga sing their duet from opposite sides of the divide, they are barely close enough to one another to be credible in greeting each other as old friends (what was that I said earlier about resemblance to Wagner?). And in Act 2, if Nadir has supposedly braved hell and high water to reach LeÔla in her refuge, it's amazing how Nourabad manages to get the whole chorus up there from another direction in five seconds flat.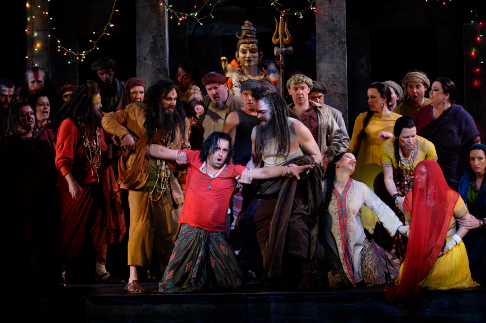 Alfie Boe as Nadir and Hanan Alattar as LeÔla
The visual inspiration vanishes after Act 2, unfortunately, with Zurga's aria and scene with LeÔla set in front of what looks very much like a Bedouin tent, and the flames of the final inferno are a mere glow in the early morning sky, or at least they were from where I was sitting.
Though the staging grew steadily weaker throughout the opera, the musical quality went the other way. I was disappointed during Act 1 that tenor Alfie Boe, a popular star destined to ensure buoyant ticket sales, didn't have the facility for a soft, floated 'Je crois entendre encore' in the mould of Vanzo or Kraus or even some of his own quite recent predecessors at the Coliseum. Bizet is the king of the high, piano tenor trick (think of the end of the Flower Song in Carmen) and when sung as written it is simply magical. This wasn't. Similarly, the Leila, Hanan Alattar, started off the evening with a bright but frustratingly unyielding tone which bulldozed any notion that this young priestess might have been employed for her ability to seduce the gods into granting safety and protection to the pearl fishers.
One cast member was consistent — the Zurga, Hawaiian baritone Quinn Kelsey. He has a pleasant, even tone with complete security throughout the role's considerable vocal range, coupled with a mature and centred stage persona. He is not one of nature's great movers, but I barely minded as he was so expressive in his Act 3 aria. Perhaps even more importantly, he seemed to bring the best out in Alattar, whose previously monochromatic soprano finally began to show variation in colour and tone, and whose top turned out to be really very beautiful.

Quinn Kelsey as Zurga and Freddie Tong as Nourabad
The chorus sang powerfully and with impressive diction (though I sometimes wished I hadn't been able to hear quite so much of Martin Fitzpatrick's translation) and Rory Macdonald's handling of the score was thrusting and powerfully driven during the big chorus scenes, if a little short on delicacy for intimate moments such as LeÔla's aria.
If not a complete triumph, owing to musical frustrations in the opera's early scenes and scenic frustrations in its later ones, this new production is more than worth seeing for the high points alone.
Ruth Elleson, June 2010

image=http://www.operatoday.com/Alattar.png
image_description=Hanan Alattar as LeÔla [Photo by Catherine Ashmore courtesy of English National Opera]
product=yes
product_title=Georges Bizet: Pearl Fishers
product_by=Zurga: Quinn Kelsey; Nadir: Alfie Boe; LeÔla: Hanan Alattar; Nourabad: Freddie Tong. Orchestra and chorus of the English National Opera. Conductor: Rory Macdonald. Director: Penny Woolcock. Set designer: Dick Bird. Costume designer: Kevin Pollard. Lighting designer: Jennifer Schriever. Choreographer: Andrew Dawson. English National Opera, London Coliseum, June 2010
product_id=Above: Hanan Alattar as LeÔla
All photos by Catherine Ashmore courtesy of English National Opera