For me, I had to think way back to Birgit's return to the Met in
Elektra. Or Joan in the all-star Puritani. Well, my drought
has been broken with Joyce DiDonato's breath-taking performance in Paris
Opera's La Donna del Lago.
When last I experienced this tremendous artist, it was in the delightful
Cenerentola in Barcelona. I never dreamed she could exceed the heat
she generated on stage that day. I was wrong. For with her consummately
realized Elena in La Donna del Lago we are privileged to experience
that rare perfect marriage of role and artist. This day there was nothing her
voice could not do, and she (and Rossini) asked it to do a great deal.
Perfectly realized coloratura one moment, melting legato the next, heady leaps
to the heights and spot-on plunges to the depths, fizzy fioritura, and plangent
despair — Elena la, Elena qua — Ms. DiDonato makes short work of
any such challenges as if she were born with this role in her throat.
The great final set piece Tanti Affeti was such stuff as legends
are made of, with our diva not so much singing the aria as inhabiting it. The
inevitability of every phrase, the quick-silver contrasts of emotion, the
flawless musical instincts backed by one of the best techniques in the world
held us utterly mesmerized. Indeed, at one momentary rest I became aware that
no one seemed to be breathing. Although we were poised in our seats, mouths
agape at the pyrotechnical display, no air was moving in or out lest the
perfection of the moment be marred. Only the greatest artists giving the
greatest performances can inspire that reaction holding an audience rapt, and
Joyce DiDonato must certainly be numbered among them. Her aria effortlessly
dispatched, all that was left was for us to roar our approval with such
ferocity and persistence that it threatened to bring the plaster down upon our
heads. Bravissima, Joyce. Oh hell, Bravississima.
It is a pleasure to note that she was not alone in her musical
accomplishments for Paris fielded a starry cast of equals including one of the
leading tenors of the day, Juan Diego Florez. If there is a superlative left to
lavish on JDF I am not sure what it is. His familiar and acclaimed bright lyric
sound is buoyed by healthy production, unerring passage work, and an ease of
communication that really are the 'total package.' JDD and JDF are
a Dream Pair in this Fach, of course, not only for their infectious joy in
singing (and skill at same), but also for the youthful good looks, stage savvy
and charisma that enliven even the most implausible plots and more obscure
repertoire.
Colin Lee was a revelation with his authoritative performance as Rodrigo. He
was an excellent choice to contrast with Mr. Florez since his fluid tenor is a
bit darker, although no less flexible. Hearing the two boys swapping high C
challenges and batting them out of the ballpark was quite thrilling. The
'discovery' for me however, had to be luminous mezzo Daniela
Barcellona as Malcolm Groeme. Her first aria summoned echos of the young
Marilyn Horne with the rich, pulsating melismas and the ringing baritonal chest
tones. All evening she went from strength to strength and her varied and
well-modulated rendition earned the evening's second biggest ovation.
Bass SimÛn Orfila brought rolling, orotund tones and dramatic conviction to the
role of Duglas. Diana Axentii lent solid support as Albina, Jason Bridges
showed off a very pleasing tenor as Serano, and Philippe Talbot was fine in the
small part of Bertram.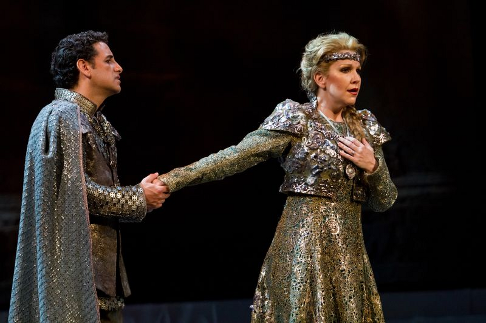 Juan Diego Florez as Giacomo V and Joyce DiDonato as Elena
Would that the physical production had been up to the level of its world
class singers. Ezio Frigerio is incapable of designing anything that is not
handsome at the least, and here his imposing unit set consists of a
three-tiered, formal stone structure that in a way seemed like it was based on
the Palais Garnier itself. The semi-circular, arched and vaulted construction
was fronted with steps not unlike choral risers. At rise, there was a split in
the middle with a Mylar mirror panel backdrop that reflected the three crystal
chandeliers, making us feel like, well, we were perhaps in the lobby. And the
choristers were dressed in 18th century evening wear for the whole night.
Franca Squarciapino created these and the lovely traditional period costumes
worn by the principles.
As the mirror flies away, a sort of "torn" stone/steel diagonal
back drop replaces it and the walls endlessly, repeatedly closed and opened,
opened and closed until we were ready to scream "enough already."
In fact, there was a lone but persistent boo-er who was having none of this but
at least relegated the disapproval to musical play-offs. False doors were set
within the lower arches and they too kept opening and closing to allow the
chorus to file on and stand in formation like a concert (see "like choral
risers," above).
The trap door center stage also wore out its welcome quickly. When first
used it was a really fine star entrance for Elena who appears from the floor
"lake" seated on a bench with rather effective area gobo lighting,
one of designer Vinicio Cheli's better effects. Most of the night he only
gave the stage pools of light and when a singer moved out of them, oh well,
they were in the dark. Meanwhile the trap fell, it rose, fell, rose, this time
providing a step up for Giacomo, that time a railing, and then in an incredibly
duff effect, a cheesy harp which is joined by a chandelier for a
"sun" effect as the harp in the pit plucked away (beautifully I
hasten to add). And that is pretty much it from the design perspective.
Lluis Pasqual is credited as the director but it is hard to know what he did
really, except have the chorus remain on the sides totally unengaged in the
action, and have the soloists routinely circle the stage a bit and the tromp
down center one by one in a numbingly repetitive pattern. Pasqual also kept
having people spook around on the second and third levels of the balconies,
without adding visual interest but at least too boring to even be distracting.
Montse ColomÈ claims the distinction of devising perhaps the dorkiest dances I
ever saw for three men and one woman as warriors, flailing arms and extending
legs like Xena Meets The Matrix.
But there was always the sublime music-making, to include assured orchestral
playing under the experienced baton of conductor Roberto Abbado. You will
likely never hear La Donna del Lago better performed. What a missed
opportunity for the production to have matched the stars' fire power.
Across town at the Bastille, pretty much the same scenario played out with
the new Die Walk¸re: Music 10, Design 4, Direction 1. J¸rgen
B‰ckman's variable sets began with an Act One that had structural
schizophrenia. The hut was down right, sort of. Two mostly black vertical beams
flanked center stage like a second proscenium, sort of. A set of (what?)
blinds, rather defined the wall of the hut… sort of. Until similar
blinds in a "sort of" mountainous outline upstage served as the
basis for a rippling water curtain which burbled in conjunction with Wagner.
There is a pit the width of the stage at the apron and when characters stand in
it they are cut off to the knees.
Director G¸nter Kr‰mer has invented a plodding and overt political
"message," starting with refugees cowering center stage who get
slaughtered in the prelude by armed marauders that seem to be Hunding's
Hateful Henchman (or H3). The corpses lie there for the rest of the act,
occasionally prompting acknowledgment, occasionally not. At first appalled,
Sieglende later traipses quiet gaily through the killing field once she is in
love. H3 arrive home and in a nod to Christ feeding the multitudes, Sieglinde
feeds them all out of one small soup tureen (just like the one at home on my
refrigerator). Aw, heck the food is pantomimed (poorly) anyway.
Eventually the burbling backstage blinds prove to be a scrim revealing a big
full moon, with (I think) apple trees in bloom. A black curtain is pulled back
on the stage right support which reveals a red framed painting of The Ash Tree.
Which the twins slash up with a dinner knife. Slightly later Siegmund pulls
Nothung out of the red frame, an idea that Herr Direktor must have pulled out
of his ass. There is no chemistry at all between S&S, or really anyone
else, because clearly no connectivity was asked of them. Du bist der Lenz
w as sung to the first balcony, not to the incestuous love interest.
Act II featured a huge tilted mirror that reflected stairs below, and at
first this was a very intriguing look. The only other set pieces were two big
banquet tables with apples. In fact, all the Valkyries are on stage playing
catch with the apples (Freia's?) while we try to locate the source of the
Ho-jo-to-ho's. Oh, there she is
seated in the melee. Wotan is in a big fur coat which he doffs to put on an
evening jacket. Now, men in Edwardian underwear (Nibelungen?) trudge up the
stairs reflected in the mirror bearing huge letters G E R MA N J A which they
place on stage. I couldn't see the "G" from my seat and
puzzled for the longest time what "Ermanta" might mean, but I
digress. Wotan, when piqued, throws the GER down in a fit leaving MANJA. Subtle
stuff, huh? Throughout the act a shiny silver helmet, spear, and breast plate
are placed and spotlit on the down right apron, a passing reference to what the
piece is actually about I guess.
Fricka enters in an odd looking costume, as though a young girl had put on a
red, off the shoulder hoop skirt over a mesh black long-sleeved net of a top.
The quirky but spunky costumes were devised by Falk Bauer, including a rather
butch Br¸nnhilde in don't-mess-with-me boots, what appeared to be upscale
sweat pants and a roomy linen smock, resulting in a look akin to an on-call
Medic at Dinah Shore Golf weekend. After Fricka has made her case, the curtain
falls for no reason then rises to reveal the tables gone and all the apples
strewn about the floor, which Number One Daughter arranges slowly in a big
circle until Siegmund scatters them with a petulant kick. Remember Siegmund?
Well, H3 are back marauding and they crowd around him. We never see the sword
break, or Siegmund get stabbed to death, important plot points, donchyathink?
As wounded Hunding crawls and keeps crawling Wotan's
Geh…Geh is meant for the Henchmen, who scatter. Fricka lurks
imposingly up left. Ooh, a symbol!
Lord help us as Act III starts with "morgue" tables bearing
bloodied, naked cadavers. The Valkyries as nurses give them a sponge bath,
gesticulate, "pray," and touch the victims' heads, at which
point they stand up and walk away. This gets repeated. Some lone idiot in the
audience enthusiatiscally applauded every time these "corpse"
extras laid down or got up. Behind all of this was a scrim with German
scribblings with the H3 group got up as white-clothed firemen ready for a
back-draft, and what seemed to be dog masks. They execute a Slo-Mo,
Goose-Step-By-Way-Of-Thriller routine staged by Otto Pichler. Curtain down.
Curtain Up. Now there are only two tables center, some bland looking
institutional chairs down right and the shield-helmet-spear combo up right.
Eventually the plot unwinds, Wotan storms in bearing Siegmund's corpse in
a sack which he lays on the upstage table and, after more laying on of Wagner,
Br¸nnhilde gets put to sleep lying next to him.
The back curtain rises slowly to reveal dead (apple?) trees, a bombed
landscape and red light. Lots of red light. No fire, but man was there ever red
light (effective lighting design was by Diego Leetz). But there is one final
tweak to go, as Br¸nnhilde (channeling Freddy Kruger) comes back to life, takes
off the breast plate, gets under her table on the floor, and goes back to sleep
in fetal position. Oops, one more tweak as a veiled, Gay Nineties clad
Woman-in-Black walked in silhouette from stage left to stage right. Erda?
Cosima? Victoria?
But be heartened to know the performance could hardly be faulted musically,
starting with a incisively and insightfully let reading by Philippe Jordan. The
orchestra responded with thrilling results and Maestro Jordan elicited chamber
music-like playing of a delicacy I have rarely heard in a Wagner performance.
The opera's opening bars were at a faster clip than usual but they were
certainly exciting. He paced the entire evening well, and imposed a welcome
elasticity and fluidity on what can sometimes be ponderous stretches of
narrative. The maestro was taken to task by some for not unleashing more power
in certain climaxes but I say that this was arguably the best balance I have
encountered between a Wagner pit and the singers. Mr. Jordan treated the
vocalists as first among equals and it paid off beautifully. And what vocalists
we had before us.
Katarina Dalayman is deservedly singing Br¸nnhilde all over the map. She has
an uncommonly warm, round soprano with good thrust and a well-grounded, lyrical
approach to the part. Her sizable, instrument nonetheless is able to convey a
girlishness befitting the young Valkyrie and her stage demeanor is unforced and
appealing. Thomas Johannes Mayer is a rising exponent of Wotan and he has all
the stamina, buzzy tone, and snarling authority you want from the god. While
his was a fine achievement and well received, I wish he might not push so hard
on the the upper forte held notes, which tend to spread when they
shouldn't need to. Mr. Mayer could also bring more tenderness to the mix
when deciding his daughter's fate although with this production it was
hard to tell if that was our Wotan's fault.
As the W‰lsung twins Ricarda Merbeth and Robert Dean Smith are giving JDD
and JDF a run for their money for the title of Paris' Dream Team. They
were one of last season's glories in "Die Tote Stadt." First
rate singing. Ms. Merbeth has a well-rounded lower voice, secure top notes,
excellent legato and superb diction. Mr. Smith has a solid core to his
substantial tenor and he knows how to use his resources to convey weight and
heft without unduly pushing his pleasing tone past its limits. He too has
excellent German, and a superb sense of pacing. Singly they were dreamy,
together they were a Wagnerian's answered prayer. I do have to say that
Mr. Smith and Maestro Jordan have conspired to give us the longest held,
steadiest W‰lse I have ever heard. Yvonne Naef was a magisterial
Fricka, with her imposing mezzo scoring all the musical moments asked of her.
The Valkyries were well cast and while blending well, displayed good
individuality. I particularly admired the talented Silvia Hablowetz as
Waltraute, but girls! Girls! You were all pretty!
This jumble of a Die Walk¸re may not bode well for the coming Ring
installments, and the longueurs of La Donna del Lago make me
"long" to warn La Scala and Covent Garden, with whom it is shared
and who have yet to see it. But nothing can diminish the fact that musically,
we were treated to two of the disparately finest outings of the season.
James Sohre
Die Walk¸re
Siegmund: Robert Dean Smith; Hunding: G¸nther Groissbˆck; Sieglinde: Ricarda
Merbeth; Wotan: Thomas Johannes Mayer; Br¸nnhilde: Katarina Dalayman; Fricka:
Yvonne Naef; Gerhilde: Marjorie Owens; Ortlinde: Gertrud Wittinger; Waltraute:
Silvia Hablowetz; Schwertleite: Wiebke Lehmkuhl; Helmwige: Barbara Morihien;
Siegrune: Helene Ranada; Grimgerde: Nicole Piccolomini; Rossweisse: Atala
Schˆck. Conductor: Philippe Jordan. Director: G¸nter Kr‰mer. Set Design: J¸rgen
B‰ckman. Costume Design: Falk Bauer. Lighting Design: Diego Leetz. Staged
Movement: Otto Pichler.
La Donna del Lago
Giacomo V: Juan Diego Florez; Duglas d'Angus: Simon Orfila; Rodrigo di
Dhu: Colin Lee; Elena: Joyce DiDonato; Malcolm Groeme: Daniela Barcellona;
Albina: Diana Axentii; Serano: Jason Bridges; Bertram: Philippe Talbot.
Conductor: Roberto Abbado. Director: Lluis Pasqual. Set Design: Ezio Frigerio.
Costume Design: Franca Squarciapino. Lighitng Design: Vinicio Cheli.
Choreography: Montse ColomÈ. Chorus Master: Alessandro di Stefano.
Co-production with La Scala, Royal Opera House Covent Garden.

image=http://www.operatoday.com/Lago_Paris_01.png
image_description=Juan Diego Florez as Giacomo V [Photo by Agathe Poupeney/ OpÈra national de Paris]
product=yes
product_title=La Donna del Lago and Die Walk¸re at OpÈra national de Paris
product_by=Above: Juan Diego Florez as Giacomo V
Photos by Agathe Poupeney/ OpÈra national de Paris
product_id=