Worldwide screenings are geared towards mass audiences, many of whom are new to opera. This production of CosÏ fan tutte first heard in 1995 now in its seventh revival, was a safe choice.
Sir Thomas Allen's presence guaranteed success. Like Don Alfonso, he's a grandee, elevated above the common run. The lovers strut and fret their hour upon the stage, but Don Alfonso's seen it all before. Allen has created Don Alfonso so many times that he has it down pat. Before the performance began, he sauntered on the Royal Opera House stage for some cheerful repartee. he's a consummate charmer.

Thomas Allen as Don Alfonso
As Allen said, "I spend a lot of time sitting about", since Don Alfonso's a suave observer, who hardly needs to pulls strings to make puppets dance. The part makes no heroic vocal demands and suits Allen's range well. He's mellowed so well into the persona that his acting is effortless. At one point he calmly makes golf swings in the air, without a club.
Rebecca Evans as Despina made a perfect foil. She, too, has extensive experience in the role and in this production. If anything, she's now in her prime. Wonderfully agile singing, full of verve. Her tiny frame pulsates energy. She zips about with much more vigour than her youthful mistresses. Diction and phrasing are sharp, her singing so vivid you could listen eyes closed and enjoy. When she comes in disguised in operating theatre greens, she has a mask over her face. Even before she starts to sing, her body language is so expressive it conveys personality.
Despina is a wonderful part but it isn't the whole opera, and Evans can't make up for the other performances which were adequate, rather than scintillating.
Maria Bengtsson and Jurgita Adamonyt? resemble each other physically, and while their voices differ, neither is vocally as distinctive as might be. Adamonyt? was impressive as Blanche in Prokofiev's The Gambler at Covent Garden earlier this year, but her Dorabella, while sweetly formed, could use more individuality. Bengstsson's Fiordiligi was more forcefully projected, dramatically sound, if lacking in nuance.

Maria Bengtsson as Fiordiligi
Neither Pavol Breslik's Ferrando nor StÈphane Degout's Guglielmo were specially engaging to listen to, so they were upstaged by their costumes. This is the production where the Albanians are dressed as Rockstars with bandanas and skull motif T shirts. At the premiere, this was shocking. Now it's just corny, but in the absence of colour to listen to, it afforded some colour to look at.
Jonathan Miller's production plays up the visual gags. Cell phones with camera applications, golf imagery, ultra-trendy costumes. This bland set looks like a caricature of "Regie" staging. It was probably more effective on film because the long flat horizontals on stage would have been foreshortened. Similarly, film would have allowed more detail than could be seen in the auditorium, enlivening the general lack of pace. Much of the action takes place off the stage. Perhaps Miller is trying to create the impression of "theatre-within-theatre" but it doesn't work well live.
This is the sort of production gives minimalism a bad name, but unlike many where simplicity directs attention to the soul of the opera, this didn't attempt to offer any insights. Its superficiality wouldn't matter if the singing were uniformly impressive, but this wasn't the case here.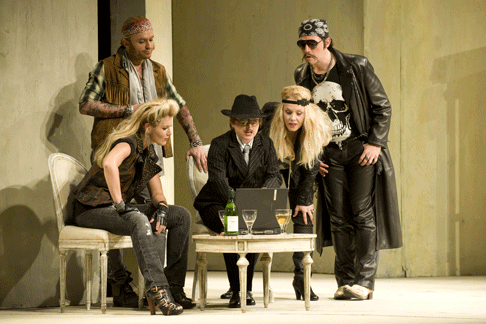 From Left to Right: Maria Bengtsson as Fiordiligi, Pavol Breslik as Ferrando, Rebecca Evans as Despina, Jurgita Adamonyt? as Dorabella and StÈphane Degout as Guglielmo
Yet when Miller took his bows, he was wildly applauded. Perhaps this was because there was little tension in the ensemble, and the sharper edges of Mozart's wit were blunted But CosÏ fan tutte without challenge undersells Mozart. This is comedy, but not shallow. Nonetheless, jokes are entertaining. Here mobile phone tunes sang the message.
The real news this evening was Thomas Hengelbrock, the conductor. He cofounded the Freiburger Barockorchester.and later the Balthasar-Neumann Ensemble and Choir. Lively period instrument ensembles prove that historically-informed practice can be vigorous and modern in spirit.They can be very adventurous, experimenting with 19th and 20th century repertoire as well as baroque.
The Royal Opera House Orchestra isn't a period orchestra, but Hengelbrock brings the vivacity for which he is famed. It's ideal for CosÏ fan tutte where timing and clarity are important. Excellent balance — the harpsichord continuo specially vivid. Hengelbrock will soon be conducting Agostino Steffani's Niobe, Regina di Tebe at the Royal Opera House.
For more information, please visit the Royal Opera House website.
Anne Ozorio

image=http://www.operatoday.com/COSI-9990_1778-DEGOUT-ASGUG.gif
image_description=StÈphane Degout as Guglielmo and Jurgita Adamonyt? as Dorabella [Photo by Mike Hoban]
product=yes
product_title=W. A. Mozart: CosÏ fan tutte
product_by=Ferrando: Pavol Breslik; Guglielmo: StÈphane Degout; Don Alfonso: Thomas Allen; Fiordiligi: Maria Bengtsson; Dorabella: Jurgita Adamonyt?; Despina: Rebecca Evans. Conductor: Thomas Hengelbrock, Orchestra and Chorus of the Royal Opera House. Director and Designs: Jonathan Miller. Royal Opera House, London, 10th September 2010.
product_id=Above: StÈphane Degout as Guglielmo and Jurgita Adamonyt? as Dorabella
All photos by Mike Hoban courtesy of the Royal Opera