The horizon looks
brighter these days, thanks to a brand-new production of Richard Strauss'
decadent blockbuster, Salome (1905), based on Oscar Wilde's
infamous play. Staged by a sought-after drama and opera director Francesca
Zambello, this production is an impressive experience. The central element of
the set is a floor-to-ceiling, transparent plastic curtain that separates the
dark courtyard of the proscenium, with the cistern at its center, from the
illuminated banquet table at the back of the stage. In her comments about the
production, Zambello discusses her vision of Herod's court being trapped
in an endless cheery feast, as imprisoned in its public role as Jokanaan is in
his cistern, and much less free. The plastic indeed gives an impression both of
artificiality and of being enclosed, wrapped up, vacuum-sealed. Additionally,
it provides a grateful surface for the lighting designer Mark McCullough, whose
vivid colors flooding the stage in gold, blue, purple, and blood-red glow is
one of the most important aspects of the production.
The main attraction of the evening was acclaimed American dramatic soprano
Deborah Voigt as Salome. Throughout the performance, Voigt had no trouble
defending her reputation as one of today's definitive interpreters of
this fiendishly complex role. I say this despite the fact that the
singer's low register is much less powerful than her high, so some
phrases, especially in the chatty opening scenes, tended to get lost in the
orchestral fabric, for no live performer of this role can expect to carry its
every note equally; the only perfect Salome is a recorded one. What is perhaps
most fascinating about a staged production of this opera is watching the lead
singer read the title role. Which of the numerous possible variations of
Salome's character, her relationship to her family, and the motivations
for her obsession are we going to see? Is this Salome to be condemned or
redeemed; is she a victor or a victim?
Voigt's interpretation seems to follow what one might call a Teresa
Stratas model. She plays Salome "young"; vulnerable and strangely
innocent, she is like a spoilt, mischievous child longing for a toy, trying to
articulate her desires more to herself than to their object. The
director's reading of the story suggests that although Salome is
habitually molested not only by her stepfather, but also the soldiers of the
palace guard, she is not mature enough to process the experience. She flirts
with anyone who has the power of getting her what she wants, but seems not to
comprehend her counterparts' reactions to her presence. In her unguarded
moments, she responds with an almost violent repulsion to any male's
physical proximity to her, however innocent. Thus, we begin to understand her
immediate fascination with the hidden Jokanaan: she is attracted to his
"absence"; to the unreality of his disembodied voice carried
powerfully out of the cistern.
Salome is a dark opera; literally dark, as the libretto specifies a
nighttime setting, and psychologically dark, the story tailor-made for a
twisted Freudian reading. What struck me as unusual and unexpected in
Voigt's interpretation are the moments when she radiates a palpable sense
of joy, quiet shimmering contentment. The singer starts her final
"Apostrophe to the Head" softly, almost whispering.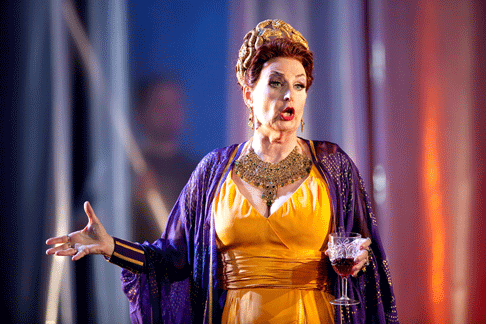 Doris Soffel as Herodias
She takes her
time closing in on Jokanaan's severed head, savoring the experience of
the first kiss (perhaps – or so Voigt would have us believe – it
really is her first one). This scene, often a place of unrestrained hysteria,
is understated, at times almost demure. Salome's clothing incorporates a
gown of deep red (similar to Maria Ewing's costume from the Covent Garden
production) over a white dress resembling the one Catherine Malfitano wears in
the Met staging. Yet, by the end of the scene, Voigt's Salome is not
bathed in blood like Malfitano's. Rather, only the tips of her fingers
are bloody, like a shiny manicure; she then touches her fingers to her cheeks,
as if applying rouge to match her pretty dress. This Salome does not embrace
the horror of the experience; her world is entirely outside it.
The only disappointing moment of the role was its most anticipated one
– the Dance of the Seven Veils. It seems that Zambello and the
choreographer, Yael Levitin Saban (or perhaps Voigt herself, depending on who
made the ultimate decision about how to stage the scene) could not make up
their minds about how risquÈ they wanted the dance to get. So, the veils came
off, but were immediately replaced by other veils (provided by four dancing
assistants – all, alas, much younger, thinner, and more flexible than the
star attraction). Voigt performed the dance herself rather than being replaced
by a double, but her efforts seemed half-hearted, with barely a movement of the
hips and much awkward arm waving. Finally, on the ultimate question: "to
strip or not to strip" (the question that every Salome watcher
wants answered!), the decision was apparently to do both (or neither?): at the
end of the dance, Voigt appeared in a thick, unfortunate-looking bodysuit for
about a chord and a half, before being covered with the veils again. Overall,
it looked like Herod made a bad bargain: this dance was not worth a hair off
the prophet's head.
Narraboth (Panikkar) and the Second Soldier (Rhodovi) look on anxiously as Salome (Voigt) tries to entice Jokanaan (Sumegi)
Particularly this prophet, for Australian bass-baritone Daniel Sumegi stole
the show as Jokanaan. His deep, thunderous voice and his carpenter physique
accentuated by clever body make-up made Salome's lack of self-control
feel entirely plausible. Strauss does not give a Jokanaan performer much to
work with: his lines are squarely diatonic, monotonous, and dull. Yet Sumegi
(under Zambello's inspired direction) brought an unexpected complexity to
the role by placing Jokanaan into an unusual physical proximity to Salome and
thus forcing him to respond, perhaps against his will, to her vital, lustrous
sensuality. This Jokanaan is forced to feel for Salome the same passion
exhibited by every male character on stage, from Herod to a common soldier. We
see him visibly tearing his hands away from her each time he forces himself to
reject her. The moment toward the end of the duet when Salome melts into his
arms as he is rocking her back and forth, like a child, their bodies bathed in
a golden light and their faces lifted upward in ecstasy (both spiritual and
sensual) at their impossible union is a masterstroke. Although one does wish
that particular golden color were used more sparingly, or perhaps even saved
for that climactic moment. As it is, the gold shimmer that accompanies just
about every sound uttered from the cistern in the opening scene might be a bit
of overkill. It is as if Zambello was trying to counteract the composer's
atheism and his evident dislike of Jokanaan's character by validating the
imprisoned prophet's every word. It almost makes one sympathize with poor
Herodias, who does not believe in miracles and wishes that the annoying man
would just be quiet.
Herod (Berkeley-Steele) explains to the Jews (Weber, Bailey, Rotz, Augustin and Morris) how he thinks Jokanann is a holy man.
Speaking of the Queen of Judea, German mezzo-soprano Dorris Soffel, in her
WNO debut, was a fabulously unpleasant Herodias – cold, ambitious,
greedy, jealous, and proud. Her powerful voice carried easily over the
orchestra and over her husband's shy tenor. She also held her own well in
a power struggle with Voigt's Salome; when Herod says despairingly:
"she is her mother's daughter," he only confirms what the
audience has already perceived. British tenor Richard Berkeley-Steele was
undoubtedly the weakest of the soloists, yet he proved an effective Herod
– a feeble personality entirely dominated by his women and unable to
decide whether he was more terrified of God's prophet or his own wife.
Equally effective in his role was young American tenor Sean Panikkar
(Narraboth), whose clear tenor carries both the metal of a soldier and
vulnerability of an infatuated youth. Panikkar, who has also made his WNO debut
in this production, is a wonderful find; hopefully, we will hear him in
Washington again. Cynthia Hanna, on the other hand, was a disappointing
Page.
Zambello's new staging and much of the vocal cast was not all that was
new in WNO's Salome: the orchestra was led by its newly
appointed music director, Philippe Auguin, whose selection was announced mere
two days before the premiere. Auguin is familiar to the Washington audiences
from his acclaimed concert performances of Gˆtterd‰mmerung last
November, and the ensemble appears to have welcomed his presence at the podium.
It has palpably reawakened under Auguin's deft leadership, and acquitted
itself creditably in the extremely complex Strauss score. There were still
issues of balance: at one point, the timpani were so outrageously loud that
they made Voigt's already difficult job of out-singing a late Romantic
orchestra well-nigh impossible. But at least, the musicians were in tune, and
the embarrassing lapses in the winds and brass that I often remarked upon in my
previous WNO reviews have been mostly avoided. While some moments worked better
than others, their performance allowed the audience to be swept away by the
feverish intensity of the score, matched almost without exception by the
director's vision.
Page of Herodias (Hanna) peers into the cistern.
The main difficulty in staging Salome, in my opinion, lies in the
fact that Richard Strauss conceived it as a true music drama. The production
only works if all its elements – the rendition of the score by singers
and orchestra, the sets, the costumes, the lighting, the acting and the stage
movement – are of equally and consistently high quality. Even by this
admittedly impossible standard, I would call WNO's new Salome a
success. Let us hope that the company's spring line-up of Madama
Butterfly, IphigÈnie in Tauride, and Don Pasquale proves
as memorable.
Olga Haldey

image=http://www.operatoday.com/Voigt_076_cr.-Scott-Suchman.gif
image_description=Salome (Voigt) revels in finally getting Jokanaan's head [Photo by Scott Suchman courtesy of Washington National Opera]
product=yes
product_title=Richard Strauss: Salome
product_by=Salome: Deborah Voigt; Herod: Richard Berkeley-Steele: Jokanaan: Daniel Sumegi; Herodias: Doris Soffel; Narraboth: Sean Panikkar; Page: Cynthia Hanna; Slave: Jegyung Yang; First Jew: John Weber; Second Jew: James S. Bailey; Third Jew: Corey Evan Rotz; Fourth Jew: Tim Augustin; Fifth Jew: David B. Morris; First Soldier: Grigory Soloviov; Second Soldier: Christopher Douglas Rhodovi; Cappadocian: Aleksey Bogdanov; First Nazarene: Robert Cantrell; Second Nazarene: Robert Baker. Conductor: Philippe Auguin. Director: Francesca Zambello. Set Designer: Peter J. Davison. Costume Designer: Anita Yavich. Lighting Designer: Mark McCullough. Choreographer: Yael Levitin. Washington National Opera.
product_id=Above: Deborah Voigt as Salome (Voigt)
All photos by Scott Suchman courtesy of Washington National Opera