Ann Murray as Mrs. Grose and Ashley Emerson as Flora
As seen on March 17th, Los Angeles Opera's second performance of Benjamin Britten and Myfanwy Piper's The Turn of the Screw (adapted from Henry James's short novel), with Patricia Racette, Ann Murray and William Burden in the lead roles and James Conlon in the pit, turned out to be less than the sum of its parts. The easy answer as to why would be to note the work's origin as a chamber piece, more suited to a hall much more intimate than the 3000+ seat Dorothy Chandler Pavilion. But that would fail to give credit to the admirable job Conlon did in producing a full but not grandiose sound from his small group of musicians, and it would also mean slighting the brilliant design work of Paul Brown. Brown's sets, created for Glyndebourne Festival Opera, bring in the sides of the proscenium, with a deeper stage perspective and a wonderfully silky and quiet turntable easily bring action from the rear to the front, allowing voices to always project out.

Tamara Wilson as Miss Jessel
The set also manages to be sparse in its design elements and then flexible enough to rearrange the key features to effortlessly change scenes. A huge glass-latticed wall hangs suspended, twisting, rising and lowering as needed to close off and open up the action. Two huge bare tree trunks, twisted with dead branches, also drift down and up to evoke both the literal outdoors and the spooky "otherworld" of the ghosts. Director Francesca Gilpin gets an astonishingly poised performance from young Michael Kepler Meo as Miles, but the director deserves praise as well — to be shared with the performer, of course — for matching young Miles with the adult Ashley Emerson, almost eerily believable as Miles's young sister. Meo has performed this role elsewhere; obviously he will outgrow it at some point, but the talent he displays gives promise of a very interesting career ahead. Emerson looks to be at the start of such a career.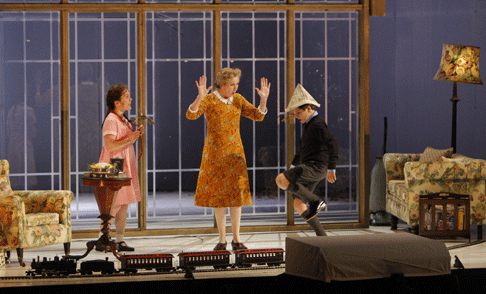 Ashley Emerson as Flora, Ann Murray as Mrs. Grose and Michael Kepler Meo as Miles
The more mature adults in the cast live up to the promise of their well-known names. Patricia Racette may be simply too healthy to elicit any fearful sympathy on the part of the audience for her Governess faced with troublesome wards and ghostly emanations. Her singing, however, found her in fine voice — secure in intonation and able to modulate her volume appropriately to the setting. The one key fault, and one not unknown for sopranos, was her inability to always project comprehensibly the English text. When tenor William Burden sang, for example, there was never any need to glance up at the super-titles. Burden also proved himself an extremely fine actor — briefly appearing in the prologue as an unidentified but apparently "normal' man relating the story as handed down through the Governess's writings, and then dominating the evening as the progressively creepier ghost of the manor's groundskeeper, Peter Quint. Britten wrote some fairly athletic music for Quint, and Burden proved himself more than up to the eerie runs.
As Peter Quint's ghostly companion Miss Jessel, Tamara Wilson brought a solid but attractive soprano, one surely capable of many more challenging roles. A fairly large woman, Ms. Wilson was dressed by the designers in black and had wet hair lying flat, so that she should looked a bit like a plus-size version of the ghost in the movie The Ring. Miss Wilson proved herself a very brave performer at one point — lying down flat as the suspended glass lattice slowly descended upon her, stopping just short of crushing her — if a ghost can be crushed…

William Burden as Peter Quint, Michael Kepler Meo as Miles and Patricia Racette as the Governess
Racette's Governess interacts mostly with Mrs. Grove, sung by Ann Murray. Miss Murray has retained, at this point in her long career, a good amount of voice and a strong stage presence. Somehow, however, these scenes were the most problematic of the evening. Neither woman could sing her lines with consistent comprehensibility nor convey the growing apprehension and fear key to the success of a more psychologically-oriented story such as this.
In other words, this was not a very scary The Turn of the Screw — and without being scary, the material can come awfully close to being pointless, if not silly. Nonetheless, the opportunity to hear Britten's intelligent, evocative score performed by excellent musicians and singers shouldn't be overlooked. A less than full house gave all the performers a warm ovation, but the inevitable standing ovation was quite slow in developing, and in the end, it included a fair number of people rising to make their way to the exit. With Britten's Albert Herring programmed for the next season, Los Angeles Opera might do well to consider what sort of publicity will help fill the Dorothy Chandler for those performances — or finding another venue more appropriate to the scale of that piece as well.
Chris Mullins


image=http://www.operatoday.com/tos6283.gif
image_description=Patricia Racette as the Governess
product=yes
product_title=Benjamin Britten: The Turn of the Screw
product_by=The Governess: Patricia Racette; Prologue/Peter Quint: William Burden; Flora: Ashley Emerson; Miles: Michael Kepler Meo; Mrs. Grose: Ann Murray; Miss Jessel: Tamara Wilson. Los Angeles Opera Orchestra. Conductor: James Conlon. Director: Francesca Gilpin. Scenery and Costume designer: Paul Brown.
product_id=Above: Patricia Racette as the Governess
All photos by Robert Millard courtesy of Los Angeles Opera