The opera deliberately suppresses references to the insubstantial nature of
Violetta's wealth. In La Dame aux CamÈlias (1848) by Alexandre
Dumas fils, the novel on which the opera is ultimately based, there is a
striking emphasis on the economy of courtesanship (aka prostitution). But when
Dumas himself adapted his novel as a play he removed much of the unsentimental
emphasis on the economic aspects of his heroine's life, and when Francesco
Maria Piave further adapted the play as a libretto for Verdi he removed most of
what remained. At the heart of La Traviata there is a financial crisis
as Violetta attempts to trade in the trappings of wealth for actual cash, but
it is touched on as lightly as possible, and really serves simply as a catalyst
for the moral crisis that Piave and Verdi wanted to explore.
The omitted material is strikingly relevant to recent headlines. Dumas
emphasises that his heroine, Marguerite Gautier (Verdi's Violetta), lives,
and lives boldly and brilliantly, on credit. Her apparent "wealth" is
counterfeit, and after her death her things are sold off to pay her creditors.
Marguerite's professional success turns a great deal on her willingness to
run up large debts to fund a lavish lifestyle that will generate higher levels
of income — this willingness to be highly indebted separates her from the
rank and file courtesans. Both novel and play make it very clear that
Marguerite is indebted when she starts her relationship with Armand (Verdi's
Alfredo), and that her decision to live with him downgrades her credit rating,
forcing her to contemplate one act of downsizing after another. The opera, by
contrast, allows the possibility that Violetta is genuinely wealthy at the
beginning, and that she impoverishes herself simply by supporting Alfredo. All
for love. A long tradition of presenting the first act very sumptuously tends
to reinforce this impression: Violetta's pre-Alfredo life appears to be all
fine clothes, fine wines and expensive frivolity.
Dumas's Marguerite is financially irresponsible, but in a calculating way;
Verdi's Violetta is simply financially irresponsible. So what if we end up
poor, the opera seems to say, let's live it up while we can, "libiamo ne'
lieti calici". And living it up can obviously include forking out £400 for a
pair of tickets to see La Traviata at the Royal Opera House, where it
has been revived for generous runs every season since 2008, when the real world
woke up to the real credit crunch. The decision makers at the Royal Opera seem
to have decided that it is the opera for our uncertain times. Richard Eyre's
production certainly does not offer anything like a diagnosis of economic woes
(it gives the impression that it would disdain any attempt at vulgar
"relevance"), nor is it exactly a consolation for them, but both in the
story it tells, and the experience it affords in the gilded surroundings of the
Royal Opera House, it offers a compelling vision of life lived in almost brazen
defiance of them. For the House itself, of course, this uncontroversial La
Traviata is a reasonable guarantee of full houses at full prices, no bad
thing amidst endless talk of cuts in government spending.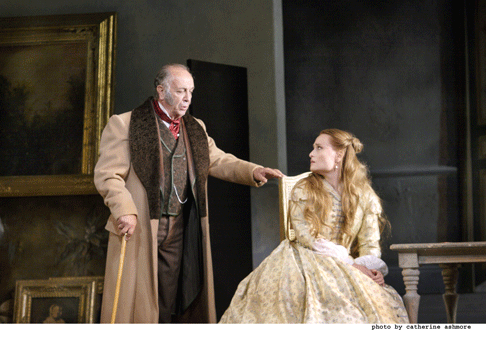 Marina Poplavskaya as Violetta and Leo Nucci as Giorgio Germont
Given the sheer loveliness of the Eyre production, few will complain. For
those for whom going to the opera is primarily a social ritual, a resplendent,
old-fashioned La Traviata is about as good as it gets, "all
champagne and tears", as Henry James said of Dumas's play — with gorgeous
music. For newcomers to opera, or for those for whom going to an opera is
perforce a very occasional treat, it provides just about everything that the
popular imagination associates with (and expects from) the art form, and is as
close to a guaranteed good night out as the Royal Opera House can offer without
losing critical respectability. And though historically-informed opera lovers
may reasonably feel that a subject shockingly modern and morally disturbing in
the mid-1800s shouldn't feel quite so nostalgic and comfortable a century and
a half later, the majority of them would vote against the sort of
"updating" that might make La Traviata controversial today.
Altogether the only grumbles are likely to come from those, like the present
reviewer, who would like to see the operatic repertoire expand rather than
contract, and who want to explore new dishes rather than being fed familiar
fare every season.
Issues of comfort and safe programming apart, it is hard to fault the Eyre
production on its own terms. Bob Crowley's designs are visually superb,
avoiding the excessively decorative effect of some Traviatas, and in fact
strikingly restrained and intimate (only in the last act — poignantly — is
the full expanse of the stage exploited to evoke Violetta's awful
loneliness). Time and again the position of the different elements on stage
seems to have been planned with the same sort of feeling that Vermeer brought
to his paintings. The absence of anything that might appear remotely haphazard
lends a classic air to the spectacle, which with the nineteenth-century
costumes and settings enhances the sense of deep familiarity that the
production breathes: the audience is effectively asked to sit back and relax,
to luxuriate in a work already well known, but only now revealed in its
definitive form.
Loira Grodnikaite as Flora
The latest incarnation of Violetta is Marina Poplavskaya, who has been
singing the role for several years, and has reported more than once how much
she enjoys it. Though not the sort of woman Dumas described, she is physically
very convincing in the part: tall, slender, pale, with the sort of enigmatic
expressions Dante Gabriel Rossetti loved to paint. She was a commanding
presence in the first act, with little — too little for me — hint of the
emotional vulnerability to come. The final scene was a technical triumph, but
there was a lack of emotion in it, and it was not nearly as moving as it can
be. Perhaps it was just a matter of getting into the mood, or of needing the
shadows to gather, for in the later acts Poplavskaya was wonderful, her acting
and singing beautifully coordinated, and the emotional climaxes very affecting.
James Valenti was less satisfying as Alfredo. He seems designed by nature for
more heroic roles, and displayed little of the childish petulance and naivetÈ
that seems to me central to the character. He was simply not very interesting,
and sometimes appeared to be merely going through the paces.
In sharp contrast Leo Nucci was a staggeringly good Germont in an
understated but completely assured and believable interpretation of the role.
His voice may have been a little abrasive, especially at first, but that is
dramatically appropriate, and he was able to inject a sort of hypnotic
precision into the articulation of his words that would have broken down a
stronger woman than Poplavskaya's Violetta. He didn't seem cruel or
sadistic; just horribly certain. Perhaps the greatest tribute that can be paid
Nucci is to say that he drew out the best in Poplavskaya. In the scene between
them the tension was almost unbearable, and for this reviewer at least it was
the highlight of the evening. The succeeding scene, between Poplavskaya and
Valenti, was light relief by comparison, and there was an almost palpable sense
of collective relaxation in the theatre.
Critics are paid to point score. It would be churlish not to note that the
vast majority of the audience seemed pleased with everything and burst into
applause at almost every opportunity. The well-tested production is strong
enough to carry an uncommitted performance or two, if there is a good Violetta,
and as long as it fills the house it can be assumed that it will continue to be
revived for the indefinite future. If the economic downturn significantly
worsens perhaps there will be a reaction against such beautiful escapism, and
operas foregrounding economic struggle will come to capture the
Zeitgeist better. But as long as a significant minority of the
population is able to splash out on luxuries, and opera programmes carry
adverts for Rolex watches and designer jewelry, Violetta, with her reckless
living and spending, may continue to personify the very idea of opera at Covent
Garden.
David Chandler

image=http://www.operatoday.com/LA-TRAVIATA-2498ashm_025—.gif
image_description=Marina Poplavskaya as Violetta and James Valenti as Alfredo [Photo © Catherine Ashmore / ROH]
product=yes
product_title=Giuseppe Verdi: La Traviata
product_by=Violetta ValÈry: Marina Poplavskaya; Alfredo Germont: James Valenti; Giorgio Germont: Leo Nucci; Baron Douphol: Robert Poulton; Doctor Grenvil: Richard Wiegold; Flora Bervoix: Liora Grodnikaite; Marquis D'Obigny: Jeremy White; Gastone: Ji-min Park; Anina: Sarah Pring; Guiseppe: Neil Gillespie. Orchestra and Chorus of the Royal Opera House. Conductor: Jan Latham-Koenig. Original Director: Richard Eyre. Revival Director: Harry Fehr. Designs: Bob Crowley. Lighting: Jean Kalman. Movement: Jane Gibson. Royal Opera House, London, 6th October 2011.
product_id=Above: Marina Poplavskaya as Violetta and James Valenti as Alfredo
All photos © Catherine Ashmore / ROH