There's purity and Godliness
too — all overlapping and jammed together so intensely into your eyes and
ears, that when the curtain comes down you can be left gasping.
Greer Grimsley as Jochanaan (John the Baptist)
Salome is a spoiled young Princess, the daughter of Herodias and
step-daughter of Herod. Upon hearing the voice of the imprisoned John the
Baptist (here called Jochanaan), she tempts Narraboth, a young soldier who
loves her, to release him. Obsessed with Jochanaan, she is furious when he
refuses to look at her, unmoved when Narraboth kills himself. As her reward
for dancing for Herod she insists on having Jochanaan's head. The
extraordinary concluding scene of the opera begins as Salome waits fretfully
for the prophet's head to be brought to her, and ends in an insane frenzy
when she kisses the prophet's mouth, and Herod screams to his soldiers,
"Kill that woman."
Gustave Flaubert created an equally John-obsessed Salome in his story
Herodias which formed the basis for Jules Massenet's opera
Herodiade. There's no doubt Wilde knew Flaubert's story. He wrote
Salome in French in 1891 while living in Paris. An English translation
(which Wilde disliked) was prepared by Lord Alfred Douglas, Wilde's 20-year
old lover, in the hope of staging the play in London with Sarah Bernhardt.
Alas, British censors forbade the presentation of biblical characters on stage.
Germany, however, was not so strait-laced. The play in a German translation by
Hedwig Lachman so transfixed Richard Strauss that he began working on it
immediately.
Lise Lindstrom as Salome and Allan Glassman as Herod
The opera's first performance took place in Dresden, Germany in
December 1905. Austria took more time. The Viennese court opera refused to
produce the work, but the directors of the small opera house in Graz, assured
that this "ultra-dissonant biblical spectacle, based on a play by a British
degenerate whose name was not mentioned in polite company," would produce a
succËs de scandale, agreed to the presentation. Its performance on
May 16, 1906 proved a huge social and musical occasion. Strauss conducted.
Giacomo Puccini, Gustav and Anna Mahler, Arnold Schoenberg, Alexander Zemlinsky
and Alban Berg were among the composers present. The work was an instant
success.
San Diego Opera's production of Salome began life as a joint
venture of Opera Theatre of Saint Louis, San Francisco Opera and L'OpÈra de
MontrÈal. First performed in 2009, it was created and directed by
choreographer Se·n Curran with lighting and costumes by Bruno Schwengl.
The success of this difficult work depends largely on the talent and stamina
of a soprano who looks like a teen age virgin, and who can sing over a huge
brass-heavy orchestra as easily as that other operatic virgin, Brunhilde.
Strauss' original orchestra called for a hundred and twelve musicians and
included the newly invented Heckelphone, plus a harmonium and organ (both off
stage). He eventually reduced the orchestra size. Even so, San Diego squeezed
seventy musicians into its pit. Happily, its all star vocal cast met the
challenges of their roles.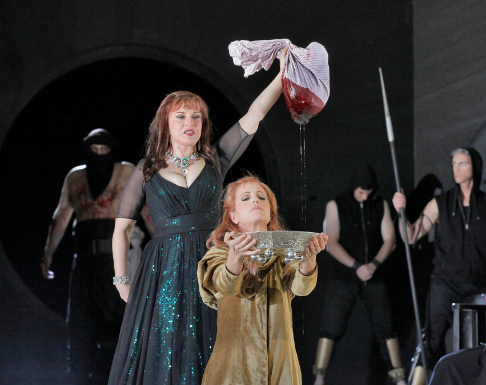 Irina Mishura as Herodias and Lise Lindstrom as Salome
Lise Lindstrom's soprano with its tender vibrato in middle voice, blossoms
to silvery at the top with an edge that at once youthful and strong enough to
ride the orchestral waves. Fiddling with her long hair and biting her nails,
she gave a convincing portrayal of a spoiled young princess, was admirably
feline in her pursuit of Jochanaan, and graceful in the not very voluptuous
dance created by Curran. Bass-baritone Greer Grimsely was a resounding
Jochanaan, clearly tempted by the young girl, and convincing as he tried vainly
to move her to compassion. Mezzo soprano Irina Mishura's Herodias, though
well sung, was not a commanding presence. Someone should have told her not to
wave her wrists around like a hapless housewife. Neither she, nor Allan
Glassman, who sang gloriously as Herod, seemed like people capable of running
an empire. I can only assume it was the direction that turned them into a pair
of restless, ditzy characters. Tenor Sean Panikkar was compelling as the
enraptured Narraboth.
Despite the excellent voices, sadly I was not as out breath as I would like
to have been when the curtain descended. Part, I think can be attributed to the
staging of the last moment of the opera in which Salome is on her feet, as
though considering her deed, rather than being fully immersed in the horrid act
that Herod is seeing and that the orchestra is describing. Steuart Bedford's
conducting too, often lost focus on the emotions that this hideous tale should
evoke. The simplest example perhaps relates to the moments during which Salome
is waiting for Jochanaan's head — waiting to hear his scream, waiting for
his body to fall. The only music Strauss gives us at first are B flats ticking
unevenly in the bass.
The notes and intermittent silences, followed by the subsequent undulating
comments of the woodwinds should have been chilling enough to make my skin
crawl. They weren't. Even at its screeching heights the orchestra often
lacked tension and energy.
Lise Lindstrom as Salome
I am never happy to see a Salome without a moon. Wilde told
Bernhardt that the moon had a leading part in the play. Directors who ignore
the moon, ignore the poetry and imagery of the play. There are thirty-two
mentions of "moon" in Wilde's play, fifteen of "mond" in the
libretto. A page described the moon the moment the curtain rises. "How
strange the moon seems. She is like a woman rising from a tomb." To which
Narraboth responds, "a little princess who wears a yellow veil, and whose
feet are of silver." The moon's appearances and disappearances move in
relation to Salome's actions. But there's another reason I particularly
missed the moon. The first musical note Strauss made on his copy of the
Salome libretto was to set Salome's key as C# minor, the key of the
Moonlight Sonata. (Please don't write to me, I know Beethoven didn't give
the sonata that name. But it had that name in Strauss' time).
Finally, I'm also unhappy with Salomes in which only the five
Jews are dressed in 21st century clothes with specifically identifiable Jewish
religious accouterments. It's both a stereotype and a clichÈ. A director who
can do without a moon in Salome, can surely do without business suit and prayer
shawls.
Estelle Gilson

image=http://www.operatoday.com/MG0322.png
image_description=Lise Lindstrom as Salome [Photo by Ken Howard courtesy of San Diego Opera]
product=yes
product_title=Richard Strauss: Salome
product_by=Salome: Lise Lindstrom; Jochanaan: Greer Grimsley; Herod: Allan Glassman;
Herodias: Irina Mishura; Narraboth: Sean Pannikar. San Diego Symphony Orchestra. Conductor: Steuart Bedford; Director: Se·n Curran: Scenic Designer: Bruno Schwengl; Costume Designer: Bruno Schwengl; Lighting Designer: Christopher Maravich; Choreographer: Se·n Curran.
product_id=Above: Lise Lindstrom as Salome
Photos by Ken Howard courtesy of San Diego Opera