The production,
like the fall's Eugene Onegin, was not only a first for the
company, but happily, starring the company's director, Pl·cido Domingo,
an even greater artistic success; proving that baritones can be thrilling
too.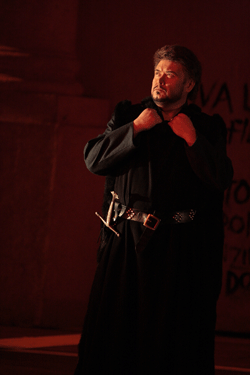 Vitalij Kowaljow as Fiesco
Verdi wrote Simon Boccanegra in 1857. Its libretto is based on a
play by Antonio Garcia GuttiÈrrez, which in turn was based on the life of the
Genoese plebeian, who was elected first Doge of Genoa in 1339. Verdi's
opera was not well received. However, nearly twenty-five years later the
composer revised its music and used a new libretto created by Arrigo Boito.
Boito, a writer and genius of another cut, had already composed
Mefistofeles, his only opera. Subsequently he wrote the librettos for
Verdi's last and greatest works, Otello and
Falstaff.
Simon Boccanegra's story involves complicated personal and
political intrigues. Like Verdi's other political operas,
Macbeth, for example, it is a dark work whose plot is not driven by
romantic love. Five of its six major roles are for male voices. Two duets
between bass and baritone are extraordinarily powerful. Like Macbeth,
even the revised Simon Boccanegra has never achieved the popularity of
other Verdi operas. However, it's a favorite of mine. Its darkness comes
not merely from the essentially male cast, its nasty intrigues, or its minimal
romance. Musical darkness pervades the entire work from its key signatures, to
its melodic lines, to its orchestration. Heartbreak and sorrow permeate the
soul of Simon Boccanegra. And Verdi knew that soul intimately. Like Boccanegra,
Verdi had lost a wife and daughters almost on the eve of his ascent to power
and fame.
Simon Boccanegra begins with a prologue in which the major
characters are introduced. Boccanegra is a young corsair, who is inveigled to
accept the newly created post of Doge of Genoa by his manipulative power hungry
friend, Paolo. We meet Fiesco, the father of Maria, the young woman Boccanegra
loves, who has borne his daughter out of wedlock. Fiesco will forgive
Boccanegra for this sin, if the corsair can produce that child. But he cannot.
He tells Fiesco that little girl has disappeared. Moments later (and we are
still in the prologue) just as Boccanegra discovers that Maria is dead, a
joyous crowd arrives to declare him the newly elected Doge.
Ana MarÌa MartÌnez as Amelia
The first act begins 25 years later. Now Boccanegra and his daughter, Amelia
discover each other. Unhappily, Amelia is in love with a tenor named Adorno.
who along with Fiesco and Paolo, each for his own reasons, have united as sworn
enemies of Boccanegra. The dramatic highlight of Simon Boccanegra is the
magnificent Council Chamber scene with its thundering confrontation between
Boccanegra and Paolo. Later, Paolo poisons the Doge. Nevertheless, the opera
concludes with just punishment and reconciliation. Paolo is executed.
Boccanegra tells Fiesco that Amelia is his granddaughter, and in an
extraordinarily moving duet, the two old men, Boccanegra and Fiesco are
reconciled. Amelia and Adorno marry. Adorno becomes the new Doge of Genoa. And
the dying Boccanegra will find his Maria in heaven. If you can get to the
pre-opera talk, Maestro Conlon does a marvelous job of unraveling this sleeve
of tsouris, and with music, no less!
The darkness of its preceding scenes make our introduction to Amelia, with
its brief moment of joy and high notes the only truly bright moment of the
work. Interestingly in Amelia's first aria of love and
longing,"Come in quest'ora bruna" sung as she awaits Adorno,
Verdi harks back to the rolling oom pah pah bass of his earlier operas. James
Conlon warned his audience that they would cry at the recognition scene and
sure enough, I did. But I don't at every performance of this opera. As I
said, sometimes everything seems to go right. And this scene certainly did that
Sunday afternoon.
The very strong cast of male singers led by Domingo made this possible. The
knock on the state of 71-year old singer's Boccanegra: that his voice is
not deep enough for the role, and raspy besides, may be true, but for the
performance I saw, all that was irrelevant. With a dark wig and slimming
costume, he strode and sang vigorously as the young Boccanegra. As the gray
haired Doge, he was a commanding presence. Domingo has always been an excellent
actor, and is unsurpassed in the subtleties his voice whether as tenor or
baritone, can express in dramatic roles. The Ukrainian bass Vitalij Kowaljow,
who sang Fiesco was a joy to hear if like me you thrill to clear, legato bass
singing and long held last low notes. Baritone Paolo Gavanelli and bass Robert
Pomakov were equally compelling. Stefano Secco, making his LA debut as Adorno,
has a bright tenor voice and happily, his Italian could be understood. Anne
MarÌa MartÌnez, a Grammy winner for an album she recorded with Domingo, has a
rich lyric voice and produced a genuine trill. Kudos for the chorus, which has
a large role in the opera. Maestro James Conlon, who confessed a particular
affection for this opera, kept a limpid performance rolling at a brisk
tempo.
Pl·cido Domingo (right) as Simon Boccanegra, with Stefano Secco (left) as Gabriele Adorno
Well, maybe there were two things that weren't so right: the lighting
and the sets created originally by lighting designer Duane Schuler and Michael
Yeargan, respectively, for Covent Garden. They seem to have taken the
"darkness" of the opera too literally. Both the prologue and final
scene were entirely too dim and shadowed. During the prologue it was sometimes
difficult to know who was singing. And I found the depth of the sets troubling.
Both the prologue, which takes place in a public square and the Council chamber
scene, which employ large choruses, were set on comparatively shallow sets,
whereas the intimate scenes: the love scene, the recognition scene and
Boccanegra's death were performed with open depths behind them.
But these are quibbles. A great opera, whether joyous or sorrowful, is
foremost about music that enters one's heart and moves it. And
Verdi's Simon Boccanegra does just that.
Estelle Gilson

image=http://www.operatoday.com/sbc5086.gif
image_description=Pl·cido Domingo as Simon Boccanegra [Photo by Robert Millard courtesy of Los Angeles Opera]
product=yes
product_title=Giuseppe Verdi: Simon Boccanegra
product_by=Simon Boccanegra: Pl·cido Domingo; Amelia: Ana MarÌa MartÌnez; Jacopo Fiesco: Vitalij Kowaljow; Gabriele Adorno: Stefano Secco; Paolo Albiani: Paolo Gavanelli; Pietro: Roberto Pomakov. Conductor: James Conlon. Director: Elijah Moshinsky. Set Designer: Michael Yeargan. Costume Designer: Peter J. Hall. Lighting Designer: Duane Schuler.
product_id=Above: Pl·cido Domingo as Simon Boccanegra
Photos by Robert Millard courtesy of Los Angeles Opera