These days at least three (Milhaud, Poulenc, Honegger) of the famous les six are still quite recognizable names. But in Paris during the musically vibrant 1920's and 30's Henri Sauguet of les trois (a group that promoted les six, Eric Satie and themselves) was a quite well known name as well. Put all that musical baggage on top of an essentially Gounod sensibility and you have a good idea of the Sauguet poetic. At least operatically.
Both Stendhal and Sauguet claim to like simple art hidden in complex language. So Sauguet took on Stendhal's difficult novel La Chartreuse de Parme to make it into a simple opera and just now the OpÈra de Marseille resurrected this piece after 62 years of oblivion and made it a plausible candidate to enter the repertoire.
To a man the audience in Marseille will have read Stendhal's novel, the story of a very complicated young man too much loved in too many ways by his very complicated aunt. He finally finds what he believes is love (though fortunately it is impossible love otherwise he would not have known what it was). The Church gets involved too.
It is a quite vivid work of fiction, thus every one of us at these Marseille performances intimately knew the cast of characters and voil‡ there they were! The real Fabrice in the person of tenor SÈbastien GuËze and the equally real Duchess of Sanseverina in the person of mezzo Marie-Ange Todorovitch.
In the novel Fabrice has affairs with first an actress and then an opera singer (neither profession known for depth of personal character) before he finally succumbs to an infatuation with an adolescent girl, ClÈlia Conti, the only one of his lovers to make it into the opera. And there she was — soprano Nathalie Manfrino! Casting so perfect it was fiction itself.
Though baritone Nicolas Cavallier made a plausible Comte Mosca and baritone Jacques Calatatud made a good Barbone (the guard Fabrice beats up) the balance of the casting disappointed, particularly bass Jean-Phillippe Lafont as an uncomfortable, harsh, cruel General Conti rather than Stendhal's very complicated courtier and caring father.
Neither Ludovic nor Theodolinde, tenor Eric Huchet and mezzo Sophie Pondjiclis had the physical or vocal edge to capture Stendhal's vividly if minimally drawn characters that color Fabrice's escapades in Bologna. Sauguet's opera renders them as buffo relief rather than as Stendhal's plot facilitators who just happen to be of impressive character.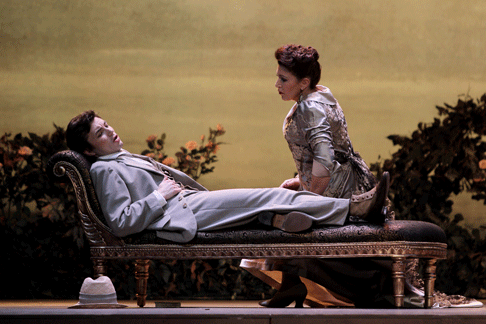 But that is the novel. It will have been a daunting task for Sauguet and his librettist Armand Lunel to reduce a famous six hundred page novel to a little (by comparison) theater piece, and to musically rather than narratively structure its scenes. They and the OpÈra de Marseille actually succeeded fairly well in giving a taste, albeit a clumsy one, of Stendhal's novel. There were the painful omissions, like the actress and the opera singer, and the far more painful reordering and recasting of Stendhal's episodes to arrive at a convincing dramatic process.
But succeed they did. In Act I we had to come to grips with these plot changes, and accommodate an unfamiliar musical language. Very successful persuasion came from the pit, in the scope and sweep of big, very big and very sophisticated music that conductor Lawrence Foster drew out of his very willing orchestra. Mo. Foster has just been named music director of the OpÈra de Marseille and has made a huge first impression negotiating this bit of post-Sentimentalism, not similar but so comparable to Cilea and Giordano in its over-the-top and distinctly over ripe Romanticism.
Marseille performed acts one and two as the first half of the performance, glossing over the crucial time lapse and change of place that transpires between the acts — a mistake because it kept us from digesting the dramatic and musical complexities that occur in a box at a La Scala performance. As it was the first half was dwarfed by the ball at the Sanseverina palace in Parma that was hugely long and complex, and musically handled so deftly by Sauguet that it resembled the best of Tchaikowsky's ballets.


Acts three and four brought the lyric gifts of Sauguet to the fore. They are considerable. There was scene after scene of dizzying arias and duets for Fabrice and ClÈlia. Sauguet's vocal lines are florid and elaborate, not with ornamentation but complex cantabile melodies that seem rarely to move stepwise, and often move in fifths, sixths, even octaves! These arias and scenes are quite extended (like Stendhal's interminable accounts of the slightest movement of mind and soul of his protagonists), and in high tessatura.
Both young SÈbastien GuËze and Nathalie Manfrino made it to the end. It was herculean. While Mlle. Manfrino did show some fatigue, she never faltered in a convincing delivery of Sauguet's vocal line. Mr. Gueze has mastered a falsetto that he implemented from time to time, particularly at his death (without love Fabrice simply wasted away), when perhaps a full voice pianissimo would have been more effective. But after three hours at full forte, in fact a brilliant vocal and histrionic performance, this observation is purely gratuitous.
The opera was staged by RenÈe Auphan, the former general director of the OpÈra de Marseille. To the great enrichment of operatic France she was the instigator of several equally interesting revivals during her reign. The production and staging was adequate at best. Though of period credibility the unfortunate costumes by Katia Duflot read as haute couture rather than as character completion. Sauguet's opera could have profited from a more sophisticated production.
Michael Milenski
Click here for an English translation of the novel.


image=http://www.operatoday.com/IMG_4807-photo-Christian-DR.gif
image_description=Photo by Christian Dresse courtesy of OpÈra de Marseille
product=yes
product_title=Henri Sauguet: La Chartreuse de Parme
product_by=ClÈlia Conti: Nathalie Manfrino; Duchesse de Sanseverina: Marie-AngeTodorovitch; ThÈodolinde: Sophie Pondjiclis; Une voix: AnaÔs Constans; Fabrice del Dongo: Sebastien GuËze; Comte Mosca: Nicolas Cavallier; GÈnÈral Fabio Conti: Jean-Philippe Lafont; Ludovic: …ric Huchet; Barbone: Jacques Calatayud; Le MarÈchal des logis: Antoine Garcin; Un gendarme: Bruno Comparetti; Un geÙlier: FrÈdÈric Leroy. OpÈra de Marseille. Chorus and Orchestra of the OpÈra de Marseille. Conductor: Lawrence Foster. Mise en scËne: RenÈe Auphan. DÈcors: Bruno de LavenËre. Costumes: Katia Duflot. LumiËres: Laurent Castaingt. (February 12, 2012).
product_id=Photos by Christian Dresse courtesy of OpÈra de Marseille