In 2011 it was performed 440 times in 79 cities, a fact that would have
pleased French writer Stendhal, author of a fascinating, though alas,
inaccurate "biography" of Rossini. Charmed as Stendhal was by the
"whipped cream and fanfaronades" of Rossini's operas, he is said to have
worried about what would happen to The Barber when it was as old as
Don Giovanni.
But there we were, nearly two hundred years later, sitting in the San Diego
Civic Center, still being charmed by Rossini's "whipped cream and
fanfaronades", though now decked out with twenty-first century gags, pranks,
and production techniques. The San Diego production, created by John Copley
in1989 for the Lyric Opera of Chicago, was a stylishly directed and
delightfully performed production that lived up to the opera's reputation.
Its setting, about which more later, was inspired by Belgian surrealist RenÈ
Magritte.
This was an excellently selected cast with experienced Rossini stylists and
three singers new to San Diego. Milan born conductor, Antonello Allemandi,
debuting with the company, led the orchestra in a joyously fleet performance of
the overture. Rossini tenor John Osborn, a veteran of countless (quel pun!)
Almavivas, who recently scored a success in title role of Rossini's
Otello, sang his first scene "Ecco ridente" with clarity and
lovely phrasing — though unfortunately, amidst a sinister looking crew of
black-cloaked musicians. The appearance of Lucas Meachem making his San Diego
debut as Figaro, however, sent sparks flying. There's no doubt that any one
who portrays Figaro, the protagonist of Beaumarchais' three plays (all made
into operas) in which he must rescue Count Almaviva and Rosina, has got to be a
commanding presence. It is likely that Beaumarchais, a commoner, who hobnobbed
with French royalty (he had dealings with both Louis XV and XVI) modeled Figaro
on himself. Figaro may have been factotum to all of Seville, but Beaumarchais
was factotum to all of France. Born Pierre-Augustin Caron, the son of a
watchmaker — he gave himself the "de Beaumarchais" title somewhere along
the line — his escapades were far more world shaking than those of Figaro.
Among other things, he was involved in a secret French mission which smuggled
arms to American revolutionary forces. San Diego Opera's factotum, baritone
Lucas Meachem, who was debuting with the company, fit the bill. A large man,
who dwarfed the cast, he easily "Figaroed" his way into the audience's
heart in a production that had him sliding down to his shop on a brass pole.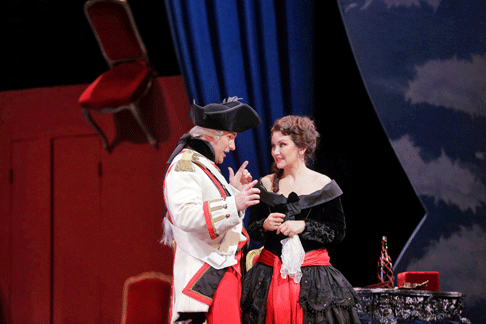 John Osborn as Count Almaviva and Silvia Tro SantafÈ as Rosina
Spanish mezzo soprano Silvia Tro SantafÈ, also making her San Diego debut,
was a charming Rosina, whose darkly colored voice had all the coloratura and
trills that go with the role. Fellow Spaniard, bass, Carlos Chausson, a veteran
of more than 200 performances of The Barber of Seville, portrayed her
guardian. Though Chausson sang with gusto, as the slimmest, spriest Dr. Bartolo
I've ever seen, he brought a different view of the character. The production
also marked the San Diego debut of Alexander Vinogradov. The thirty-six year
old Russian bass, who made his Bolshoi debut when he was twenty one, made a
perfectly dour looking Don Basilio and sang his great "calumnia" aria with
aplomb and style. Mezzo soprano, Suzanna Guzm·n, as Bartolo's housekeeper,
portrayed a mellower Berta than most.
As to the Magritte inspired production — the best that can be said of it,
is that it was irrelevant. It added nothing to the opera, but fortunately, took
nothing away. Plump little white Magritte clouds motionless on blue skies, were
imprinted on the backdrop and on Almaviva's and Rosina's blue final scene
wedding clothes. The clouds were also fixed on the peach colored walls of
Figaro's shop. There was lots of red in costumes and furnishings, lots of
furniture askew. There were floating chairs, oddly placed derby hats, and the
storm interlude featured folks rushing back and forth with windblown umbrellas,
as if Rossini, master of storm music, wasn't telling you that already.
The cast of The Barber of Seville
The final scene in this production included the Count's "Cessa di pi˘
resistere", a difficult aria that Rossini, famous for his musical recyclings,
reset as "Non pi˘ mesta" for the contralto heroine of his next opera,
La Cenerentola (Cinderella). "Cessa di pi˘ resistere" has only
recently been restored to The Barber of Seville with the arrival on
the operatic scene of young tenors able to handle its fiendishly difficult
fioratura. John Osborn is one of them, though there was a certain
dryness in his voice late in the opera at the performance I attended.
I've often wondered what gives The Barber of Seville its appeal.
Its love story? Boy and girl are manifestly fated to be together. Two actsful
of complications keep them apart. Then in act three, problems are resolved, and
the lovers (and audience) go home believing in "happy ever after"? Even if
you throw in a prince, that can't be what makes me want to see it again and
again. That it's revolutionary? Demonstrates that a clever, unschooled barber
can solve problems that a wealthy, cultured aristocrat cannot? Sure, in its
1775 French theatrical version. Not for free old me in San Diego in 2012. That
it's a humanistic tale? Inveighs against social injustice, and portrays
flawed, complex characters with whom each of us can identify? Possibly.
All these theories have been advanced, and likely others I haven't yet
heard of. But I think it's simpler than all that. Lazy, melody-laden Rossini
with his gift for musical humor threw together the right pieces of music for
Beaumarchais' brilliantly funny, humanistic, revolutionary, love story, and
created a work, not only (as Stendhal feared) right for his own time, but
for…well, for two hundred years, anyway.
Estelle Gilson

image=http://www.operatoday.com/BARB0264.gif
image_description=Lucas Meachem as Figaro [Photo by Ken Howard courtesy of the San Diego Opera]
product=yes
product_title=Gioachino Rossini: The Barber of Seville
product_by=Count Almaviva: John Osborn; Figaro: Lucas Meachem; Rosina: Silvia Tro SantafÈ; Dr. Bartolo: Carlos Chausson; Don Basilio: Alexander Vinogradov; Berta: Suzanna Guzm·n. Conductor: Antonello Allemandi. Director: Herbert Kellner. Scenic Director:John Conklin. Costume Designer:Michael Stennett.
product_id=Above: Lucas Meachem as Figaro
Photos by Ken Howard courtesy of the San Diego Opera