but, aided by Timothy O'Brien's impressively towering
Cypriot pillars and gleaming marble and Robert Bryan's resourceful lighting
designs, Moshinsky provides a sumptuous spatial and visual arena for the
interplay of powerful emotional forces, which can be harnessed by skilful
protagonists to showcase the opera's disturbing intensity and their own
musical and dramatic arts.
Moshinsky and O'Brien aim for historical authenticity and unambiguous
symbolism and gesture. Black and white chequerboard tiles hint at the racial
antagonisms so vociferously presented in Shakespeare's opening Act but which
are only briefly voiced in Boito's libretto. Rich, velvety crimsons reveal
both the depth of the protagonists' emotions — love, hatred, loyalty and
jealousy — and their bloody consequences. The Christian iconography of the
lush, Veronese-inspired Renaissance backdrops may be stretching the 'tragic
hero' notion a little too far, especially given that the excision of most of
Shakespeare's first Act reduces the racial and religious antagonisms of the
drama; moreover, the absence of Othello's final 'redeeming' Act 5
monologue, which renders his suicide a restitution of nobility and an act of
selfless service to the state, means that we feel pity but perhaps not
catharsis at the end of the opera. But, the Crucifixion allusions do add to the
timeless quality of the whole.
Initially, Lucio Gallo was a rather blustering, brawny Iago, tending towards
noisy vociferousness; but, perhaps this was apt, for Iago is a rough, brash
private, lacking Cassio's gentle chivalry and graciousness. Moreover,
Boito's Iago is a simpler psychological portrait than Shakespeare's elusive
antagonist, his motivation less complicated and elusive, his machinations more
transparently enacted. Although prone at the outset to slightly wearing
shoulder-shrugging gestures of 'innocence', Gallo increasingly found, both
in gesture and timbre, more subtle lights and shades — guiding and coercing
Otello, bullying Roderigo, duplicitously consoling Desdemona, harrying Emilia.
He made good use of the forestage, coercively involving the audience in his
plotting while maintaining a scornful detachment; throughout the text was
meticulously pronounced, and while arrogantly domineering, he largely avoided
pantomime exaggeration. Gallo's Credo was muscular and focused, as if
inviting us to find him attractive, to fall under his spell as readily as his
deceived captain. At the end of Act 2, as Iago and Otello fell to their knees
to utter an appalling oath of brotherhood and vengeance, the slowly falling
curtain intimated the ghastly, tragic fateful path which the 'hero'
inescapable trod. Their immediate fore-curtain bow was well-deserved.
Hanna Hipp as Emilia, Anja Harteros as Desdemona and Lucio Gallo as Iago
Anja Harteros' Desdemona had both innocent vulnerability and feisty
self-possession — she was not a wilting violet but a self-possessed, if
somewhat inexperienced, young woman, sure of her love and confident of its
reciprocation; a worthy wife for a conquering hero. Despite her unwavering
grace and loveliness, Harteros was never overshadowed or dominated; she
commanded her scenes with a refined but charming presence, her gleaming, sweet
timbre supported by a firm, steely underpinning when required, particularly in
the middle voice. With her realisation that death is near and unavoidable,
Harteros' floated ever more delicate, ethereal vocal threads, as Desdemona
paradoxically seemed both more powerful in her essential purity and
increasingly defenceless before her husband's deranged delusions. Although
Harteros' intonation was not always flawless, the long-breathed phrases that
mattered spoke affectingly; her final angelic cry, elegantly poised and
redolent with pathos, truly touched the heart.
So, given the acknowledged technical and dramatic challenges of the role,
what of our Otello, the Latvian tenor, Aleksandrs Antonenko? If there were any
doubts that vocally he is a worthy successor to his illustrious predecessors in
the role, Antonenko's triumphant first appearance immediately quelled them;
his gleaming trumpeting roar, 'Esultate', instantly established Otello as a
hero of noble grandeur and profound passions, and simultaneously confirmed the
Latvian Antonenko as a mighty Italianate tenor with an infallibly lustrous tone
and secure upper register. Though perhaps a little rigid dramatically,
Antonenko convincingly depicted a man in torment, his external confidence and
inner peace unravelling with every twist of Iago's verbal knife. He had the
stamina to project, if not conquer, the challenges of the low register of the
Act 3 soliloquy. And, the slightly husky pianissimo rasps of his final
fragmented, despairing "Desdemona"s revealed the extent of his
psychological disintegration.
There were no weak links in the chain: Jihoon Kim as Montano, Ji Hyun
Kimboth as Roderigo and Hanna Hipp as Emilia, all Jette Parker Young Artists,
were professional, accomplished and engaging. Antonio Poli's Cassio had an
appropriately light-weight elegance which, dramatically, suggested both a
debonair nonchalance and a perilously naive self-assurance.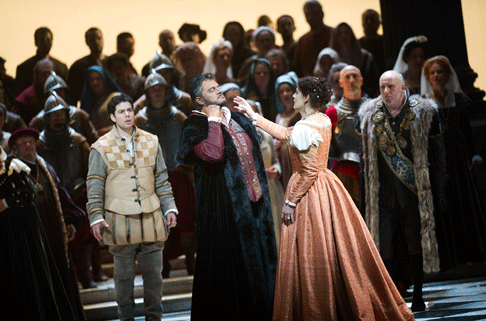 Aleksandrs Antonenko as Otello, Anja Harteros as Desdemona and Antonio Poli as Cassio [Photo © ROH/Tristram Kenton 2012]
Antonio Pappano's characteristic mastery of the score's details brought
forth nuances which were occasionally missing from the actual movements on
stage, if not from the singing itself. From the ferocious storm that he
conjured to a deafening but supremely controlled climax, to the portentous,
insidious bass rumblings which permeate Act IV, Pappano was in total command,
shaping the lines of the Act II quartet to energise the conflicting dramatic
dialectics, pushing the vengeful close of the same Act to an agonizingly bitter
climax. Every instrumental entry was crisp and clean, and the rhythmic
propulsion never wavered, intensity and unrest sitting side by side with
quietude and serenity.
The enlarged chorus roared in resplendent and well-marshalled fashion, but
their role is fairly small (as was the space available, hence some rather
stilted arm waving in the storm scene), and this performance was all about the
three principals, whose prowess, consistency and professionalism brought
praise-worthy technical flair and sincere depth of feeling to Moshinsky's
solid framework.
Claire Seymour

image=http://www.operatoday.com/Otello_ROH_2012_01.gif
image_description=Aleksandrs Antonenko as Otello and Anja Harteros as Desdemona [Photo © ROH/Catherine Ashmore 2012]
product=yes
product_title=Giuseppe Verdi: Otello
product_by=Montano: Jihoon Kim; Cassio: Antonio Poli; Iago: Lucio Gallo; Roderigo: Ji Hyun Kim; Otello: Aleksandrs Antonenko; Desdemona: Anja Harteros; Emilia: Hanna Hipp; Herald: Bryan Secombe; Lodovico: Brindley Sherratt. Conductor: Antonio Pappano. Orchestra of the Royal Opera House. Royal Opera Chorus. Director: Elijah Moshinsky. Set Designs: Timothy O'Brien. Costume Design: Peter J Hall. Lighting Design: Robert Bryan. Royal Opera House, Covent Garden, London, Thursday 12th July 2012.
product_id=Above: Aleksandrs Antonenko as Otello and Anja Harteros as Desdemona
Except as otherwise indicated, photos © ROH/Catherine Ashmore 2012