As such luck would have it, director Sebastian Welker set the whole piece alternately in a cemetery and a Mafia-infested Long Island funeral home. Mr. Welker has lots of different ideas about Macbeth. I would have settled for one. During the prelude, Malcolm as a boy, toy-sword fights with Fleance on a raked square of lawn. An open grave is far upstage, awaiting the coffin that is down center. Boys being boys, curiosity prompts them to open the coffin. (Did I mention that Malcolm is clothed in pure white with a full American Indian headdress of feathers?) Three catatonic young girls in white dresses and hair bows (refugees from "The Shining") are the spookily mute witches, with the chorus women providing the vocals from the pit.
There is nothing wrong with the quality of Friedrich Eggert's set designs, which are professionally executed. If you like funeral parlors, Mr. Eggert's elaborate setting that impressively flies in with green walls, white molding, and chrome/white modern furniture embraces the highest professional standards. The many uses and change-outs of the recessed upstage bier-platform area are fluidly handled. No one is credited with the haunting lighting design, but it is restless and moody, and helps to focus the action and ground the emotional content of any given scene.
The internment of the recently departed Thane's coffin in the first scene is the last realistic occurrence of a production that begins an inexorable (and often entertaining) descent into a macabre phantasmagoria. There are some truly chilling effects, witness the creepy appearance of the silhouettes of the three 'witches' behind the opaque glass in the closed doors of the upstage viewing room. There are some almost workable moments, like having the banquet stand-in as a wake, which are then reduced to silliness as the cater waiters become Banco's assassins and Fleance cowers behind a buffet table.

Olafur Sigurdarson, Melba Ramos, Fjˆlnir "lafsson and J·nos Ocsovai
Some ideas are plain goofy, like having Duncan's coffin brought in ceremoniously, but then having the pall bearers dump it with a laugh-provoking thud just as UN-ceremoniously. The party scene is complete with silver tinsel decorations, and a practical champagne class tower. The King is dead, long live the . . .Konzept.
At times the director is inconsistent with his own decisions. Having established the witches as mute girls, suddenly all the ladies chorus comes on (as Verdi intended) in Act III, all of them dressed in white dresses and bows and brandishing stuffed animals like talismans. A teddy bear is forced on Macbeth. ("Go on, take the teddy bear, take it. Take. The. Flippin'. Bear!") He is helpless to resist. He takes it. (Oh, the horror!) A bit later, Macduff takes up the poor little Gundt, and tears the living stuffing out of it as he sings his aria, leaving little white bear balls all over the stage. BTW, Macbeth and the Missus stayed on the stage until the end (hope they pee'd at intermission), witnessing the tenor aria, dying by turns in, and next to the Le Courbusier, then being led by the girls in white to their own matching coffins upstage. (Whoever has the coffin concession in town must have had an uptick in business.) But I digress: meanwhile back with the refugees, the chorus is convened in the pit (second in 'miserable surroundings' to homelessness, I suppose). While Chorus Master Jaume Miranda's fine ensemble sings some of the opera's most affecting pages, the three witch girls make plenty of noise on stage playing skip rope, playing tag, until one by one, they vomit up blood and die. Talk about being upstaged. . .
Have I mentioned the costumes? My God, what a riot of styles and imagination designer Doey L¸thi hath wrought. For all of their excesses, they were colorful, thought-provoking, well-tailored, and individually apt for the characters. I am not sure they always functioned well as a unit, but there was much to admire. That said, there was one serious misfire with Lady Macbeth's bold neon magenta gown. It sparkled, it blinded, it commanded the stage, and it hugged the figure. I mean, it huuuuugged. The flared tulle floor length ruffle skirt that gathered at the knees, made an attractive, short soprano seem shorter, in spite of the huge wig upswept to Greenland with its over-the-top tiara.

Hiroshi Matsui as Banco
When the Lady in Waiting and Doctor help her out of this puzzlingly garish creation for the Sleepwalking scene, and the Lady stands momentarily in a flattering black satin slip, it was a visual relief. She is a good-looking Lady! And then they proceeded to dress her in a sparkly black number that made you suspect she was about to launch into "My Man." She dies in the (non-electric) chair, perhaps of fashion mischief.
In an odd sequence when the audience is curiously flooded with white light, Macbeth sings Piet‡, rispetto, amore directly to his wife, then acts surprised when it is announced she is dead. Hmmmm. Maybe he thought she fell asleep in front of the television as usual? Having fatally hugged the tenor a 'little' too enthusiastically the ol' Macduffer will have no more of it and stabs the baritone who staggers to joins his wife.
Then, in a "Ding-Dong-the-Witch-Is Dead" sort of revelry, Malcolm enters inexplicably carrying 'himself as a boy' on his shoulders, the crowd totes cartoonish pig head helium balloons (no kidding), and the bowed and buttoned chorus strews glitter confetti worthy of a Mummers Day parade.
Olafur Sigurdarson gave an assured reading in the title role. His substantial baritone had bite and plenty of volume. Perhaps too much. While his delivery would be terrific for Hagen and the like, Mr. Sigurdarson lacks true Italianate fluidity, and his relentless forcefulness caused him to tire a bit by opera's end. I liked everything about Melba Ramos spunky Lady Macbeth, except perhaps that her truly lovely voice is a smidgen too small (and arguably, too darned pretty) for the anti-heroine. Still, Ms. Ramos favored us with sparkling high notes, clean coloratura, and a characterization informed by a superb musical intelligence. La luce langue could have benefitted from a bit more body in the sound, and Vieni! t'affretta! (secure, if not seething) was not helped by having Macbeth stand right next to her and recite the text of his letter, robbing her of her entrance 'moment.' She was at her considerable best in the ruminations of the Sleepwalking Scene, capped with an exceptional, secure high D.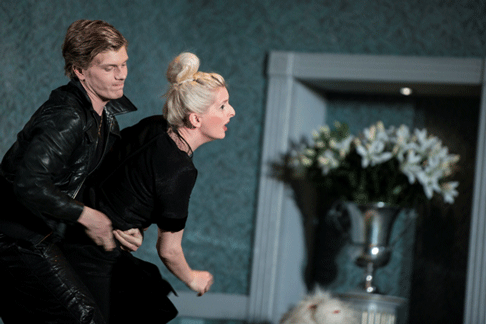 Fjˆlnir "lafsson and HerdÌs Anna JÛnasdÛttir
As Banco, Hiroshi Matsui boasted a particularly rich, sonorous bass that made for a solid musical presence. His resonant Come dal ciel precipita was a high point of the evening. Jevgenij Taruntsov brought a tightly pointed delivery to his Macduff, but sang much of the time at 'forte' and beyond. Mr. Taruntsov has a secure instrument that might benefit from some volume control allowing the voice move to more fluidly.
As Malcolm, J·nos Ocsovai's pleasant lighter tenor and his stylistically secure performance made me wish the role were larger. Young bass Fjˆlnir "lafsson showed great promise with his well-schooled delivery that enhanced several small solo roles, including the Doctor.
The orchestra played idiomatically for Maestro Marzio Conti, once past an unfocussed and slack prelude. While a bit slow to warm up, once they hit their stride midway in Act I, the musical elements went from strength to strength, the final chorus ripping along with conviction and fire. Moreover, Maestro Conti partnered his soloists with a unified dramatic intent.
Whatever its excesses, this Macbeth was never boring, never less than competent, and was one of "those" productions I will not soon forget. Truth in advertising: the local, loyal audience was wildly appreciative of the night's effort and called the cast back well past the planned number of bows.
James Sohre
---
Cast and production information:
Duncan: Gaetano Franzese; Macbeth: Olafur Sigurdarson; Banco: Hiroshi Matsui; Lady Macbeth: Melba Ramos; Lady in Waiting: HerdÌs Anna JÛnasdÛttir; Macduff: Jevgenij Taruntsov; Malcolm: J·nos Ocsovai; Servant/Murderer/Messenger/First Apparition/Doctor: Fjˆlnir "lafsson; Fleance/Second Apparition: Dimitrij Pyrozhkov; Boy Malcom/Third Apparition: Gustav J‰nicke; Witches: Marlene J‰rkel, Feliciana Solander, Mira Yazici; Conductor: Marzio Conti; Director: Sebastian Welker; Set Design: Friedrich Eggert; Costume Design: Doey L¸thi; Chorus Master: Jaume Miranda.

image=http://www.operatoday.com/559d7ad5d8.gif
image_description=Melba Ramos as Lady Macbeth and Olafur Sigurdarson as Macbeth with Opernchor des SST [Photo by Thomas M. Jauk]
product=yes
product_title=Verdi's Macbeth of the Living Dead
product_by=A review by James Sohre
product_id=Above: Melba Ramos as Lady Macbeth and Olafur Sigurdarson as Macbeth with Opernchor des SST [Photo by Thomas M. Jauk]