Maybe because it had a bad reputation as a betrayal of Alexander Dumas fils' novel La Dame aux CamÈlias and maybe because local critics had already objected to its jumpy motifs and its vulgar rhythms. Once on the stage of Marseille's venerable OpÈra (1787) however it has become, with Rigotetto, Marseille's most performed opera.
These June performances were sold out three months in advance — one wonders what foresight will have informed the Marseillais that this was a Traviata not to miss?
Alexander Dumas fils too might have been pleased. His 20 year-old Marguerite, renamed Violetta in the opera was very young as well, and very beautiful. The honesty and ironic innocence that Dumas finds in his ill-starred prostitute radiated from young Czech soprano Zuzana Markov· in her role debut.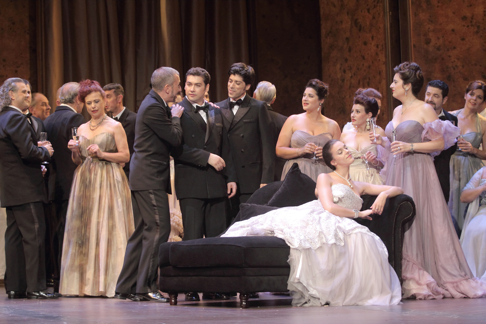 Act I, Gaston, Alfredo, Le Marquis, Violetta, Flora.
Mlle. Markov· may have been a somewhat tentative Lucia last winter in Marseille, but as Violetta she moved with new found grace and delivered a deeply studied performance with complete mastery and conviction. She is a remarkable technician in the first flower of beautiful, clear, coloratura voice. The E-flat taken in "Sempre libera" rang with silvery confidence, the mid-voice of the second act and death shone with strength and warmth.
It was a sterling performance allowed by remarkable conducting, that of Stuttgart formed young Korean maestra Eun Sun Kim (it is already an established career with credits at English National Opera, Frankfurt Opera, Vienna Volksoper). The maestra is clearly of a new generation of conductors who feel tempos in a minimalist sense — slower macro-pulses offering sound spaces where immediate depths may be probed. Musical energy is discovered by the exploration of this microcosmos rather than in energy found by forcing brute speed and sudden braking.
This musicianship allows for the lyric expansion inherent in bel canto and here it laid bare the roots of the mid-period Verdi in this rapidly disappearing style. Mlle. Markov· exposed bel canto's purity of melodic intention by stylishly suspending her musical lines, plus she exploited these long, carefully sculpted melodic contours in lovely pianissimos and full fortes, and with beautiful vocal colors.
The conducting of Eun Sun Kim well served the artistry of Canadian baritone Jean-FranÁois Lapoint as Giorgio Germont. Mr. Lapoint who counts both Pelleas and Golaud among his roles is primarily known in the French repertory. He brought a projection of text from these roles, and a delicacy of delivery that created an unusual depth of personality and musical presence to Germont. The absence of an Italianate color and inflection, and an inborn leading-man presence were overcome here by the convincing sense of bel canto that he and Mlle. Eun achieved (Mr. Lapointe also counts Donizetti's Alphonse XI [La Favorite] among his roles).

Zuzana Markov· as Violetta, Jean FranÁois Lapointe as Giorgio Germont
It was a new production, the work of RenÈe Auphan, the former general director of Marseille Opera (perhaps accounting for the care in its casting). In her program notes she cautions us not to think too much about the Dumas novel, that that demi-monde is far removed from our experience. She asks us instead to focus on Verdi's universal humanity.
But the characters in her staging are very much those of Dumas, starting with the youth of Mlle. Markov· (if not the brattish confidence of Dumas' Marguerite) and the forty-some age of the has-been prostitute Flora. Her Act III party admitted the startling vulgarity of the demi-monde as described by Dumas. French mezzo Sophie Pondijiclis made this role vividly real, a revelation. French mezzo Christine Tocci played Annina, here transformed from Verdi's dramatic utility into Dumas' Nanine, a factotum confidante, possibly a lover of Marguerite, not a chamber maid. Costumed in male styled trousers and top, with a bright smile and strong voice Mlle. Tocci was constantly at Violetta's side, a vivid, voiceless presence in Act I.
Act II begins with Alfredo's outpouring of contentment, the emotion ironically compromised by the presence of Dr. Grenvil, who sits writing something, perhaps a prescription, while Alfredo sings the opening of "dei miei bollenti spiriti" to him. The doctor then departs, imparting a perfunctory gesture of professional sympathy to Alfredo. Romanian tenor Teodor Ilinc'l made Dumas' obsessive Armand quite real as Verdi's Alfredo. Mr. Ilinc'l is a strong voiced, Faustian tenor who well embodied Dumas and Verdi's single minded and selfishly Romantic lover. Verdi simply does not award him the delicacy or complexity of feeling that he lavished on Violetta and Germont.
Mme. Auphan is wise to suggest that we not dwell on Dumas. But understanding the detail of her mise en scËne together with the exemplary casting and the musical depth of the conducting explains why this staging brought unexpected vitality to this old warhorse. It was not a moving Traviata so much as it was an almost clinically musical and dramatic examination of this masterpiece. And finally it was mesmerizing art.
The new production provided an unobtrusive, standard mid-nineteenth century setting designed by Marseille born Christine Marest, a veteran of the late 20th century avant garde. The scenery, beautifully lighted by photographer Roberto Venturi, was a stage box that easily transformed its feeling from salon to an intimate, emotional interior space most notably in the "sempre libera." In Dumas novel this scene takes place in Marguerite's boudoir, in the Auphan production the lights of the salon are softened into dim, candle light, and just as in the Dumas novel Alfredo is present, making this scene an operatic pas de deux, Violetta voicing her conflicts while Alfredo crumples a white camellia.
There were performances on six consecutive days, thus there were two casts. Jean-FranÁois Lapointe however unexpectedly sang all performances (and was still in fine form at the fifth performance). Intelligence from the pressroom indicates that the alternate cast was quite impressive — Romanian soprano Mihaela Marcu as Violetta and Turkish tenor B¸lent Bezd¸z as Alfredo.
Michael Milenski
---
Casts and production information:
Violetta: Zuzana Markov·; Flora: Sophie Pondjiclis; Annina: Christine Tocci; Alfredo Germont: Teodor Ilinc‰i; Giorgio Germont: Jean-FranÁois Lapointe; Le Baron: Jean-Marie Delpas; Le Marquis: Christophe Gay; Le Docteur: Alain Herriau; Gaston de LetoriËres: Carl Ghazarossian; Giuseppe: Camille Tresmontant. Chorus and Orchestra of the OpÈra de Marseille. Conductor: Eun Sun Kim; Stage Director: RenÈe Auphan; Scenic Designer: Christine Marest; Costume Designer: Katia Duflot; Lighting Designer: Roberto Venturi. OpÈra de Marseille, June 21, 2014.

image=http://www.operatoday.com/Traviata_MRS1OT.png
product=yes
product_title=La Traviata in San Francisco
product_by=A review by Michael Milenski
product_id=Above: Zuzana Markov· as Violetta, Teodor Illing‰i as Alfredo [Photos by Christian Dresse, courtesy of OpÈra de Marseille)]