Critical consensus seems to be that Jerome Kern's Show Boat was acceptable in San Francisco's 3200 seat War Memorial (and at Chicago's 3500 seat Lyric Opera). This acceptance has come at a price — sophisticated electronic amplification of voices and the imposition of a scale of production that well exceeds the stature of the piece.
At the press conference before this San Francisco run of performances (the production has already been seen in Washington D.C. and Chicago) there were three primary rationales offered for presenting Show Boat on a grand opera stage.
The first rationale is that if operettas such as, and specifically mentioned, Die Fledermaus, La PÈrichole and Die Lustige Witwe are firmly established in the international operatic repertory, why not an American operetta (you must first of all consider Show Boat an operetta and that is a complicated rationale). Note that La PÈrichole has never been on the War Memorial stage, nor has any other Offenbach operetta. What small amount of dialogue that has occurred in SFO productions of Die Fledermaus and Die Lustige Witwe productions has used the natural acoustic of the opera house. No singing voices have been amplified.
The second rationale is that given the demise of American light opera companies it becomes the responsibility of American grand opera companies to preserve the American Musical Theater heritage. Note that most of the musicals that comprise this current popular theater heritage occurred before the advent of sound reinforcement.
The by now classic American musicals were staged in theaters adapted to acoustical voice projection (recall the focused nasal sound of spoken dialogue delivered in earlier times that projected easily to the last rows of a vaudeville "opera house"). If American grand opera companies feel compelled to step outside their mission of producing opera they should at least move from opera houses to appropriately sized theaters where acoustic voices are possible.
The third rationale is that Show Boat dared introduce racial issues into popular theater. The presence of this stain on our national history evidently elevates the importance of Show Boat, and imposes a moral duty on grand opera companies to remind us that we have sins to expiate. Maybe like American imperialism in Madama Butterfly, and narrow, what we now call Victorian mores like in La Traviata. Opera can make it painfully pleasurable to go through this cathartic process.


Angela RenÈe Simpson as Queenie, Morris Robinson as Joe. Photo by Cory Weaver, courtesy of San Francisco Opera
Upon a bit of consideration however the racial issues addressed in Show Boat are more about problems white skinned people encounter than the inequalities encountered by black skinned people. The blacks in Show Boat contentedly remain the underclass throughout the story (white girl gets rich and may or may not take back her no-good husband) and these blacks seemed happy to represent little more than caricatures of what whites wanted blacks to be back in 1927. It was surprising to see contemporary black skinned people willing to accept this assignment.
Finally Show Boat was a sing along. The songs are immortal it seems, or at least inescapable to those of us who grew up in mid-century America — songs sort of like "Di Provenza il mar" and "Un bel dÏ" for the current opera crowd. However after we have hummed along with a Verdi and Puccini aria there remains so much more to invade our souls than a few more catchy songs.
Many contented critics did finally confess the triviality, read poverty of the story once it was revealed in the second act. Other contented critics admitted that the razzle dazzle of the production numbers was pale imitation of what should occur in a real Broadway show.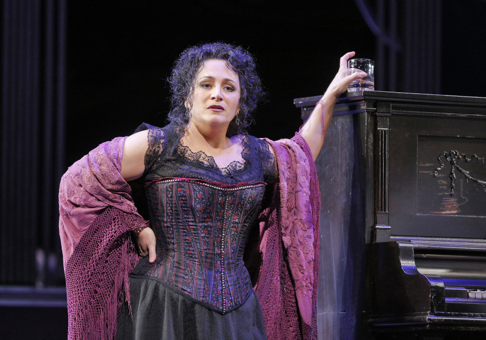 Patricia Racette as Julie. Photo by Cory Weaver, courtesy of San Francisco Opera
The San Francisco cast included opera soprano Heidi Stober who achieved a sufficient level of sparkle as Magnolia. Opera diva soprano Patricia Racette brought some presence but little tone to the role of Julie, opera baritone Michael Todd Simpson as Magnolia's gambler husband Ravenal was highly miked making his voice sound like a musical comedy voice, a voice that seemed quite tired by end of the second act. Operatic bass Morris Robinson made appropriate bass sounds as Joe who sings "Old Man River" over and over again.
Michael Milenski
---
Casts and production information:
Magnolia Hawks: Heidi Stober; Gaylord Ravenal: Michael Todd Simpson; Cap'n Andy Hawks: Bill Irwin; Julie la Verne: Patricia Racette; Queenie: Angela RenÈe Simpson; Party Ann Hawks: Harriet Harris; Ellie Mae Chipley: Kirsten Wyatt; Joe: Morris Robinson; Frank Schultz: John Bolton; Mrs. Obrien: Sharon McNight; et al. San Francisco Opera Orchestra and Chorus. Conductor: John DeMain. Stage Director: Francesca Zambello; Set Designer: Peter Davison; Costume Designer: Paul Tazewell; Lighting Designer: Mark McCullough; Sound Designer: Tod Nixon; Choreographer: Michele Lynch. War Memorial Opera House, San Francisco, June 3, 2014

image=http://www.operatoday.com/ShowBoat_SF1OT.png
image_description=ShowBoat
product=yes
product_title=Show Boat in San Francisco
product_by=A review by Michael Milenski
product_id=Above: Heidi Stober as Magnolia, Michael Todd Simpson as Ravenal [Photo by Cory Weaver, San Francisco Opera]