Opera in concert is a tradition at the Salzburg Festival. The format of such endeavors is however puzzling, at least based on the concert performances (three) of Manon Lescaut in early August. Basic expectations of such events might assume that musical values would be paramount since there would not be the distraction of staging. This was not the case of this Manon Lescaut.
?
Instead it was a showcase for Anna Netrebko, and that alone of course validates the programming. However such a centerpiece could surely give incentive to the festival to build a cast around such vocal splendor that might strive toward some degree of high, finished art.†
?
The assembled cast included Algerian born, Moscow trained, Franco-Corelli-finished tenor Yusif Eyvazov as Des Grieux (who happens to be Mme. Netrebko's husband), and Mexican baritone Armando PiÒa as Manon's brother Lescaut. PiÒa, a fine young singer, is a Resident Artist, i.e. student at Philadelphia's prestigious finishing school for opera singers, the Academy of Vocal Arts. Geronte was sung by 66 year-old bass-baritone Carlos Chausson who has made a distinguished career singing the repertory's well-known buffo roles.
?
Rather than the singers sitting in chairs with music stands and scores while waiting their turn to sing the Salzburg concert format elicits actual staging, if minimal. Singers entered and exited much as staging instruction in the score might tell them. Roles were acted, singers moved as if staged. It did not arrive at what the French call a mise en espace (there was no lighting or costumes) nor was it a concert.†
?
The staging, probably improvised by the singers, was on the stage apron therefore the conductor, Marco Armiliato and the Munich Rundfunkorchester were behind the singers. Mo. Armiliato had no visual contact with the singers, nor did the singers ever communicate with him. Apparently at ease with standard†Manon Lescaut routine this maestro never felt the need even to look over his shoulder.†
?
Forty-five year old Anna Netrebko, in good physical and perfect vocal shape, appeared in a huge black gown discretely studded with black sequins, i.e. concert dress that made her entrances and a few hurried exits cumbersome indeed. Mr. Eyvazov wore some sort of ethnic coat of maybe Slavic, maybe Turkic inspiration that indeed set him apart, the balance of the performers wore formal concert dress.
?
Portraying a teenage girl was of course out of the question for Mme. Netrebko under the circumstances, and she did not really shine as an artist until Manon's death. It was spellbinding. Though of course she was a star the entire evening and that is why we were there. Mr. Eyvazoy delivered the first act deploying the tenorial vocal and histrionic attitudes that are long out of fashion, the stuff of caricature. He rose valiantly and with a degree of artistic honesty to the occasion of Manon's deportation — well rewarded by applause. Without proper costuming and wig Mr. PiÒa's well coached singing disappeared into little more than a reading of the role to support the exploits of the tenor and soprano. In the midst of these two powerful, youthful male voices Mr. Chausson's performance seemed small indeed. The only performance of the evening that seemed appropriate for what a Salzburg Festival concert opera might be was that of the Dance Master, fancily performed by young German tenor Patrick Vogel.
?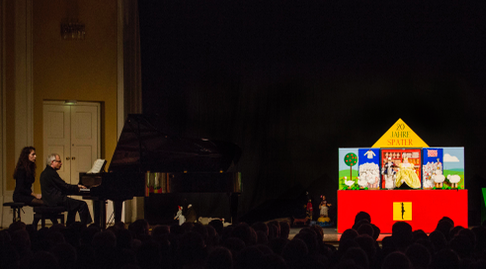 Andr·s Schiff and page turner with set for Children's Corner puppet ballet
Hungarian pianist Andr·s Schiff, one of the world's established concert artists, slickly played Robert Schumann's youthful Papillons (Op. 2) of about 16 minute duration, and then played Claude Debussy's Children's Corner, a suite of about 17 minutes duration that Debussy composed for a piano teaching method book. For this piece Mr. Schiff used the music. Both pieces are well within the reach of advanced piano students. Surely I am not alone in wishing Mr. Schiff's program had been from the major, virtuoso repertory.
?
The piano was then pushed to one side exposing puppet show contraptions. Mr. Schiff returned to perform the same two pieces, accompanying a mise en scËne for each, executed by four puppeteers operating a variety of puppets.
?
For the Schumann's Papillons there were characters of the novel Flegeljahre (Adolescent Years) by a writer named "Jean-Paul," this novel the inspiration for these 12 brief pieces. Essentially the well-organized Walt wins the girl, having competed with his impetuous brother Vult for her attentions. This mise en scËne was imagined by puppeteer Thomas Reichert. It was premiered in 2014 in Calgary, Canada.
?
Debussy amplified his Children's Corner suite for piano into a full-scale puppet ballet for children with orchestra, La Boite ‡ joujoux. The ballet was recast in 2010 in Ittigen, Switzerland by puppeteer Hinrich Horstkotte to fit Debussy's original Children's Corner for piano. The characters are Pulcinella, Golliwog — a late nineteenth century black faced puppet, evidently not a politically incorrect issue in Austria — for Debussy's famed Golliwog's Cakewalk, and a Soldier, plus lots of mechanical intervention of the toy box set contraption and dramatic participation by the four, obviously accomplished, black dressed puppeteers.
?
The evening was appreciated by the audience who apparently did not care that it was gratuitous use of the talents of Andr‡s Schiff.
Michael Milenski

image=http://www.operatoday.com/Salzburg_Salzburg1.png
product=yes
product_title=Encores in Salzburg
product_by=A review by Michael Milenski
product_id=Above: Anna Netrebko as Manon, Yusif Eyvazov as Des Grieux [All photos copyright Marco Borrelli courtesy of the Salzburg Festival]