Stay out of its way.
That's not quite fair since Ms. Smith brought a number of fresh pieces of business into play. This was hardly a dusty "homage." But mostly, she honored the timeless appeal and superb craftsmanship of the masters, and facilitated a fast-paced, hugely entertaining dose of vintage Rogers and Hammerstein that could hardly have been better sung.
Jarrett Ott is arguably the best Curly ever, even allowing for the fact that his hair is not as obviously curly as referenced in the script. Lanky and handsome, Mr. Ott preens and prances all over the stage, a thoroughly winning bantam rooster who, it turns out, is an amiable puppy dog at his core. Jarrett's buzzy, virile baritone smoothly encompasses his every song, and his is an evenly produced instrument of power and beauty.

Michael Hewitt as Jud Fry and Vanessa Becerra as Laurey
As Laurey, lovely Vanessa Becerra was a worthy sparring partner for Ott. The feigned toughness and independence of her characterization was sassy without being distancing. When Ms. Becarra finally gave way to an impetuously confessed love for her longtime faux-antagonist Curly, it was both humorous and awwww-inspiring. Vanessa's silken soprano fleshed out Laurey's famous solos with a vibrant presence, and her vocal work embodied a lilting radiance.
Judith Skinner offered an especially irascible, larger than life take on Aunt Eller. Ms. Skinner was vibrant and consistent, however if she modulated her angry persona a bit, she might discover even more punch and variety. Michael Roach was a stellar Will Parker, his well-focused tenor and sparkling delivery nailing both his big musical moments. Moreover, his athletic, committed dancing was as virtuosic as it was exuberant. Mr. Roach is a dynamic Triple Threat. And his goldfish-inspired kissy face schtick with Ado Annie was good silly fun.

Michael Roach as Will Parker (center) with members of the company
Speaking of Annie (and I was), Emma Roos was all gangly, sexed up indecision and she managed to make the role her own. Ms. Roos has a far more polished, legit voice than most interpreters and she too, dances with accomplished. As the sleazy weasel salesman Ali Hakim, Dylan Morrongiello affected a maddeningly ingratiating "Persian" accent that was so meticulously articulated that his teeth must hurt. His solid presence and sound comic timing were wedded to a singing voice so pleasant that it was a shame he didn't have more music in his only solo.
I was very engaged by Michael Hewett's well-considered take on Jud Fry, which explored the personal contradictions that inform the show's most interesting and varied personality. Mr. Hewett's Jud is a handsome man, and a reliable worker, seeming nothing like the odious threat some productions offer. Instead, he becomes more and more interesting as the layers of his tragic character peel away. His participation in Pore Jud reveals real humanity, and by the time Michael takes on Lonely Room, the pathos and urgent desperation in his beautifully produced, bronzed baritone draw us into his emotional paralysis. This was a memorable role assumption.
I have long been an admirer of William Burden, having first encountered his artistry in a Santa Fe production of La belle Helene, as notable for his assured singing as for his revealing his buff young frame by stripping to his tighty whities. Over the years, I have written before that it seems like Mr. Burden is such a fine musician that he can sing any role in any style and be utterly successful. Here, he vocalizes the small part of Andrew Carnes with ease, and I was particularly impressed with Bill's wholly believable acting and cranky paternal presence, a star turn regardless of the size of the part.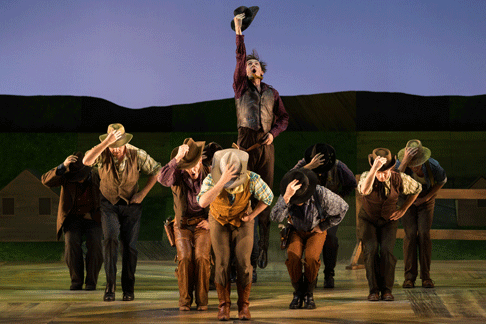 Tucker Reed Breder as Mike (center) and members of the company
Kayleigh Decker was an assured and suitably annoying Gertie, and Conor McDonald gave Ike Skidmore a lively dimension. Ezekiel Edmonds and Olivia Barbieri made a lovely pair as Dream Curly and Laurey; whether dancing solo or in tandem, they displayed a sound technique and soulful passion. Parker Esse's inventive choreography often threatened to out-Stroman the great Susan. The Dream Ballet was every bit the Big Moment it needed to be, and Mr. Esse succeeded at creating definitive visual characters all the while responding to the shifting musical styles with aplomb. Arguably, Kansas City was Parker's piece de resistance with its vitality and inexorable build-up to a breathless climax that stopped the show cold.
Conductor James Lowe kept things bubbling along in the pit, and what a joy it is to hear masterful orchestrations that allow performers to work unamplified. That said, with the realities of the placement of the Busch pit, Maestro Lowe's band on occasion might have considered a bit more restraint during the vocals.
Eugene Lee's set design is simple, elegant, atmospheric and highly functional. A sort of low-rising ground row "pueblo" of neutral building blocks lines the back wall, with wooden planked, rustic house and shed units that can be rolled around and placed to suggest various locales. A row of fences, a windmill, a crate here, a hay bale there were all that was needed to created the rural settings.
Lighting designer Robert Wierzel has a field day (no pun intended) suggesting the gradations of prairie illumination and his warm hued plot provided a sun soaked glow. The star curtain that starts the show rises to reveal some excellent cyc effects, and the nightmarish descent in the dream allows for some appropriately surreal splashes of color. Ilona Somogyi's effective costume design perfectly captures the hominess of the Oklahoma Territory, but she lets herself go with sensual and provocative attire in the dream's bordello.
Back to director Molly Smith: No matter the time-tested perfection of the material nor the consummate talent of the participants, it takes a vision and steady hand to forge such a successful revival of a thrice familiar musical. Molly has injected freshness, imposed order, and energized an hugely gifted group of operatic practitioners into a superlative rendition of Rodgers and Hammerstein's masterpiece.
James Sohre
---
Cast and production information:
Curly: Jarrett Ott; Aunt Eller: Judith Skinner; Laurey: Vanessa Becerra; Ike Skidmore: Conor McDonald; Fred: Edward Graves; Slim: Andres Marino Garcia; Will Parker: Michael Roach; Mike: Tucker Reed Breder; Jud Fry: Michael Hewett; Ado Annie Carnes: Emma Roos; Ali Hakim: Dylan Morrongiello; Gertie: Kayleigh Decker; Dorcas: Abigail Dock; Andrew Carnes: William Burden; Vivian: Alyssa Martin; Ellen: Mary Evelyn Hangley; Kate: Katrina Galka; Virginia: Mary Beth Nelson; Dream Laurey/Sylvie: Olivia Barbieri; Dream Curly/Jess: Ezekiel Edmonds; Cord Elam: Harry Greenleaf; Sam: Jarrett Porter; George: Jonathan DeVries; Joe: Joseph Leppek; Aggie: Shanel Bailey; Minnie: Anju Cloud; Wes: Aidan Kahl; Edward: Makoto Winkler; Conductor: James Lowe; Director Molly Smith; Choreographer: Parker Esse; Set Design: Eugene Lee; Costume Design: Ilona Somogyi; Lighting Design: Robert Wierzel; Hair and Make-up Design: J. Jared Janas, Dave Bova; Chorus Master: David Moody

image=http://www.operatoday.com/KarliCadel-GGF17-Oklahoma-GenDress-5586.png
image_description=Jarrett Ott as Curly and Vancessa Becerra as Laurey in The Glimmerglass Festival's 2017 production of Rodgers and Hammerstein's "Oklahoma!" Photo: Karli Cadel/The Glimmerglass Festival
product=yes
product_title=Glimmerglass Oklahoma: Yeow!
product_by=A review by James Sohre
product_id=Above: Jarrett Ott as Curly and Vancessa Becerra as LaureyPhotos © Karli Cadel/The Glimmerglass Festival