Battered by Hurricane Ophelia during the preceding weekend, this south-east
tip of Ireland had suffered power cuts lasting several days, leading to
disrupted and abandoned dress rehearsals and countless administrative
complications and obstacles. With the power still down just a day before
curtain-up on the 66th Wexford Opera Festival, there must have
been doubts whether there would be an Opening Night at all. As it was, only
the fireworks fell victim to the prevailing gusts and hail (and have been
rescheduled for the closing celebrations). This Festival, the tenth in the
National Opera House, promised much and did not disappoint, although the
hits did not always come from the quarters that one might have expected.
Jacopo Foroni (1825-58) has given Wexford one of its biggest successes in
recent years: Stephen Medcalf's 2013 production of the composer's

Cristina, regina di Svezia

garnered great accolades from audiences and critics, and became the
deserving winner of the 'Best Rediscovered Work' category at the 2014
International Opera Awards. It's not surprising, therefore, that Artistic
Director David Agler has decided to plunder Foroni's slender operatic
catalogue in search of another winner. In the event, Margherita,
Foroni's first opera (composed in 1848 when he was in his early twenties),
is no match for Cristina's musical invention, remarkably
coloristic orchestration, stirring characterisation and dramatic
persuasiveness; but, it is melodically rich, balances vivacity and comic
drollery with theatrical tension, and was given a slick and entertaining
presentation by director Michael Sturm and set/costume designer Stefan
Rieckhoff.
Giorgio Giachetti's libretto, based upon EugËne Scribe's op Èra-comique, Marguerite (originally intended to for
FranÁois-Adrien Boieldieu), has a characterful cast, a central story of
frustrated love, and rather too many subplots. Roberto uses his connections
to the newly appointed mayor, Ser Matteo, to badger the pretty Margherita,
a rich orphan, to marry him. Margherita, however, is in love with the
soldier Ernesto; when the latter's regiment returns from the wars,
Ernesto's sister Giustina begins to plan the forthcoming nuptials. Her
preparations are disrupted, however, when Ernesto's cap is found at a
'crime scene' and he is accused of having attacked Count Rodolfo, his
colonel, and is arrested; in fact, he was trying to help the Count avoid a
duel arising from his own amorous entanglements. With Ernesto holed up in
the town gaol, Roberto seizes his chance to bully Margherita: he will
engineer her lover's release if she agrees to marry him. To save Ernesto
from the scaffold, she submits to this demand. At a timely moment, Count
Rodolfo re-appears and reveals that Ernesto is innocent; the latter is
freed but is dismayed to learn that Margherita has proved faithless, until
Giustina enlightens him and the lovers are reunited. At which point, the
Count once again saves the day when he recognises Roberto as his assailant:
the marriage contract is declared null and void, and Roberto is carted off
to prison leaving the villagers to sing in praise of the strength of true
love.
The cast of Margherita.
Rieckhoff's set, fronted by a semi-transparent drop which adds detail and
perspective to the street-corner interchange, cobble-stone piazza and
imposing faÁade of the Church of the Blessed Virgin and Martyrs behind,
ingeniously conjures post-WW2 Italy. The girls' frocks and the chaps'
shirts are a clatter of primary colours as they whizz about on bicycles,
gather in the piazza to welcome home the troops, dance and cavort during a
celebratory street party, and jostle in the town-hall court-room. Sturm's
choreography is excellent: despite the fact that the stage is often
crowded, there is never clutter or stasis, only naturalistic energy and
movement. And, he is ably aided by the neat shifts and transformations of
Rieckhoff's set: a tree descends and the backcloth is bathed in night-blue
light to evoke a ruined castle; a square of patterned wallpaper is lowered
to create an intimate bedroom interior; the chorus nonchalantly carry
chairs, beds and tables on and off, creating merry-go-round scene-changes.
And, the Wexford Festival Chorus were in fine voice (on 20th
October), particularly in the first 20 minutes or so, during which the
drama unfolds in a swiftly moving sequence of ensemble scenes (although
thereafter Foroni has a tendency to mimic Verdi in rum-te-tum mode).
As the eponymous beauty, Alexandra Volpe revealed a mezzo-soprano that can
convey both integrity and mischief: reunited with Ernesto she removes her
stocking suspender to adorn his hat with a memento of her love.
Margherita's extended Act 2 aria was a highpoint of the evening: Volpe used
the layers of velvety warmth in her voice to make us feel the maligned,
sacrificial innocent's suffering; she was complemented by a beautiful
violin obbligato. Giuliana Gianfaldoni was a lively counterpart as the
breezy Giustina, relishing her role as the community's source of gossip and
direction. Gianfaldoni's soprano has enormous power and clarity; and, just
when I was beginning to find these qualities a little unalleviated, she
reduced her voice to the most exquisite wisp of a pianissimo in the Act 2
duet with Margherita.
Giuliana Gianfaldoni.
Andrew Stenson was a little 'wooden' as Ernesto, but perhaps that's the
nature of the role; his tenor was bright and true, however, and one could
feel his delight when he nailed the top Cs beautifully in his Act 2 aria,
poised on the scaffold, anticipating an undeserved, tragic end. Yuriy
Yurchuk gave a masterclass in how, with scant time and space, to inject a
role with a profundity not immediately apparent in the action, or indeed
the score. Count Rodolfo's Act 1 aria was both nuanced and psychologically
weighty.
As Ser Matteo, the fittingly named Matteo d'Apolito milked the
overture-accompanying mime to amusing effect, wandering insouciantly into
the piazza swinging a leather briefcase from which he pulled a flask of
piping hot coffee and a newspaper, settling himself comfortably into a
chair to declare, as the townsfolk celebrated his new appointment, that
he's the perfect job: he intends to stroll, eat and drink and do nothing!
The Mayor's Act 1 duet with his scheming nephew Roberto is engagingly
choreographed with both d'Apolito and Filippo Fontana's indignant Roberto
indulging in a panoply of deft comic gestures. Fontana has shown us his
comic nous before at Wexford (

Cagnoni – Don Bucefalo

;

Nino Rota – Il Capello Di Paglia Di Firenza

) and it's clear from this performance that he continues to sharpen his
skills and his ability to darken his bass as required.
Conductor Timothy Myers kept things bustling along, even when the score
lacked originality, and the Wexford Festival Orchestra entered into the
spirit of the drama with lightly enunciated playing that was punctuated by
exuberant dramatic motifs. At the close, the greying long-johns and vests
which had dangled from the overhead clothes'-line at the start were
substituted by a primary-coloured fashionable array – all wars, of state
and of love, are truly over.
Another, perhaps the biggest, enticement of this Wexford Festival was the
prospect of hearing Lise Davidsen sing the title role in Fiona Shaw's
production of Cherubini's Medea, for which the Norwegian soprano
had whetted our appetites at the

Wigmore Hall

earlier this year. Davidsen was, as anticipated, a towering force blending
epic fury, violence and indecision. Sadly, her statuesque grandeur and
gravity did not really find a happy home in Shaw's 'concept' of the opera,
in which the mundane outweighed the mythic and petulance triumphed over
perspicacity.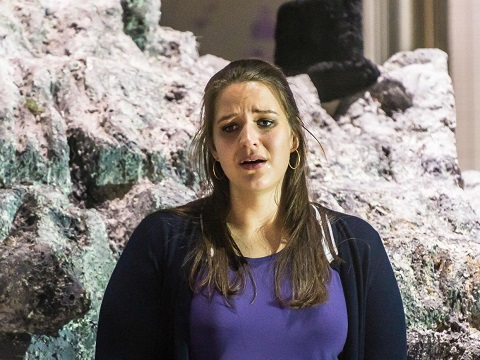 Lise Davidsen.
Shaw seems to have striven to wipe the slate clean of her own, acclaimed
theatrical interpretations and embodiments of Euripides' tragedy: indeed,
in an interview reproduced in the Festival programme book she remarks,
'It's useful to have Euripides in the hinterland, but I'm starting from
scratch, without preconceptions.' Nothing wrong with that, but alarm bells
started ringing when I read that Shaw, anxious not to let her experience of
performing (during 2001-03) Deborah Warner's vision of the play (for which
Shaw received the Evening Standard Award for Best Actress and a Tony
nomination), had decided to delegate the determining of the visual
'concept' to designer Annemarie Woods – do not visual and narrative
elements go hand-in-hand?; and, that initial plans had involved turning the
preparations for Jason and Glauce's wedding, which form Act 1, into a 'hen
night'. This idea and setting had then been jettisoned in favour of a
gymnasium. And, because the aftermath of the French Revolution was at the
forefront of Shaw's mind – the opera was premiered in 1797 – the obsessive
fitness fanatics cum wedding guests swapped their lycra for
mock-eighteenth-century hoops, silks, flounces and wigs.
It sounded, and subsequently looked in realisation, somewhat random – and
almost entirely trivial. Myths are not simply 'history' or 'stories'; nor
is myth a singular mode of thought. Watching this production, I was put in
mind of Claude LÈvi-Strauss's remark that myths 'get thought in man
unbeknownst to him'. Surely, there must be some pattern of conceptual
thought evident as the mythic tale unfolds? But, Shaw and Woods gave us
simply gimmicks, hyperactivity and frippery. Having filled the gym with a
display of exercise and rowing machines, they deemed it imperative that all
of them be used, incessantly, creating constant visual distraction from the
establishment of character and narrative. Champagne was quaffed with
abandon. When Medea entered, spoiling the engagement party, she squirted
detergent at Creon in a pique of anger, contempt and frustration: perhaps,
a single gesture of this nature would have made its mark, but when
kitchen-cleaner spray becomes the perennial weapon of choice,
disenchantment ensues.
Acts 2 and 3 are set in a dingy bedsit/children's bedroom which is
dominated by a huge rock – described by Shaw as 'representing the problem
of the failure of Jason and Medea's marriage' – on which the ghost of
Medea's dead brother is splayed. Volcanic passions, perhaps? This
accident-trap is later draped with a red wedding-carpet … only for a
cleaner to appear with a carpet-sweeper, thereby puncturing any sense of
dignity and regality. As Medea contemplates her revenge she bounces a
basket-ball and essays a shot at the hoop – it seems fitting that she
misses the target.
Some potentially interesting pathways are opened up at the start. During
the overture, Medea's children play a mime-game which, along with a few
words on the house curtain and some childish drawings and squiggles on a
white front-drop, fills in the 'back-story' – the murder of Medea's
brother, the theft of the Golden Fleece. The latter is given a Damien
Hirst-treatment: a glass rectangular box containing the formaldehyde pelt
is wheeled on, it's brown-paper wrapping peeled away for the children's
delectation. Subsequently, however, it's just a sheepskin rug to be
carelessly tossed around.
Thankfully, the cast provided vocal splendour to assuage the visual
mish-mash. Davidsen used every inch of her height and every ounce of her
vocal heft to convey the all-encompassing force of Medea's aggrievement,
grief and conviction. She was a still centre amid blustery stage business.
At times, I questioned the wisdom of such seemingly relentless vocal
capaciousness, wondering whether a little less might have been more; but,
then the Norwegian soprano turned up the volume still further – what for
most would be an effort and an extreme is, for Davidsen, entirely natural.
And, she did not neglect Cherubini's lyricism; moreover, she balanced
Medea's nobility with her very human hesitancy. Davidsen worked hard to
make us understand why Medea behaves as she does; the pathos of her final
murderous act, the smothering of her children, was deepened when she
dragged their pitiful bodies onto the rock, to prevent Jason claiming
possession of his dead children. In a different production this would have
been a towering performance in all dimensions.
As Medea's slave, Neris, Raffaella Lupinacci really impressed, singing her
Act 2 aria with a haunting penetration which suspended the dramatic haste;
her mezzo is beautifully appealing – one wondered how Medea could resist
Neris' pleas, full of both sadness and affection, for her to leave the city
of Corinth. Ruth Iniesta's Glauce was appropriately wary and disturbed in
Act 1; Iniesta has an alert lyric soprano, and displayed vocal assuredness,
well-centred intonation and strong projection.
Sergey Romanovsky held his own against Davidsen in the two duets for Jason
and Medea, finding an almost baritonal colour to match the soprano's vocal
strength. Adam Lau had just the right balance of weight and flexibility as
King Creon and – despite his mundane garb – established a regal presence.
The children were excellent, never once slipping out of character and, when
murdered, lying still with almost unnatural self-discipline for ones so
young!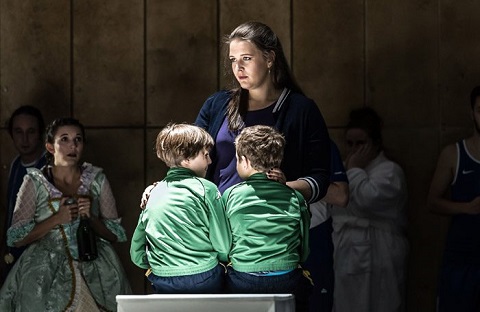 Lise Davidsen, Rioch Kinsella, Anthony Kenna.
Cherubini's opera is a tragÈdie lyrique: a noble
and elevated drama presented in arias, spoken dialogue (in French), and
with opportunities for choruses and ballet. But, in recent times it has
become best known to us in the bastardised form performed by Maria Callas:
an Italian version, with the original dialogue replaced by the recitatives
which Franz Lachner composed thirteen years after Cherubini's death in
1842. Conductor Stephen Barlow declared their intention to do Cherubini's
original 'lean, sharp and elegantly classical articulations' justice: and,
the orchestral playing was indeed incisive and pointed, though having
adopted the Italian version, the decision to include the odd line or two of
spoken dialogue 'when we believe this is justified – including an extended
melodrama of dialogue spoken against and over music when the marriage
ceremony is happening offstage' produced questionable results, tending to
hold up the dramatic momentum.
The third of Wexford's 2017 productions, Franco Alfano's Risurrezione (1904), rather slipped under the radar in the lead-up
to the Festival but, for this listener at least, it was the 'hit' of the
trio. Best known for his role in completing Puccini's Turandot,
and languishing in the shadow of Puccini and other verismo masters such as
Mascagni, Alfano is in fact the composer of nine operas, of which Risurrezione was his first major success. He was in his
mid-twenties, making a living writing ballets for the Folies-BergËre, when
he read Tolstoy's novel, Resurrection. Two friends, Camillo
Traversi and Cesare Hanau, helped him devise a libretto and five months
later the opera was completed.
Each of the four acts centres around an encounter between Prince Dimitri
and Katiusha; the latter has been taken into Sofia Ivanovna's house as a
young girl, and has spent her childhood growing up beside her ward's
nephew, under the condescending eye of the servants. When Dimitri returns
home, he seduces and then abandons Katiusha; finding herself pregnant and
evicted from Ivanovna's home – 'contaminated goods' – she waits at a train
station for her beloved, hoping that he will return and redeem her. Espying
him with a woman on his arm, she disappears into the snowy night. In Act 3
we learn that she has become a prostitute; wrongly convicted of murder she
is awaiting transportation to Siberia when she is visited in prison by
Dimitri who, assailed by guilt (he had been on the jury that convicted
Katiusha), vows to make amends. Learning that the son she bore has died,
the Prince offers to marry her, but the drunken, debauched Katiusha seems
beyond redemption. Act 4 takes place in Siberia: Dimitri arrives bearing a
pardon for Katiusha but she chooses to marry Simonson, a fellow prisoner,
while admitting her unwavering love for Dimitri. Despite his own misery,
Dimitri rejoices in Katiusha's spiritual 'resurrection'.
Whereas Tolstoy's novel had, inevitably, a strong political dimension – a
critique of the ills inflicted by Russia's ruling elite – the opera focuses
not on the spiritual and ethical rebirth of the noble Prince Dmitri
[Nekludoff] but on the fall and redemption of the young girl whom he
seduces and abandons – a spiritual 'resurrection' may prove discomforting
and dissatisfying for the modern viewer. When Katiusha avowed her love for
the man who has condemned her to a life of degeneracy, punishment and
terrible suffering, her words – 'You have always been so good to me' –
incited incredulity and irritation in this observer. The Prince has secured
her pardon and given her a 'free choice': they are now united by their
mutual love … but, still, such victimhood sticks in the throat! The final
image offered to us by director Rosetta Cucchi and designer Tiziano Santi –
a sun-drenched field of wheat in which Katiusha and her younger alter ego,
the embodiment of lost innocence who has shadowed Katiusha throughout the
drama, dance with freedom and joy – was just too saccharine for my taste,
though probably true to Alfano's conception. One can imagine Jan·?ek being
drawn to Tolstoy's tale – but he'd have engineered a different ending …
On the whole, though, Santi's sets are persuasive and emotionally probing.
The red-glowing warmth of the Russian reception room of Act 1, in which
Katiusha is beguiled by Dimitri's deceitful charming, is replaced by the
chill starkness of the lamplit bench on the station platform in Act 2.
Impatient passengers loiter and bustle beside glimpses of train track and
beneath the oversize clock – an emblem of the terribly slow passing of time
experienced by the desperate, though still hopeful, Katiusha. One might
have longed for Dimitri and his female acquaintance to have been held for
just a fraction longer in Katiusha's vision, to impress the pain of her
abandonment and rejection. But, there was no doubting the biting nip in the
air. A black box lined with rows of labour-desks recreated the brutal
inhumanity of a Russian prison with discomforting realism in Act 3; one
could almost feel the cold gusts piercing through the white cracks. No
wonder the condemned women – superbly embodied by the Wexford Festival
Chorus – found solace in cigarettes and vodka. Act 4 took us to the white
wastes of Siberia, where the pitiless cold cleanses away all past lives and
identities.
Much of the success of this production was due to Anne Sophie Duprels'
unwavering commitment in the role of Katiusha. Twice, recently, I have
admired Duprels' unstinting vocal and theatrical integrity (


La Voix humaine


;


Zaz‡


) and here she again excelled and astonished. Scarcely absent from the
stage, she encompassed the challenging vocal and dramatic range of the role
with assurance, spiralling from gauche impressionability to incipient
passion, from abysmal desolation to transcendental ecstasy. Alongside the
heart-rending cries and virulent ripostes, Duprels floated some exquisite pianos. She balanced radiance with harshness, and fortitude with
vulnerability. This was true singing-acting: no wonder Duprels looked
exhausted, overcome and elated in equal measure at the close.
Anne Sophie Duprels and Chorus.
At times the drama struck me as Hardy-esque: Katiusha is a sort of hybrid
of Madame Butterfly, Pushkin's Tatiana and Hardy's Tess; even the opera's
'happy ending' seems a parallel of the uncomfortable marriage of Angel
Clare and Liza-Lu at the close of Tess of the d'Urbervilles. So,
it seemed fitting when tenor Gerard Schneider first entered, debonair in
boots, breeches and blue frock-coat, looking unnervingly like a cross
between Terence Stamp's Sergeant Troy and Leigh Lawson's Alec
Stokes-d'Urberville! Schneider sang with honeyed warmth – in fact, so
beautiful was his tone that at times it was difficult to remember that
Dimitri has behaved with selfish, reckless irresponsibility. Perhaps that's
the point: Schneider just about pulled off the difficult task of making us
feel some sympathy for the abusing aristocrat; after all, as he says when
he finds Katiusha in prison, debauched, degenerated, utterly 'spoiled', it
is his Calvary that begins here too.
Gerard Schneider and Anne Sophie Duprels.
Given that he had only moments to establish Simonson's character, baritone
Charles Rice gave an astonishingly captivating performance as the
compassionate prisoner and his Act 4 aria was incredibly moving. Louise
Innes (Sofia Ivanovna), Veta Pilipenko (Korableva/Vera) and, especially,
Henry Grant Kerswell (Kritzloff/Contadino) were all dramatically
persuasive. Romina Tomasoni made a strong impression as Ivanovna's
supercilious housekeeper, Matrena Pavlovna, and as Katuishka's confidante,
Anna. Her performance was all the more admirable given that Tomasoni had
stepped in at short notice just a few hours before to replace the
indisposed Andrew Stenson, presenting a stunningly vibrant lunchtime
recital in St Iberius Church. Tomasoni's programme ranged from a Vivaldi
lament and Handel's 'Lascia ch'io pianga' (Almira), which
showcased her idiomatic and expressive ornamentation, through embodiments
of Cherubino, Charlotte (Werther), Carmen and Rosina ( Il barbiere). But, it was Canteloube's Chants d'Auvergne
– suavely phrased with imperceptible registral shifts and richly layered
tone – which brought the house down: I don't think I've ever seen a singer
performing a lunchtime recital at Wexford receive a standing ovation before the final item.
Although one feels the shadow of Puccini resting on Alfano's score, the
composer undoubtedly had an unerring instinct for the telling melodic motif
which could push down the dramatic and emotional accelerator – often to the
floor! – and under conductor Francesco Cilluffo the WFO played with
impassioned richness and deep, vibrant colour. At the close, I would
happily have gone back to the beginning for a repeat performance.
Wexford also offered us the customary three Short Works (performed in
Clayton Whites Hotel) and, again, one couldn't confidently place a bet
where the riches might lie. Perhaps the most enticing proposition was
Andrew Synnott's new double bill of two of Joyce's stories from Dubliners, 'Counterparts' and 'The Boarding House', directed by
Annabelle Comyn and designed by Paul O'Mahony. (This is a co-production
with Opera Theatre Company
which will be performed at the Samuel Beckett Theatre, Dublin, 9th-11th November.) The performance I attended (20 th October) received a very warm, appreciative reception, and my
own slight misgivings probably stemmed from my familiarity with the
literary texts. But, any operatic adaptation inevitably necessitates
alterations and shifts in emphasis, and both design and delivery were
strong.
Joyce's 'Counterparts' focuses on the economic and emotional stagnation
that results from meaningless, repetitive working-life in
early-twentieth-century Dublin. The title refers to the endless/pointless
copying of legal documents undertaken by those such as the protagonist,
Farrington, an infinite repetition that is echoed in the 'rounds' that are
bought in the public house after work each evening, paradoxically, to
assuage the Dubliners' paralysis. O'Mahony's clever set shifted almost
imperceptibly from the claustrophobic office where Farrington is bullied
and humiliated by his superior, Mr Alleyne, to the public house where he is
humbled by the arm-wrestler, Weathers, the typewriters whipped from the
marble topped tables and replaced by a tumble of glasses and bottles.
Cormac Lawlor was superb as Farrington: comically incompetent, pitifully
vulnerable, shamefully irresponsible, tragically aggressive. Left alone in
the office at the end of the day, Farrington's lament about his lack of
opportunity and money was especially probing; pathetically, he pawns his
watch to buy the alcohol on which he is dependent, but which will not even
provide him with the solace of inebriation. Arthur Riordan has adapted
Joyce's text and isolates particular phrases and lines to good effect:
Farrington's 'Blast him!' is rather over-used, but the protagonist's
riposte to his domineering employer's question, 'Do you think me an utter
fool?' – 'I don't think sir, that that's a fair question to put to me' – is
effectively employed to create a vibrant ensemble of disdainful reflection.
Dubliners.
Andrew Gavin was a striking Mr Alleyne, pomposity and puerility embodied;
and Gavin – like all the cast, taking multiple roles – needed barely
moments, just a change of jacket, a loosening of tie, to transform himself
into Farrington's drinking partner, O'Halloran. Gavin had performed earlier
that day alongside soprano Sinead Campbell, in a lunchtime programme, The Thomas Moore Songbook, compiled, presented and accompanied by
Una Hunt, which showcased diverse settings of Moore's songs, from authentic
folk ballads to art songs by composers ranging from Stanford to Duparc.
Gavin was at his best in Schumann's Venetian airs, drawn from the
composer's Myrthen cycle, where the tenor's strong sense of line
and articulate diction was showcased; Campbell's performance of Duparc's
'…lÈgie' impressively negotiated the song's wide range, extended phrases
and sustained tones.
The need to alleviate the prevailingly male vocal roles in 'Counterparts'
was accomplished by casting soprano Anna Jeffers as Weathers, a portrait of
masculine conceit and arrogance, a role which she carried off with aplomb.
Emma Nash was a vibrant presence as the rich client Mrs Delacour, the
flirtatious barmaid, and as Farrington's vulnerable, pyjama-clad son Tom
who, having let the fire go out in his mother's absence (she is at chapel),
earns a beating from his father. Rory Beaton's lighting was appropriately
discomforting at this point. There was, however, little sense of Joyce's
bitter critique of Catholicism at the close, a significant dimension of the
story, when Tom tells his father that if he stops beating him, he will say
a Hail Mary for him.
Synnott's score – for piano and string quartet – to some extent mimics
Joyce's representation of 'paralysis', comprising as it does a mosaic of
ostinato fragments, assembled like a jig-saw; any one of which may be
dramatically illustrative but which, together, do not really form a
coherent whole. The text setting is Britten-esque which some effective
rhythmic displacements, but multi-syllabic words tend to be rushed; when we
need to hear the text, the accompaniment is appropriately and effectively
reduced to a medley of sustained strings, piano chord punctuations and
pizzicato interjections.
There was one major change to the narrative of 'The Boarding House' which
significantly altered the perspective and satire, and reduced the ironic
weight of the ending. In this story, unusually, Joyce takes us to a world
dominated and organised by women: Mrs Mooney, a butcher's daughter, is,
Joyce tells us 'a determined woman': her husband 'drank, plundered the
till, ran headlong into debt', and when he 'went for his wife with the
cleaver', Mrs Mooney 'went to the priest and got a separation from him with
care of the children'. O'Mahony attests to Mrs Mooney's background via the
carcasses, cleavers and hand-saws that hang behind the glass, replacing the
whiskey bottles of 'Counterparts'; and the carving knife that rests
menacing alongside the hunk of dinner-time meat tells its own tale. But,
the libretto does not fully convey Mrs Mooney's striking power, as a woman,
in a patriarchal, Catholic society – a power which has led her to
self-determination.
Synnott and O'Mahony turn Mrs Mooney's son, Jack, into our 'narrator' – a
self-confessed cad who is, in his own words, as quick with his wits as he
is with his mitts; but Jack doesn't inform us of Mrs Mooney's rapacious
intent to marry her daughter off to one of their unsuspecting boarders – a
Mr Doran, who is 'not rakish or loud-voiced like the others' – by demanding
'reparation' for the deflowerment of her daughter. Joyce presents marriage
as a 'trap', sprung by a conniving mother and her daughter on a
sober young man; whereas the opera presents Mrs Mooney as oppressive and
disapproving of her daughter, Joyce makes clear that Polly has been nudged
towards her fate by her mother. Mr Doran agrees to marry the girl he has,
almost inadvertently, kissed, out of concern for conventional morality and
fear of losing a lucrative position – not, as in the opera, because he
fears the reprobation of his family. '[H]is instinct urged him to remain
free' and he 'had a notion he was being had', but he cannot face the
realities and risks of action – he is another of Joyce's paralysed
Dubliners. At the close of Joyce's tale, Polly has convinced herself that
marriage will bring her happiness; at the close of the opera, recognising
her husband-to-be's sadness, she is served up like a sacrificial lamb. She is, in Joyce's tale, sacrificed at the altar of her mother's
greed, but she does not realise it; hence, Synnott and Riordan
deprive the tale of its most painful irony.
Despite this, we are again presented with a striking, swift dramatic
skewering of pretence and hypocrisy. Anna Jeffers was a fearsome Mrs
Mooney, Emma Nash a charming blend of ingenue and seductive opportunist. By
repeatedly seating 'Bob' [Doran] (Andrew Gavin) with his back to the
audience – as during Mrs Mooney's interrogation of her daughter, or when
Polly urges Doran to resolve the dilemma – Comyn mimics the reticence of
Joyce's narrator in revealing Doran's feelings. The boot of Jack Mooney on
the kitchen table was, I felt, an unnecessarily aggressive presence; the
threat to Mr Doran's public reputation at work and within the Church –
Joyce tells us that 'he had been employed for thirteen years in a great
Catholic wine-merchant's office' and that the 'recollection of his
confession of the night before was a cause of acute pain to him' – is
sufficient to make a man of Mr Doran's conformist inclinations cower.
Overall, though, these were compelling dramatic vignettes: perhaps they
might benefit from expansion – each story seems to hold a wealth of nuance
and inference, worthy of a more extended treatment.
Rossini's La Scala di seta (The Silken Ladder), a one-act farsa comica in fifteen scenes, is mostly known to audience for
its spirited overture, and its panoply of secret rendezvous and mistaken
identities promised more insouciant entertainment the following afternoon.
Written in 1812 when the composer was only 20 years old, the opera's plot
and characters are rooted in the commedia tradition. Giulia, an
opera singer, has secretly married Dorvil, against her guardian Dormont's
wishes, and each night lets down the eponymous silken ladder so that he may
climb into her room. Dormont wishes his charge to marry Blansac; his old
retainer, Germano, spies on the amorous intriguers. Much misunderstanding
and meddling ensue but eventually Giulio tricks Blansac into falling for
her cousin Lucilla and all ends well.
Luca Dalbosco's over-elaborate set – more bordello than back-stage boudoir,
with countless ladders draped in silk, a chaise-longue and an over-laden
dressing-table crammed onto the platform – made things even more
complicated than they need have been, and potentially treacherous for the
cast. The overture (played by music director Tina Chang, who had
accompanied Tomasoni with similar unassuming accuracy and grace just a few
hours earlier), was neatly dramatised by director Nathan Troup. Germano
(Filippo Fontana), crept in bearing the diva's flowers and chocolates, and
finding the latter to his distaste hastily shoved a half-eaten sweet back
into the box before Giulia's (Galina Bakalova) arrival. Bakalova donned a
towering wig and passed through the stage curtain erected stage left, to
perform to a posse of adoring fans whose slow-motion clapping and
rose-throwing was visible through the open curtain. This swiftly
established where the egos and eccentricities lay, but thereafter the
crowded platform proved impractical for deft comic gesture. There were not
many laughs to be had and it did not help that Rory Beaton's red-hued, dim
lighting seemed to cast a patina of grey over the characters, though
perhaps that was just a peculiarity of the angle from which I was viewing
the action.
The cast were rather uneven. Best of the bunch was Fontana, whose Germano
was a mixture of drollery and dunceness. The role comprises a lot of
recitative and here, and in the numerous duets with Giulia, Fontana proved
himself a strong singer-actor; he had to wait a while for his aria moment,
but when it came 'Amore Dolcemente' was full of lyric charm and accurately
sung, with firm, full tone. Chase Hopkin's Dormant was also a strong,
convincing presence (despite being lumbered with a silly, spiralling
goatee) and Cecilia Gaetani made much of the small role of Lucilla singing
her aria, 'Sento talor nell'anima', with grace and clarity.
As Giulia, Bakalova acted with spirit and sparkle, but her soprano was
often shrill and hard; she whipped through the coloratura precisely, but
did not win our sympathy for the flustered diva. Ji Hyun Kim struggled with
Dorvil's ardent tenor aria, 'Vedro qual Sommo Incanto'; the dynamics were
unsubtle, the intonation strayed, and the bravura section went entirely
adrift. I've heard and enjoyed the Korean tenor's performances at the ROH,
where he was a Jette Parker Young Artist, many times, so perhaps this was
just a case of first-performance nerves.
Some of the ensembles were ragged, but the finale scene, which saw the
entire cast tied up with the silken ladder before they wriggled free from
Dormant's clutches and accusations, bubbled nicely. Overall, though, the
production fell rather flat. Thank goodness for Fontana who, despite
Germano's incompetence, proved an utterly safe pair of hands at the core of
the drama.
That just left Rigoletto to complete the trio of Short Works. One
might be forgiven for agreeing with director Roberto Recchia who, in his
programme note, wrote of this most well-known of Verdi's operas, 'What is
left to be said by the poor director?' But, that would be to under-estimate
Recchia who has proved year after year at Wexford that he can be relied on
to distil the essence of a work and communicate it to the audience with
precision, focus and impact. Here, his answer to his own question was
pertinent: 'Maybe nothing, if not digging as deep as possible into every
character.' And, Recchia was ably aided by his talented cast, most
particularly by his hunch-backed, vengeful jester.
Together with his stage/costume designer, Dalbosco, and lighting designer,
Beaton, Recchia offered a masterclass in just how much can be achieved with
minimal means: and, the Act 3 Quartet was the pinnacle of such discerning
visual and dramatic conception. Prevailing shadows and swirling mist
conjured a sinister mien, which was intensified by the menacing carnival
masks donned by the Duke's courtiers – a threatening band of vicious
rabble-rousers – and Rigoletto himself. Just two black blocks were required
to evoke the ducal palace, raising Aidan Coburn's preening Duke of Mantua
to a position of worshipful elevation. As Recchia says, we all know 'what
happens': and he foreshadowed the tragic outcome of Monterone's curse in
the opening visual image – a body-bag centre-forestage, over which a
distraught figure bowed in grief before lifting his burden and bearing it
through the curtain at the rear. The subsequent reprise of this image was
replete with pain and pathos.
Occasionally I felt that Music Director Giorgio D'alonzo pushed the tempo
along a little too impetuously in the ensembles; but, the pared-down
performance, lasting 90 minutes, told a clear tale and the singers were
well cast. Coburn has plentiful bright ring and rattled off 'La donna Ë
mobile' with confidence and Èclat. Thomas D Hopkinson was a forceful
presence as Monterone, his dreadful bitterness apparent in the dark hues of
Hopkinson's bass. Toni Neûi? has quite a light-weight voice for
Sparafucile, but it's an appealing sound and he acted convincingly; this
was no cardboard cut-out villain, but a three-dimensional, conflicted rogue
who retained some small sense of moral integrity. As Maddalena, Veta
Pilipenko revealed a richly coloured full mezzo-soprano; when she begged
Sparafucile to spare the Duke's life it was easy to believe that she was
motivated by genuine love. The minor roles – Giovanna (Vivien Conacher),
Count Ceprano (Malachy Frame), Matteo Borsa (Simon Chalford Gilkes) and
Marullo (Steven Griffin) were all more than competently filled.
Giuliana Gianfaldoni was the vocal and visual embodiment of 'goodness';
Gilda's love for her father was fiercely communicated; her silky, pure
soprano caressed 'Caro nome', and the ornamentation was angelically clean
and sweet. But, it was Charles Rice's Rigoletto who held the audience rapt;
this was a tremendously committed performance, as detailed vocally as it
was dramatically. This Rigoletto held his crooked body at an angle from his
condescending tormentors; masked or not, his face was bent slightly
downwards – he never allowed himself to catch their eyes. Every word was
clear and made to serve the characterisation. Rice's baritone is full of
different hues and textures, and we heard them all; perhaps a little more
light and shade in terms of dynamics might have been the icing on the cake,
but who could fault such a committed, captivating performance? Rice looked
both overjoyed and overcome at the close; he fully deserved his ovation.
And so my 2017 Wexford Festival drew to a close all too quickly, with only
the thought of

next year's programme

to cheer me up! In 2018, once again eschewing German repertoire, David
Agler has chosen to present a double bill of Saint-SaÎns'La Princesse Jaune and Franco Leoni's L'oracolo, Dinner at Eight by William Bolcom, and the original version of
Gounod's Faust.
Claire Seymour
Foroni: Margherita (20th October)

Conte Rodolfo – Yuriy Yurchuk, Ser Matteo – Matteo d'Apolito, Margherita –
Alessandra Volpe, Ernesto – Andrew Stenson, Giustina – Giuliana
Gianfaldoni, Roberto – Filippo Fontana, Gasparo – Ji Hyun Kim; Director –
Michael Sturm, Conductor – Timothy Myers, Set and Costume Designer – Stefan
Rieckhoff, Lighting Designer – D.M. Wood.
Alfano: Risurrezione (21st October)

Prince Dimitri – Gerard Schneider, Katiusha – Anne Sophie Duprels, Simonson
– Charles Rice, Governanate/Anna – Romina Tomasoni, Sofia Ivanovna – Louise
Innes; Director – Rosetta Cucchi, Conductor – Francesco Cilluffo, Set
Designer – Tiziano Santi, Costume Designer – Claudia Pernighotti, Lighting
Designer – D.M. Wood.
Cherubini: Medea (22nd October)

Medea – Lise Davidsen, Glauce – Ruth Iniesta, Neris – Raffaella Lupinacci,
Jason – Sergey Romanovsky, King Creon – Adam Lau; Director – Fiona Shaw,
Conductor – Stephen Barlow, Set and Costume Designer – Annemarie Woods,
Assistant Director – Ella Marchment, Lighting Designer – D.M. Wood,
Choreographer – Kim Brandstrup.
Synnott: Dubliners (20th October)



Polly/Mrs Delacour/Barmaid/Tom – Emma Nash, Mother/Weathers – Anna Jeffers,
Bob/Alleyne/O'Halloran – Andrew Gavin, Jack/Flynn – David Howes, Higgins –
Peter O' Donohue, Farrington – Cormac Lawlor; Stage Director – Annabelle
Comyn, Music Director – Andrew Synnott, Set Designer – Paul O'Mahony,
Costume Designer – Joan O'Clery, Lighting Designer – Rory Beaton.
Rossini: La Scala di seta (21st October)

Dormont – Chase Hopkins, Giulia – Galina Bakalova, Lucilla – Cecilia
Gaetani, Dorvil – Ji Hyun Kim, Blansac – Nicholas Morton, Germano – Filippo
Fontano; Stage Director – Nathan Troup, Music Director – Tina Chang, Stage
& Costume Designer – Luca Dalbosco, Lighting Designer – Rory Beaton.
Verdi: Rigoletto (22nd October)

Rigoletto – Charles Rice, Gilda – Giuliana Gianfaldoni, Duke of Mantua –
Aidan Coburn, Sparafucile – Toni Neûi?, Maddalena – Veta Pilipenko,
Giovanna – Vivien Conacher, Count Ceprano – Malachy Frame, Matteo Borsa –
Simon Gilkes, Count Monterone – Thomas D Hopkinson, Marullo – Steven
Griffin; Stage Director – Roberto Recchia, Music Director – Giorgio
D'alonzo, Stage & Costume Director – Luca Dalbosco, Lighting Designer –
Rory Beaton.

image=http://www.operatoday.com/Risurrezione%20final%20image.jpg
image_description=Wexford Festival Opera, 2017
product=yes
product_title=Wexford Festival Opera, 2017
product_by=A review Claire Seymour
product_id=Above: Anne Sophie Duprels (the closing image of Risurrezione)
Photo credit: all images by Clive Barda