Even with some customary cuts, there are over three and a half hours of
music, stretching the attention span of most modern audiences. So, some
enticing 'crowd-pullers' are required, and the ROH served them up in the
form of a prima donna non plus ultra, a star-studded cast, and a
staging by David Alden that emphasises the Shakespearean scale of the
opera's moral complexities and emotional conflicts.
Crime and punishment, guilt and retribution are at the heart of Semiramide. The opera, which is based on Voltaire's play SÈmiramis, is driven by an innocent hero's quest for revenge and a
guilty anti-heroine's desire for redemption. The sins of the protagonists
rival the most heinous misdeeds to be found in mythic Greek tragedy, and a
Freudian would have a field-day with a plot whose deviancies include
Oedipal attraction and matricide.
The eponymous Queen of Babylon may be the builder of the wondrous Hanging
Gardens, but her wickedness must be purged if her kingdom of Assyria is to
be renewed. She has murdered her husband, Nino, and now rules alongside her
accomplice and lover, Assur. Forced to name her heir, she chooses the
swashbuckling soldier Arsace to whom she is attracted but who, unbeknown to
Semiramide, is in fact her long-lost son. In any case, Arsace shares with
Assur and Prince Idremo an infatuation with Princess Azema. It takes the
divine/supernatural intervention of the gods and a ghost to ensure justice
is delivered.
Reviewing Opera Rara's concert performance of Semiramide at the
Royal Albert Hall – one of the highlights of the

2016 Proms

season – I commented that 'a concert staging of the opera was perfectly
apt', given that Rossi's libretto relates a drawn-out mission to avenge an
assassination which has taken place years before while the perpetrators of
the crime are essentially in the hands of the gods. Director David Alden
opts for a monumentalism which reflects the epic nature of the
protagonists' emotional maelstrom, and which is complemented by chiaroscuro
effects (lighting by Michael Bauer) that enhance the air of intrigue and
secrecy. But, the vastness and majesty of Paul Steinberg's swivelling,
lowering, expanding sets, while making the most of the massive extent of
the ROH stage, don't do much to pep up the drama.
Cast, Act 1. Photo credit: Bill Cooper.
We may not be in Babylon, but we seem to be in the modern-day Middle East.
Tyranny is not geography-specific though, so there are allusions – through
iconographic propaganda; drab utilitarian locales juxtaposed with
richly-hued ceramic mosaics; a cornucopia of marvellously detailed costumes
(Buki Shiff has conjured a dressing-up box of every child's dreams); and
choreographic stylisation (Beate Vollack) – to the Soviet Union, North
Korea and south-east Asia, as well as to caliphates of yore and now. There
are turbaned Turks, shuffling Islamic priests and women in burkas,
alongside embroidered Mughal robes and modern business suits. Alden's
general concern seems to be the trouble that brews when politics meets
religion, but there's no clearly articulated 'argument', political or
otherwise.
Joyce DiDonato (Semiramide) and Michele Pertusi (Assur). Photo credit: Bill Cooper.
There are, however, visual and gestural motifs a-plenty. The ROH Chorus –
in tremendous voice and offering some seriousness to complement the
splendour – sport a fabulous array of costumes and wave i-Pads and
hymn-books with equal fervour. The High Priest of the Magi, Oreo, is kitted
out with some natty pink-tinted shades. There's a small child clutching a
stuffed-toy horse who drifts, then rolls, around the stage. Assur has more
medals on his uniform than Prince Philip, while Princess Azema – whose
future will be determined by others – is confined inside a gold lama
straight-jacket and afflicted by, alternately, arm-flailing fits and
catatonia; moreover, her feet seem to have been bound Chinese-style, as she
has to be fireman-lifted on and off the stage. The smoke-swirling
resurrection of Nino's ghost (acted by John O'Toole) owes more to Bram
Stoker than to Hamlet; well, that will teach Semiramide for
disrespectfully plonking her goblet of red wine on her dead husband's
coffin.
John O'Toole (Nino's ghost). Photo credit: Bill Cooper.
In the opening scene, the citizens, who are celebrating the anticipated
announcement by their Queen of the identity of the next King, assemble at
the feet of a huge, pedestalled statue: the prophet Baal has been replaced
by a modern-day dictator, though there are distinct shades of Ozymandios.
Later we get the full picture, in the form of enormous wall-paintings of a
royal clan who bear a disconcerting resemblance to the US First Family. In
one looming portrait, the King raises an arm ‡ la Statue of
Liberty while the Alpine view evokes the Romantic questing of Caspar David
Friedrich's


Wanderer Above the Sea of Fog


– though, facing us, he's not really inviting us to explore his vision, but
showing us what he has already conquered.
Semiramide
is an opera in which the Queen's redemption is necessary for the renewal of
her state, and fortunately for this production, it is itself redeemed by
some fabulous singing, not least by Joyce DiDonato in the title role. What
struck me most was what a perceptive, intelligent and thoughtful
singing-actress DiDonato is. She can rattle off the pyrotechnics and infuse
the Queen's lines with beguiling lyricism; but she does so much more than
this. She shapes each tiny gesture into meaningful musical utterances which
communicate every iota of Semiramide's distress, desire and dilemma. She
moves from whispered pianissimo to rich projection with startling
control, and her vocal and dramatic performance perfectly accords with the
visual 'progression'. The Queen's emotions are initially confined by black
turban and veil; she then declares her regality in resplendent red and
gold, topped with a sparkling crown; finally, her inner life is revealed as
her dark tresses tumble over her midnight-blue silk nightdress in her
bedroom colloquy with Assur. DiDonato's understanding of her character –
and how to communicate it – and her utter commitment are reason alone to
see this production.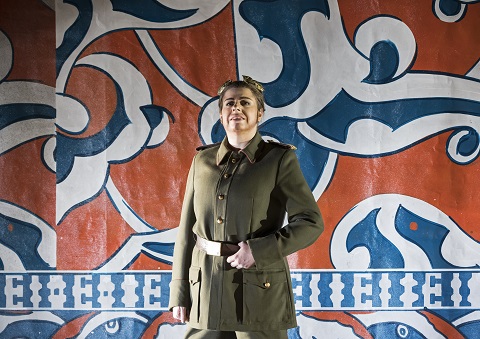 Daniela Barcellona (Arsace). Photo credit: Bill Cooper.
In 2016, at the RAH, I found Daniela Barcellona's interpretation of the
role of Arsace impressively focused and profound. Here, she was less
consistently in command: her voice retained its agility and dusky beauty,
and there could be no doubting her dramatic presence and boldness, but at
the bottom her mezzo seemed less focused this time around. That said, the
two mezzos formed a stunningly affective blend in their numerous duets, and
here Barcellona's lyrical flights really did convey inner feeling and
enlarge the emotional field.
The ladies didn't entirely steal the show, though. Lawrence Brownlee is a
superb Rossinian stylist, and it was a pity that we were not treated to
both of Idreno's arias. The tenor's high excursions and expansive phrasing
were as effortless as his dramatic presentation of this minor role was
confident and credible – a good thing, too, when some Bollywood garlands
and gallivanting threatened to reduce this Mughal raja to ridicule.
Lawrence Brownlee (Idreno). Photo credit: Bill Cooper.
Assur's mad scene was delivered with dark passion allied with accuracy by
Michele Pertusi. Pertusi's Assur is no pantomime villain: the Italian bass
offered a nuanced characterisation which conveyed a complex psychology
expressed through dynamic and tonal variety. In Pertusi's and DiDonato's
Act 2 duet, their mutually destructive anger and rivalry was laid brutally
bare.
All credit to Jacquelyn Stucker for her forbearance, trussed up as Princess
Azema was inside gilded shackles. She sang with directness and clear tone,
and it was good to see this Jette Parker Young Artist partnered by two
other young singers on the ROH scheme: South Korean tenor Konu Kim
(Mitrane) and South African bass Simon Shibambu (Voice of Nino's Ghost).
Due to illness, Hungarian bass B·lint SzabÛ was unable to sing the role of
Oroe and he was replaced by Simon Wilding.
Jacquelyn Stucker (Azema). Photo credit: Bill Cooper.
In the pit, Pappano aimed for and achieved pin-point precision and
definition: it was clear from the overture, and from the horns' beautifully
shaped first theme, that lightness would prevail, and Pappano remained
sympathetic to his singers throughout while evidently having the structural
measure of the sprawling score. But, even Pappano couldn't keep the
momentum raging through a first Act lasting nearly 2 hours, although Act 2
did turn up the intensity.
Alden seems to have been intent on injecting irony into Rossini's seria drama, but the singers ensured that the emotional depths of
the opera were unfolded. And, DiDonato's contribution cannot be
underestimated: she balanced fire, fear and fatalism with astonishing
conviction and credibility.
Claire Seymour
Rossini: Semiramide
Semiramide – Joyce DiDonato, Assur – Michele Pertusi, Arsace – Daniela
Barcellona, Idreno – Lawrence Brownlee, Azema – Jacquelyn Stucker, Oroe –
Simon Wilding, Mitrane – Konu Kim, Nino's Ghost – Simon Shibambu; Director
– David Alden, Conductor – Antonio Pappano, Set designer – Paul Steinberg,
Costume designer – Buki Shiff, Lighting designer – Michael Bauer,
Choreographer – Beate Vollack, Orchetra and Chorus of the Royal Opera
House.
Royal Opera House, Covent Garden; Tuesday 28th November 2017.

image=http://www.operatoday.com/Pertusi%20Assur%20and%20iconography.jpg
image_description=Semiramide at Covent Garden
product=yes
product_title=Semiramide at Covent Garden
product_by=A review by Claire Seymour
product_id= Above: Michele Pertusi (Assur) and ROH cast
Photo credit: Bill Cooper