It's little wonder Alfred Hitchcock was attracted to the book for his 1964
film – though he changed much. Hitchcock gave his film a more optimistic
ending, and changed the setting to the United States, but in doing so
stunned his viewers with an almost 1920s Germanic Expressionist take on the
story. There is a sense of Gothic horror to Hitchcock's film – not one
vindicated by the novel – but in part it helps explain the Jungian and
Freudian despair and angst of the anti-heroine. At times, the film seems
almost to be filtered through a veil of blood-curdling red or flashes of
lightening. This is the apotheosis of anti-Romanticism, anti-love, where
rape and brutal sexual mores become almost normalised.
That Nico Muhly had so much thematic material to draw on for his opera is a
given, though it's questionable he's really used the material well. He has
chosen, with his librettist Nicholas Wright, to return largely to Graham's
novel and its deep class divisions, and this certainly works for the ending
where Marnie's redemption is to be found in her acceptance of her fate as
she faces arrest, and probable imprisonment, for her thefts. Likewise, we
are back in a Britain of circa 1959 with its gloomy, Lowryesque landscapes
that seem as suffocating and repressed as most of the sexual manners of the
characters the composer and his librettist have drawn so unflatteringly. It
is rare in an opera to find oneself feeling a lack of empathy for any of
the characters in it – but Muhly and Wright have succeeded in doing just
that. From Marnie herself, to the domineering Mrs Rutland, who owes much to
Britten's Mrs Sedley, the twisted Mark and his equally rapacious brother
these are people who lie to themselves, each other and us. These are
characters trying to find their own complex, emotional landscapes in a
brutalist, post-war urban industrial world that has almost no disconnect
from their behaviour towards each other.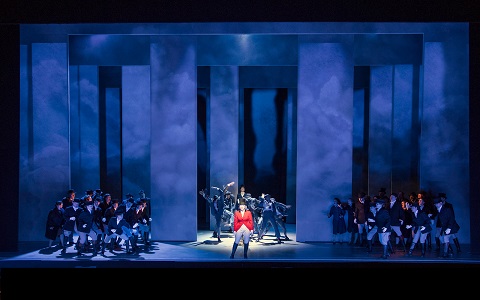 Cast of Marnie. Photo Credit: Richard Hubert Smith..
Whilst there is much that is beautiful in Muhly's opera – the Hunting Scene
is a real operatic and musical tour de force but it is almost the
only one – too much of it gravitates towards past operatic influences
rather than having anything new to say. If Muhly's musical language,
minimalist though it can sometimes be, sounds distinctly his own, the use
of the woodwind, with individual instruments mirroring characters on stage,
feels like Debussy. The Britten of Peter Grimes hangs like a huge
and obvious shadow, especially in the musically weaker first act – notably
in the choruses. Jana?ek's The Makropoulos Case and Shostakovich's Lady Macbeth of Mtensk provide more subtle musical and dramatic
influences. The scale of Muhly's writing, too, tends towards a more
chamber-sized orchestration and eschews much of the demi-Romanticised
writing that Bernard Herrmann used for his Hitchcock score. In part this
works because this isn't a love story in any conventional sense – but
neither is Muhly's score haunting, or tense or psychologically deep. It's
rare for the music to act as a catalyst for drama in much of this opera.
The upside to this is that voices aren't drowned out by the scoring, though
that is not to say clarity wasn't an issue. At times it was.
Where Marnie is an unqualified triumph is in its direction and
sets. Michael Mayer, Julian Crouch and 59 Productions have created a set
that is clever, drives the narrative and entirely seduces the eye in one's
visual experience of this opera. It doesn't necessarily replicate
Hitchcock's film, but it owes much to the influence of Hitchcock's mastery
of cinematography nevertheless. Certainly having a stage as large as that
at the Coliseum, with its width and depth, allows for a genuinely
widescreen presentation so the hunt, for example, with filmed galloping
horses and on-stage percussion, with Marnie herself in the centre as the
focus, was a moment of high drama in an opera that sometimes felt drawn
out, especially in Act I. The cleverness wasn't that the staging recalled
the Hitchcock of his 1964 Marnie, it was that it threw up
comparisons to his earlier film Psycho – especially Saul Bass's
opening title sequence with its sharp perpendicular lines, and the use of
bars or panels to highlight the fragmented psychosis of Marnie herself. The
use of four "Marnie Shadows", dressed in different colour dresses to the
central character herself, in a psychiatrist scene in Act II, are a further
extension of this Jungian neurosis that try to take us deep inside the
deeply fragmented mind of our anti-heroine: split-screens, split
personalities.
Charlotte Beament, Katie Stevenson, Sasha Cooke, Emma Kerr and Katie Stevenson. Photo Credit: Richard Hubert Smith.
Arguably, a British audience might have had some problem identifying the
shadowy, blackened skyline as London – but a New York audience, when this
production transfers to the Metropolitan Opera next year, will have less of
a problem with its greyed-out skyscrapers and smoky exteriors. Whilst
exteriors create some element of debate as to place, interiors are
universal – an office is anodyne and functional wherever its geography.
Just as the initial backdrop of London conveyed the image of Lowry, so did
the choruses tightly packed together like a crowd in certain quarters of
the stage for their scenes – and there was more than a hint towards the
surrealism of Magritte in the troupe of nattily-dressed, male,
trilby-hatted dancers. Just as in Magritte's painting, the Son of Man, distended joints of an arm were articulated in rigid
dance movements – and as in the painting the backdrop on the scenery was
replicated by moving clouds.
Sasha Cooke and Daniel Okulitch. Photo Credit: Richard Hubert Smith.
Casting for Marnie was largely first rate, though this is an opera
that doesn't rely on a huge ensemble cast – perhaps underscoring its
minimalist credentials. The American mezzo, Sasha Cooke, sang the lead role
with both insight into her character's many psychological torments and her
sexual neuroses. If there was a significant problem, it was that she
sometimes seemed to allow herself to be swamped by the stage – but this
could be a virtue in her vulnerability that was all too apparent. She was
magnificent in the hunting scene where she seemed to become the vixen and
held the centre of the stage superbly here – especially when there was so
much else to catch the eye. A lesser singer – and actress – would have been
quite overwhelmed by this scene. Daniel Okulitch as Mark had no such
problems with his strong, clear voice and of all singers had the most
crystal-clear diction – though the role is not an attractive one,
especially as written in the novel. One did feel the sexually dark side of
Mark had been significantly underplayed in this production – but that can
hardly be blamed on the singer. The counter-tenor, James Laing, brought
hefty contrast to the sheer beauty of his voice and the wonderfully
predatory nature of his character, Terry. Lesley Garrett, as the
overbearing Mrs Rutland, was sonically dominant – and gleeful in the
transparency of her innate malevolence. The chorus were outstanding, and in
an opera that is more cameo driven than usual this was a bonus. The ENO
Orchestra, under their Music Director, Martyn Brabbins, played well.
Lesley Garrett and Daniel Okulitch. Photo Credit: Richard Hubert Smith.
Marnie
is, I think, a bit of a curate's egg. On the one hand, it isn't
sufficiently gripping as either opera or theatre for it to find a place in
the modern repertoire, or bear repeated listening. There are undeniable
beauties in places – some of Muhly's score is deft, even clever – but they
go skin deep only. If you really want to experience the intensity of
psychological opera Richard Strauss achieved the very pinnacle of this more
than a century ago. It tries to delve deep into the mind of a scarred and
flawed woman, and the people in her life, but barely scratches the surface.
The thinness of the orchestration, the lack of great operatic moments, the
inability to develop character are often fatal. On the other hand, there is
no question that visually it is stunning to see – but this is only half the
point of opera. Or, no point at all.

The performance on 1st December will be recorded and
broadcast on BBC Radio 3 on 9th December.

Marc Bridle
Nico Muhly: Marnie (libretto by Nicholas Wright)
Marnie – Sasha Cooke, Mark Rutland – Daniel Okulitch, Terry Rutland – James
Laing, Mrs Rutland – Lesley Garrett, Marnie's Mother – Kathleen Wilkinson,
Lucy – Diana Montague, Mr Strutt – Alasdair Elliott; Martin Mayar
(director), Martyn Brabbins (conductor), Julian Crouch and 59 Productions
(set and projection designs), Arianne Phillips (costume), ENO Orchestra and
Chorus.
English National Opera, London Coliseum; Saturday 18th November 2017.

image=http://www.operatoday.com/Dancers%20and%20Sasha%20Cooke.jpg
image_description=Marnie, English National Opera
product=yes
product_title=Marnie, English National Opera
product_by=A review by Marc Bridle
product_id=Above: Sasha Cooke (Marnie)
Photo credit: Richard Hubert Smith