The story of a marriage between magic and mortality prompted William
Gilbert to turn his satirical eye on the parliamentary and legal systems at
which he had poked fun three years before, in The Pirates of Penzance, and which would he would lampoon again in Utopia Limited in 1893. Initially the libretto was explicitly
political, but a song attacking slum living-conditions and another decrying
snobbery were excised before the opening night. The British political class
– as seen through the eyes of the faery folk – did not escape Gilbert's
pointed pen, though, and are gently ridiculed for their self-importance,
ineffectuality and inanity.
Iolanthe, a fairy, has been banished from Fairyland. Her crime? She married
a mortal and gave birth to Strephon, a hybrid, a half-fairy 'from his head
to his waist'. Twenty-five years on, Strephon wishes to wed pretty young
Phyllis, the Lord Chancellor's charge, but the Lord is not keen on her
marrying a mere shepherd, and, in any case, he has his own eye on the
nubile lass. What's more, the Lord Chancellor is Iolanthe's former husband
and father of Strephon. (The plot's not so different from your 'average'
comic opera, after all.)
When Strephon seeks comfort in the arms of his 'ageless' mother, Phyllis
believes him unfaithful and renounces her love. The Queen of the Fairies
forgives Iolanthe and intervenes, telling the Lords that Strephon will
become an MP and force them to pass any law that he proposes: they will
lose their right to a short working-day, and, to their horror – 'a Duke's
exalted station/Be attainable by Competitive Examination!' – commoners will
be able to qualify for membership of the Upper House.
Identities are revealed – Strephon discloses his fairy-form to the
forgiving Phyllis – and concealed: Iolanthe must, on pain of death, remain
unbeknown to her former husband when she pleads the lovers' case. It takes
a spirited mass-action by the sprites, who marry all the peers of the
realm, to force the Lord Chancellor to relent.
In a recent interview in The Guardian, director Cal McCrystal expressed his astonishment at how current the
issues are, explaining, 'So I let the satire speak for itself, resisting
the temptation to mention Brexit, duck houses, freemasonry or any other
present-day preoccupations. The original material will be enjoyed all the
more for the longevity of its relevance and its traditional,
period-accurate setting affords more opportunities for comedy – British
audiences will notice how little the peers' costumes have changed in the
last 135 years'.
So, there's no over-egged 'relevance', and instead McCrystal delights in
the Victoriana kitsch and camp: he declines to sharply mock the lordships'
lechery or the ministers' mindlessness – though there are a few fruity puns
and innuendos – and leaves the audience to imagine their own inferences and
allusions. McCrystal acknowledges that he has not had much experience
single-handedly shaping such large forms and, until he got to work
familiarising himself with the entire G&S oeuvre, had seen only one or
two of their operettas. But, I enjoyed his charming and amusing production,
for English Touring Opera, of Haydn's Life on the Moon (Il mondo del luna) at Snape Maltings in 2014 –
neatly, another opera about bringing pompous patriarchs down to earth – and
there's certainly no doubting McCrystal's comic nous, given his celebrated
work in the theatre (One Man, Two Guvnors) and the cinema ( Paddington, The World's End).
In the programme book, McCrystal acknowledges that his reputation for
'physical comedy' will inevitably lead to expectations that ' Iolanthe would contain lots of leaping about and slapstick
elements'. And, he duly obliges. One should not come to this production
expecting an opera, or even an operetta: what we have is a generic hybrid,
‡ la Magic Flute, of pantomime, Charlie Chaplin and
Morecambe & Wise. There's even some audience participation as the Lord
Chancellor pits the left of the auditorium against the right as they take
turns to supply the refrain, 'Said I to myself, said I', in his end-of-Act
1 moral self-justification, 'When I went to the bar'.
ENO Cast. Photo credit: Clive Barda.
There are visual gags a-plenty, many involving animal puppetry, and they
garner the guffaws: a sheep in the side-box peers bemusedly at proceedings;
a unicorn's horn doubles as a beer-tap; a cartoon cow capers; a panto-horse
defecates. There's spectacle, too, the apex of which (with a bathetic nod
towards the triumphal march in Aida) is the arrival of the Lords
in a steam-carriage which rips, literally, through the Elysian glade. The
Lords proclaim their might and majesty in no uncertain terms: 'Bow, bow, ye
lower middle classes:/ Bow, bow, ye tradesmen, bow, ye masses! … We are
peers of highest station,/ Paragons of legislation, Pillars of the British
nation!'
There's a touch of 'Eric and Ernie' about Iolanthe and Phyllis' Act 1 love
duet, 'None Shall Part Us', which is sung to the disruptive disorder
created by two prop-movers who, blinded by their head-to-toe black ant-suits,
rush around in circles depositing pastoral paraphernalia – more stuffed
sheep, a shocking-pink flamingo. I did wonder if any in the audience were
concentrating on the singing?
McCrystal has also invited some colleagues from the theatre world to join
in the fun. Clive Mantle opens proceedings with an imperious pre-curtain
house-keeping proclamation, spoofing Captain Shaw, the London Fire Brigade
Chief to whom the Fairy Queen later addresses herself, wondering if his
'brigade with cold cascade' can quench her great love: Mantle subsequently
proves deft with fire-extinguisher and sand-bucket, slaking the sparks that
fly from the Queen's wand. His wry welcome to the audience, which comprises
'the middle classes … and … the upper-middle classes', is as sharp
as it would have been before Gilbert's heterogeneous audiences.
Ben Johnson, Andrew Shore, Ben McAteer and Richard Leeming. Photo credit: Clive Barda.
McCrystal demonstrates his mastery of slapstick and indulges his love of a
knockabout in the Act 2 trio for Lord Tolloller, Lord Mountararat and the
Lord Chancellor, 'He who shies at such a prize', in which Richard Leeming's
Page is the butt of ridicule, elbows and reprises. Shoved from the stage,
bounced off the Woolsack, flipped over the red benches and dropped from the
ceiling, he keeps coming back for more until he is unceremoniously thrust
down the raised seat of the Royal Throne. The choreography and execution
are superb, and Lemming exhibits the artless grace of Harold Lloyd – but I
dread to think how many bruises he must have.
ENO Cast. Photo credit: Clive Barda.
Despite the skilful jesting and burlesquing, it's the visuals that win the
prize though. The designs and costumes of Paul Brown, who died in November
2017 at the age of 57, enchantingly blend realism and romance. The interior
of the Upper Chamber is mimicked in all its gilded glory, but Brown also
whisks us into a Flower-Fairies grove in which outsize petals, buds,
stamens entwine in slightly sinister quasi-erotic embraces: the
pre-Raphaelites meet Richard Dadd. It's a cornucopia of colour and texture,
in which the Fairies – led by feisty Fleta (Flick Fernando) – swirl and
stomp ('Dainty little fairies' these are not) dressed in an eye-popping
riot of primary hues, their symbiosis with nature declared by their acorn
hats, Dumbledore wings and trembling antennae.
The problem is that there is so much for the eye to take in – from stuffed
dogs to dog-roses – that the singing, and the plot, take a back seat. Even
Andrew Shore is quite subdued despite the flamboyance of the Chancellor's
black silk damask robe, trimmed with gold lace and frogging, though his
enunciation was as crisply controlled as always, and there was no hint of
strain or quiver as he cantered through Gilbert's linguistic contraptions
and contortions.
Ellie Laugharne was a pert and suitably girlish Phyllis; her soprano is
bright and fresh, and she climbed cleanly to the stratosphere (and beyond,
in a dog-whistle yell of passion), but Phyllis' sweet demureness is rashly
swept aside in an impressive tantrum in which she lambasts the 'faithless'
Strephon and offers her heart to any peer who'll have her – as long as she
can be a countess. Marcus Farnsworth sounds wholesome and handsome as
Strephon and essays some impressive dance-steps and leg-kicks.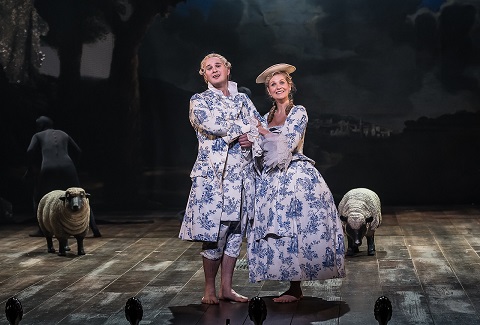 Marcus Farnsworth and Ellie Laugharne. Photo credit: Clive Barda.
As Iolanthe, Samantha Price made the most of her Act 2 supplication to her
former husband, while Yvonne Howard was a benevolent Queen: despite her
Brunnhilde-breastplate with conical upholstery, she was more weightless
than Wagnerian, landing from aloft with a graceful step. (As, on-stage, the
Fairies trounced the Aristocrats, I couldn't resist a wry smile at
McCrystal's thanks, in the programme, to 'Lord Glendonbrook, whose generous
funding at the eleventh hour enabled our fairies to fly'.)
Llio Evans, Flick Ferdinando, Samantha Price and Joanne Appleby. Photo credit: Clive Barda.
As the two Earls, Tolloller and Mountararat respectively, Ben Johnson and
Ben McAteer show a pleasing instinct for the G&S idiom, and the
self-deprecating satire of the latter's 'When Britain Really Ruled the
Waves', as Gilbert lampoons the two-party system, stingingly hit the mark:
'When in that House MPs divide/If they've a brain and cerebellum,
too/They've got to leave that brain outside/And vote just as their leaders
tell 'em to.' Barnaby Rea deserves special mention for the deadpan
drollery of his Private Willis.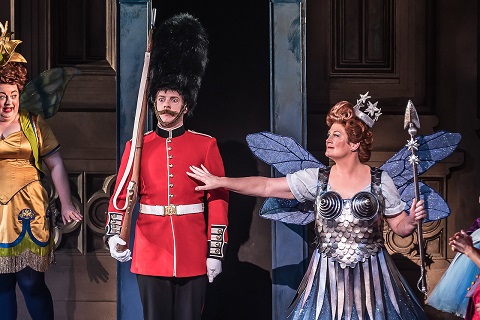 Barnaby Rea and Yvonne Howard. Photo credit: Clive Barda.
As mortal Lords and fairy Ladies, the ENO Chorus are excellent (and the
audience can have some fun spotting a be-wheeled Boris and a be-spectacled
Rees-Mogg among their ranks). The ENO Orchestra played well for conductor
Timothy Henty, who did his best not to add to the obstacles against which
his singers had to vie for our attention, though at times a little more zip
would have raised the dramatic temperature.
In Gilbert's day, all hereditary peers could join the House of Lords, which
had the power to veto legislation proposed by the House of Commons, rights
that were controversial and led to growing calls for reform and an end to
the Lords' veto. Gilbert's 'denouement' seems to nod in this direction. The
Lord Chancellor, faced with the Fairies' storming of the Palace, makes a
swift amendment to the law forbidding marriage between man and fairy:
'Every fairy shall die who doesn't marry a mortal' (perhaps the
current Lord Chief Justice could engineer a similar posthumous alternation
to the referendum question posed in June 2016 …?)
The operettas of Gilbert & Sullivan reflected and (gently) ridiculed
the world in which they were created and received, but they were not
designed to bring about revolution. So, McCrystal lets the softish satire
speak for itself. It's all harmless fun, and the production is a vehicle
for some visual magic – but, though both Fairies' wands and Sullivan's
music occasionally sparkle, it doesn't quite cast a spell.
Claire Seymour
Gilbert and Sullivan: Iolanthe
Iolanthe – Samantha Price, The Lord Chancellor – Andrew Shore, Queen of the
Fairies – Yvonne Howard, Phyllis – Ellie Laugharne, Strephon – Marcus
Farnswroth, Earl Tollloller – Ben Johnson, Earl Mountararat – Ben McAteer,
Celia – Llio Evans, Leila – Joanne Appleby, Fleta – Flick Fernando, Private
Willis – Barnaby Rea, Page – Richard Leeming, Captain Shaw – Clive Mantle;
Director – Cal McCrystal, Conductor – Timothy Henty, Designer – Paul Brown,
Lighting Designer – Tim Mitchell, Choreographer – Lizzi Gee, Chorus and
Orchestra of English National Opera.
English National Opera, Coliseum, London; Tuesday 13th February
2018.

image=http://www.operatoday.com/Iolanthe%20cast.jpg
image_description=Iolanthe, English National Opera
product=yes
product_title=Iolanthe, English National Opera
product_by=A review by Claire Seymour
product_id=Above: ENO cast
Photo credit: Clive Barda