It's not just the medieval milieu recreated by takis' set – high majestic
towers, low townhouses with windows that will be sealed tight when Isabeau
rides through the streets, twisting stairwells and alleyways – or the
heraldic colour and chivalry.
It's the way that Lloyd-Evans seems to mimic the blending and subversion of
genres that Chaucer achieved in narratives such as the Franklin's Tale in
which the quasi-magical romance of the Breton lay form, with its
characteristic courtesies and courtly love, is countered with real, painful
human passions which defy classification and custom. (Readers seeking a
resumÈ of genesis and plot might like to turn to my

interview last month with David Butt Philip

, who sings the role of Folco in this production.)
Some of takis' symbolism has a pre-Raphaelite preciousness about it – the
silver falcon sculpted by Benedict Romain and manoeuvred by three 'angels'
which symbolises the transcending freedom bestowed by Folco's love; the
juxtaposition of glossy crimson, emerald and purple robes with Isabeau's
Christ-like white purity; floral and decorative iconography; Isabeau's
Rapunzel-like red-tresses (a languorous Elizabeth Siddal as painted by
Edward Burne-Jones came to mind) – but that's not unreasonable given the
archaisms and allusiveness of Luigi Illica's libretto.
Sometimes the manoeuvring of the set by the Opera Holland Park Chorus feels
rather cumbersome and effortful, as they rotate cottages, slide walls and
spiral staircases. And, at the start of the opening night performance, when
the round exterior of the drum tower refused to budge and King Raimondo
remained concealed within it was unfortunately reminiscent of the
malfunctioning of the wobbly sets of 1970s sitcoms. It was also regrettable
that when the knights arrive seeking to win the princess's hand – Ubaldo of
Edinburgh, Arundel of Westerne, Ethelberto di Argile, Randolfo of Dublin –
Illica's faux archaic nomenclature raised a chuckle. Despite their
resplendent armour and pompous righteousness, Isabeau was clearly not
impressed by her Arthurian suitors' deeds of high honour and derring-do.
Anne Sophie Duprels as Isabeau with the Angels and members of the Opera Holland Park Chorus. Photo credit: Robert Workman.
But, the wide stage area is engagingly filled and populated, and there are
some effective moments of dramatic pageantry, such as the lauded arrival of
the Outlaw Knight, the King's nephew Ethel, who lifts his shield aloft to
claim his bride. And, the naked horse-ride itself is thoughtful staged and
paced, with the musical and dramatic tempo increasing breathtakingly when
Folco brazenly admires the humiliated Isabeau, and climaxing in the
desperate assertion with is her sole utterance in the second Act, 'Folco!'
Most especially, the duet which dominates the final Act is tremendously
powerful, as both the promise of love and the threat of death escalate to
fever pitch.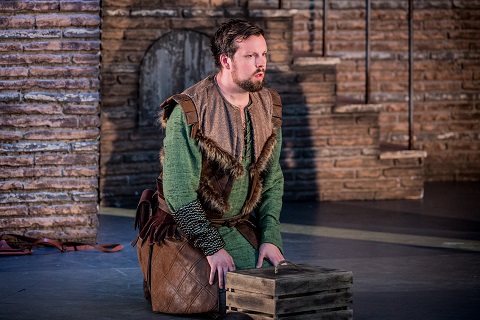 David Philip Butt (Folco). Photo credit: Robert Workman.
When I asked David Butt Philip if Isabeau's neglect was due to the
difficulty of casting two singers who could surmount the demands –
sustained high tessitura, stamina – of the two lead roles, the tenor
modestly demurred that the while the opera was challenging, Mascagni's
dramatic design helps the singers to pace themselves. Nevertheless, the
roles of both Folco and Isabeau sounded pretty taxing to me, and Investec
Opera Holland Park were lucky to have two singers who tackled them so
boldly and with such persuasive and stirring accomplishment.
Butt Philip conveyed every ounce of Folco's youthful optimism, passion and
directness; the merry woodsman had the openness and spontaneity of a
Papageno in Act 1, while Folco's consuming joy as he showered the naked
rider with flowers and sang ecstatic paeans to her beauty, with match his
floral tribute, was palpable. When, in the Act 3 duet, he accused Isabeau
of hiding her true passion behind a false guilt, Butt Philip's vocal and
physical acting was superb. Throughout he displayed impressive muscular
power to match the strength of Folco's honest feeling.
Anne Sophie Duprels (Isabeau). Photo credit: Robert Workman.
Anne Sophie Duprels is fast becoming not so much a princess but a queen of
Investec Opera Holland Park, after her acclaimed performances in Mascagni's
in 2016


Iris


and last year's production of Leoncavallo's


Zaz‡


. Duprels' Isabeau was elevated and chaste – she seemed to share
MÈlisande's disconcerting blend of ethereal, fairy-tale other-worldliness
and tangible physical sensuality. Vocally, she switched from heavenly to
highly charged – and from lyricism and declamation – in an instant. Her
voice shone lustrously but there were also rapturous pianissimos –
one sustained stratospheric whisper towards the close seemed to suspend
time – and there was variety of both colour and dynamics. A truly regal
performance.
Photo credit:George von Bergen (Cornelius) and (Mikhail Svetlov) as King Raimondo Robert Workman.
The minor characters do not really have sufficiently interesting dramatic
or musical involvement to make them anything more than two-dimensional, but
all of the cast worked hard to create impact and presence. I felt that
Lloyd-Evans didn't make enough of the King's Councillor Cornelius'
Machiavellian dastardliness, but George von Bergen brought some vocal
darkness to the role. Mikhail Svetlov, who impressed as Il Cieco in Iris, rather lacked grading and shading as King Raimondo but was
appropriately stentorian as the cruel patriarch.
Fiona Kimm was terrific as Giglietta, her plump, rich tone and urgent
projection conveying real love for her grandson and heart-warming courage
in pleading for his life. Isabeau's maids were performed by Nadine Benjamin
(Ermyntrude) and Joanne Marie Skillett (Ermyngarde), and their voices
blended beautifully with the harp as they showed consoling love for their
humiliated mistress in Act 3. The stage was busily populated with extras
such as six heralding on-stage trumpeters (who rather overpowered the
'real' herald – Thomas Humphreys' L'araldo maggiore) and the aforementioned
three angels who by the close seemed to have become a trio of Grim Reapers.
Fiona Kimm as Giglietta. Photo credit: Robert Workman.
Conductor Francesco Cilluffo relished every rhythmic and harmonic intricacy
and surprise, and summoned passionate playing from the City of London
Sinfonia, showing the same sort of authority that enabled him to guide
Wexford Festival Opera's 2015


Guglielmo Ratcliff


with such accomplishment and drive. The Intermezzo, a 'Hymn to the Sun',
before the fateful ride gleamed with ardour.
When Isabeau was premiered, under Mascagni's baton and with Maria
Farneti and Antonio Saludas in the leading roles, in June 1911 at the
Teatro Coliseo in Buenos Aires, each Act received an ovation, and after
productions (again with the composer at the helm) at La Scala and La Fenice
the following year the opera remained in the repertoire, in Italy at least,
as a star vehicle for tenors such as Bernardo De Muro and Giulio Crimi,
with Maria Farneti, Gilda Dalla Rizza and Rosetta Pampanini, among others
achieving success in the title role. It subsequently slipped under the
radar, and we owe Investec Opera Holland Park gratitude and admiration for
having given us a chance to experience an opera which may be
dramaturgically unsatisfying, but which has plenty of vocal charisma and
dramatic panache to compensate.
William Ashbrook may have, along with others who have viewed the opera as
second-rate verismo clichÈ, condemned the opera as 'trite
bombast', but on this occasion there was plenty of musical finesse and
mesmeric fire.
Performances of

Isabeau

continue on 18, 20, 26 and 28 July.
Claire Seymour
Mascagni: Isabeau (UK premiere)
Isabeau – Anne Sophie Dupreis, Folco – David Butt Philip, King Raimondo –
Mikhail Svetlov, Cornelius – George von Bergen, Ermyntrude – Nadine
Benjamin, Ermyngarde – Joanne Marie Skillett, Giglietta – Fiona Kimm, Il
cavalier Faidit – Oliver Brignall, L'araldo maggiore – Thomas Humphreys;
Director – Matrtin Lloyd-Evans, Conductor – Francesco Cillufo, Designer
-takis, Lighting Designer – Robbie Butler, City of London Sinfonia, Chorus
of Opera Holland Park.
Investec Opera Holland Park, London; Saturday 14th July 2018.

image=http://www.operatoday.com/Title%20image%20for%20Isabeau.jpg
image_description=Isabeau at Investec Opera Holland Park
product=yes
product_title=Isabeau at Investec Opera Holland Park
product_by=A review by Claire Seymour
product_id=Above: Isabeau, with Anne Sophie Duprels in the title role (centre)
Photo credit: Robert Workman