In 1668, the English scientist Robert Hooke published an article in Philosophical Transactions of the Royal Society of London, in
which he described the projection of transparent and opaque objects,
illuminated by sunlight or candle. Two years earlier, and two weeks before
the Fire of London, Samuel Pepys had purchased a lantern from the London
optician John Reeves recording in his diary, "Comes by agreement Mr Reeves,
bringing me a lanthorn, with pictures on glass, to make strange things
appear on a wall, very pretty". Camera obscuras, magic mirrors, Laterna
Magica, Phantasmagoria; for millennia, people have been enchanting,
terrifying and transfixing each other with projected lights and shadows,
shapes and colours, spinning tales of wonder and terror.
Cheryl Frances-Hoad's forthcoming new recording, Magic Lantern Tales, similarly presents us a veritable son et lumiËre of musical light, colour, shapes and sounds. The
cycle which gives the disc its title presents five poems from Ian
McMillan's collection Magic Lantern Tales (2014), written in
response to interviews and documentary photographs by Ian Beesley. In 1994,
Beesley was appointed artist-in-residence at the Moor Psychiatric Hospital
in Lancaster, working on the unit specifically for the care of the extreme
elderly, many of whom had been in the Moor for decades. H discovered a
collection of old photographs in a chest of drawers, many of which were
related to the First World War – soldiers in uniform, family gatherings,
and weddings with the grooms in uniform – which had belonged to patients
who had died in the hospital and who had no living relatives. Beesley
describes these fading photographs as 'a visual eulogy to forgotten lives';
they prompted him "to photograph and interview as many men and women who
had experienced the First World War before it was too late".
Lily Maynard. Photo Credit: Ian Beesley.
He and McMillan subsequently created a magic lantern show to present these
personal narratives of the War by those who survived it. Now, Frances-Hoad
has given musical expression to the stories of Lily Maynard (101), who told
Beesley of her grief for her beloved, "We were thinking of getting married,
when he went off to France , the Somme"; Harry Holmes (100), who was
decorated for his bravery at Ypres when, whilst trying to retrieve wounded
colleagues from no-man's-land, he single-handedly captured five German
soldiers; and Mabel Walsh (104), whose fiancÈ was killed in 1918 when
struck in the head by a small piece of shrapnel, and who, like Lily, never
married.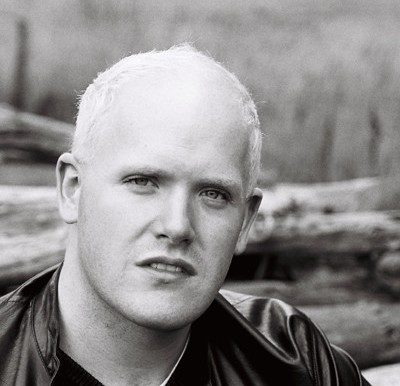 Nicky Spence. Photo Credit: Mardo Studio.
Frances-Hoad frames their memories with McMillan's 'Marching Through Time',
and so the cycle opens with a quiet but purposeful tolling, as pianist
Sholto Kynoch summons Nicky Spence's folk-tinged preface to the subsequent
unfolding of the past, drawing the voice back to its anchor just as
dissonant second and ninths reveal the narrator's wish for release. Just
over three minutes long, this is a marvellously crafted song which, through
the expanding bare fifths and octaves in the accompaniment, the rhythmic
and resonant intimation of military echoes, and the tense heightening of
the vocal line, travels widely through time, place and emotions. The
ascending line, "Stories rebuild just what wartime destroys", spills
intensely into a densely accompanied proclamation: "And a photograph is a
kind of map." Spence's unaccompanied voice bursts with the anguished weight
of memory, "That story lifting up the tentflap of history". There is a
subtle chromatic alteration in the repeated final line, "Stories as brittle
as glass", to which Spence adds timbral nuance, which is both beautiful and
anguished. Such precise musical insight into the relationship between
sound, sense and sensibility is characteristic of Frances-Hoad's writing in
all of the compositions recorded on this disc, and the results are deeply
affecting.
The piano introduction to 'Lily Maynard' swings with a lovely lop-sided
lilt, which is complemented by Spence's warm, affectionate tone in the
refrain, "Come on Lily, Let's go walking", and as the song and journey into
memory proceed, so the enrichening of the piano's harmony expresses first a
sensuous passion, "Heating up the air something magical", and then a pained
portentousness, "And you pictured him in a trench/ Cowering and crying like
a baby." Spence's repetitions of Lily's name somehow seems both encouraging
and tormenting, but the softness of the tenor's head voice in the final
refrain, "We'll talk as we're walking/ And pretend you're young again,/
Lily", follows Kynoch's star-bound accompaniment into the air and we too
are borne aloft on Lily's dreams and memories.
Harry Holmes. Photo Credit: Ian Beesley.
'The Ballad of Harry Holmes', like 'Lily Maynard', evokes a war-time song,
but now wistfulness is replaced by chirpy resilience, as Spence's narrator
launches with rollicking gusto into this tale of brave Harry who meets
bombs, barbed wire and a bonfire-sky with the pragmatic refrain: "All O
want when I get through this,/Is a stroll, and a pint, and a kiss." The
rattling spikiness and quirkiness of the piano's ringing tattoo – which
reappears in various guises through the tale – brings Britten to mind, as
does the text-setting. Spence's expansive, galloping laudation, "I guess
Harry was a hero", is halted by the half-spoken whisper, "don't take me…",
uttered in the "stinking night" to the dark terror. Frances-Hoad whips us
through an extraordinary panoply of fluctuation moods and emotions. A
cockney voice yelps with joy, "Harry, it's over!"; the perennial bird-song
stills the bombs; Harry's chest puffs with pride on his home streets of
Bradford; Harry-the-decorator dismisses his Military Cross in Yorkshire
brogue, "a medal's just a gaudy lump of tin"; he and Harry Ramsden of
chip-shop fame hatch plots to frequent the Crown Inn when Harry R's wife
objects to his ale glugging. Frances-Hoad paints vivid pictures of Harry's
life and at the close, when Spence reflects, "Now Harry's tale has been
told", we feel that we've travelled with him through his adventures and
that we know him well, and love him.
The rhythmic ambiguities of the destabilising piano 'clock-ticking' in
'Mabel Walsh' suggest the centenarian's straddling and merging of past and
present. The effect is heightened by the piano's gentle inter-verse
ringing, a motif which is drily reiterated at the close as we hear "the
hourly chimes/ Struck silent by that bastard war".
Cheryl Frances-Hoad.
There is more magic and memory, as well as strong characters and strange
places, in the other substantial 'cycle' included on the disc: The Thought Machine, ten settings of poems from Kate Wakeling's
children's collection, Moon Juice (2016), which was commissioned
by the Oxford Lieder Festival. Frances-Hoad's delight in the whimsical and
wry is ever-present in these songs, as is her feeling for the
sophistication of a child's perspective and assimilation of the 'weirdness
of the world'. We are sucked into an echoing cosmic vastness by the piano's
low shudderings and high tremors in 'Telescope', and by the slow
intertwining, intoning and swooping of the two vocal lines, expertly
pitched and co-ordinated by Sophie Daneman and baritone Mark Stone. We
glide along the "dizzy black" motorway in 'Night Journey', Kynoch's
accompaniment a swirling kaleidoscope of colours and lights that form
fantastic shapes in Daneman's imagination. The singers bring Skig the
Warrior and Rita the Pirate to vibrant life – the former more coward than
combatant, the latter a swashbuckling gold-grabber who pinches your money
with panache, to the tune of a Paganini caprice. The Hamster Man runs round
and round his wheel in a wild fury; The light-fingered Thief is cheekily
brazen – he even filches the last word of the song. Daneman gleams and
teases with mystery in 'Moon', with the singers race impressively through
the tongue-twisting text of 'Comet'. After we've been pounded, spun and
'shaken' in 'Machine', bell-chimes send us in search of the 'Shadow Boy' as
Stone and Daneman smoothly and assuredly traverse the wide-spanning vocal
lines, reaching higher and higher as the tentative child tries his hardest
to brave the dark.
Sophie Daneman. Photo Credit: Sandra Lousada.
There are childhood experiences of a different kind in 'Scenes from
Autistic Bedtime' which have their origins in a workshop for a projected
chamber opera. The text was written by Stuart Murray, Professor of
Comparative Literature at the University of Leeds and author of Representing Autism (2008), and the three scenes share the opening
line, "It is shower time. It is bedtime", as well as a continuous,
shape-shifting piano accompaniment of splashes, splutterings and
stutterings, played by Alisdair Hogarth. Treble Edward Nieland sings the
child's short phrases with a directness and clarity that is at first at
little unnerving against the unstable piano accompaniment, but we hear too
his mother's voice (Natalie Raybould), by turns anxious then weary,
relieved then resigned, but always loving. And, in the second scene she
joins her child's shower-song, in which the soaring voices, warmly lyrical
cello (Anna Menzies) and glorious vibraphone chiming (Beth Higham-Edwards)
grow into a glowing, intense expression of creativity, joy and laughter.
There is darkness and confusion, even the threat of violence, in the third
section, but if these scenes are disorientating at times, they are also
uplifting and communicate with a striking strength that is both emotive and
visceral.
Sholto Kynoch. Photo Credit: Raphaelle Photography.
Frances-Hoad also conjures 'alternative perspectives' in Love Bytes: A Virtual Romance, in which 'he' (the cello) and 'she'
(the vibraphone) articulate and enhance the strange conversation between
two cyber-lovers, baritone Philip Smith and soprano Verity Wingate, who
wonder just who exactly is on the end of the digital 'line'. Frances-Hoad
treads the fine line between a Walton-esque flippancy and the fragility of
human connection and alienation; and, there is both wit and poignancy in
their concluding reflection, "Perhaps it's best/ We never meet at all". Lament, an affecting setting of a text by Sir Andrew Motion, is
sung with vivid emotional presence by mezzo-soprano Anna Huntley,
accompanied by Hogarth. Hogarth also performs Invoke Now the Angels, conceived as a response to Britten's
Canticles I and II, which brings Wingate together with mezzo-soprano SinÈad
O'Kelly and countertenor Collin Shay. This trio sing the a cappella A Song Incomplete, which sets text by Aristotle; Kynoch performs
two short piano works, Star Falling and Blurry Bagatelle.
The works on this disc are varied in tone, context and form, but they are
also consistent in the very visceral effects that they have upon the
listener. Frances-Hoad's Magic Lantern Tales disorientate and
delight in equal measure.

Magic Lantern Tales is released on the Champs Hill label in
November 2018.

Claire Seymour

image=http://www.operatoday.com/Magic%20Lantern%20slide%20circa%201900s.png
image_description=
product=yes
product_title=Magic Lantern Tales: a new recording by Cheryl Frances-Hoad (Champs Hill, CHRCD146)
product_by=A review by Claire Seymour
product_id= Above: Magic Lantern slide c.1900