In an age of Brexit, Trump and #MeToo, one doesn't have to work too hard to
see how Franz Leh·r's 1905 operetta The Merry Widow – so often
seen as a metaphor for the escapist glamour of the Belle …poque – might
seem relevant to modern times, as we waltz towards the cliff-edge. And, the
new English book and lyrics by April De Angelis and Richard Thomas
respectively, which this new ENO production employs, do indeed offer a
smattering of topical and pseudo-subversive gestures, at least in the
opening Act. The Counsellor to Baron Mirko Zeta, the Pontevidrin Ambassador
in Paris, drily notes that their country's government is one that no other
nation will do business with, raising sniggers and sighs among the
Brexit-weary Brits in the audience. Our prototype feminist heroine is a
Cockney lass (her drawl slightly at odds with the Americanisms in the
lyrics), and it's certainly the women who hold the purse and the power:
even the grisettes who perform at Maxim's grumble as they gyrate,
and sport silver boots with attitude.
Nathan Gunn (Danilo). Photo credit: Clive Barda.
However, as Edmond Taylor observed in

The Fall of The Dynasties: The Collapse Of The Old Order, 1905-1922

, 'In retrospect we tend to see the carefree social life of pre-war Europe
as a kind of death waltz on the brink of doom, but to those who took part
in it, it was not that at all. People did not throw themselves into a rout
of pleasures to forget their worries; they simply joined in the dance to
express their sense of well-being and to manifest their solidarity.' And,
it's not really the 'topicality' of Max Webster's production that strikes
one, but its 'theatricality': this is a stagey and sumptuous broad comedy
that will please the crowd rather than challenge the old order.
At Maxim's, Act 3. Photo credit: Clive Barda.
The show is certainly colourful, glitzy and pacy, lavishly rendered by
designers Ben Stones (sets), Bruno Poet (lighting) and Esther Bialas
(costumes). The dÈcor at Maxim's is more Toulouse Lautrec than Art
Nouveau and riotous razzamatazz is provided by an ensemble of eleven
dancers who can-can with panache (choreography by Lizzi Gee). Moreover, if Maxim's has morphed into the Moulin Rouge then Hanna has
had a 'Howard Hawks make-over' and borrows Marilyn Monroe's iconic pink
gown for her staircase entrance, flanked by tuxedoed suitors.
Photo credit: Clive Barda.
The flashy ostentation is complemented by slick farce, which commences in
the overture as the clerk Njegus (Gerard Corey) 'oversees' preparations for
the Embassy banquet with masterly timed slapstick buffoonery worthy of The Play That Goes Wrong. With an outsize beaver gazing down from
a wall-mounted pictorial homage to the Pontevdrin national animal, the tone
is set for the Act 2 party at Hanna's, where the celebrations of the
country's historic cultural traditions are supplemented by two dancing,
grinning beavers who would do Walt Disney proud. After an assignation in a
broom cupboard – we're in the realm of 1970s sit-com here – the Baron's
wife, Valencienne, carries on her liaison with the French attachÈ to the
Embassy, Count Camille de Rosillon, not in the garden pavilion as expected,
but under the banquet table, their not-so-covert amorous activities
accompanied by quivering jellies and rattling cutlery. The double entendres fly as thick and fast as the toilet humour: we
all know what happens when the proverbial hits the fan. Indeed, the men
gather to lament and denounce 'Women! Women! Women!' in the urinals,
literally 'spraying' their insults in all directions.
Men's septet. Photo credit: Clive Barda.
It's all jolly fun, if at times rather too flippant. However, the
Coliseum is a big barn in which to ensure that the minutiae of the mayhem
make their mark, and despite the amplification of the spoken text (which
didn't always fade successfully into the sung numbers) there were times
when the voices and the verbal keenness didn't quite carry. Ironically, the
initial froth of the orchestral overture and the flashiness of the cerise
front-curtain fade to a cool grey-green when we enter the Embassy, for
'austerity cutbacks' mean that the central-heating is off and there's no
food for the feast. Later this summer ENO will reprise last year's


Paul Bunyan


at the Alexander Palace Theatre, and it struck me that either this, or
Wilton's Music Hall where that production was first seen, would more
readily provide the necessary shabby chic ambience, in a setting of more
appropriate dimensions.
Sarah Tynan (Hanna). Photo credit: Clive Barda.
That said, the first and principal prerequisite for a successful Merry Widow is glamour and allure in the title role, and Sarah
Tynan provided the necessary flirtatious fascination demanded of her,
alongside comic nous and some impressive dance skills. She also provided a
much-needed moment of respite from the frantic antics, bravely perching
upon a floating crescent moon to sing her 'Vilja' and out-gleaming its
beams with silvery threads which ebbed and waned with exquisite care and
control, and with bitter-sweet beauty. As her somewhat jaded paramour,
Count Danilo Danilowitsch, Nathan Gunn mixed a dash of debonair with a dose
of dorkiness, but while he projected well in the Coliseum, I lacked a sense
of true chemistry between this Danilo and Hanna. The same was true for
Rhian Lois's Valencienne and Robert Murray's Camille: their duets were
well-sung, but it felt as if they were acting rather than feeling the
professed emotions. Andrew Shore, as always, judged the Baron's myopic
folly to a tee, never mocking him too cruelly. The Chorus were in fine
voice.
Sarah Tynan (Hanna) and Andrew Shore (Baron Mirko Zeta). Photo credit: Clive Barda.
This production may have the girls, the glamour and the grandeur but if The Merry Widow is to truly touch our hearts, then it's the
symbolism of the waltz – an intimate interaction between two interdependent
individuals, wordless and private – which must make an impact. After all,
it is only through music and dance that Danilo finds a way to 'speak' to
Hanna of his love. I'm not convinced that Webster communicates this
intimacy, though conductor Kristiina Poska certainly drew stylish,
sumptuous and lithe playing from the ENO Orchestra.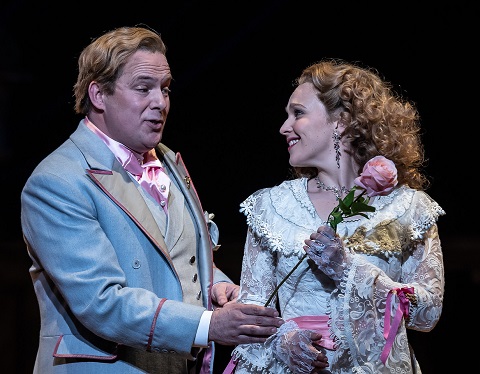 Robert Murray (Camille) and Rhian Lois (Valencienne). Photo credit: Clive Barda.
Franz Leh·r had already achieved some success and popularity, with waltzes
and operettas, before Die lustige Witwe became the most widely
performed operetta ever, acclaimed across Europe and in the US. This ENO
production might not be quite such a triumph: the first 1906 London
production ran for 778 performance, and followed by extensive tours, in
places as distant as Calcutta and Rangoon. But, it will bring much
enjoyment to audiences at the Coliseum. Moreover, stage and sheet-music
royalties quickly made Leh·r a multi-millionaire; let's hope it has the
same effect on ENO's coffers.
Claire Seymour
Franz Leh·r: The Merry Widow
Hanna Glawari – Sarah Tynan, Count Danilo Danilowitsch – Nathan Gunn, Baron
Mirko Zeta – Andrew Shore, Camille de Rosillon – Robert Murray, Valencienne
– Rhian Lois, Vicomte Cascada – Nicholas Lester, Raoul de St Brioche –
Jamie MacDougall, Njegus – Gerard Carey, Bogdanowitsch – Paul Sheehan,
Sylviane – Lydia Marchione, Kromow – Adam Sullivan, Olga – Deborah Davison,
Pritschitsch – Trevor Eliot Bowes, Praskowia – Natalie Herman'; Director –
Max Webster, Conductor – Kristiina Poska, Set designer – Ben Stones,
Costume designer – Esther Bialas, Lighting designer – Bruno Poet,
Choreographer – Lizzi Gee, Orchestra and Chorus of English National Opera.
English National Opera, Coliseum, London; Friday 1st March 2019.

image=http://www.operatoday.com/Hanna%20entrance%20Clive%20Barda.jpg
image_description=
product=yes
product_title=The Merry Widow, English National Opera
product_by=A review by Claire Seymour
product_id= Above: Sarah Tynan (Hanna) and ENO cast
Photo credit: Clive Barda