Their new Artistic Director for Opera, conductor Kazushi Ono, has pledged a new native work every two years and seems keen that these works be hard beyond Japan. The first of these, Akira Nishimura's Asters (Shion Monogatari), was premiered on February 17 this year, followed by an ambitious run of three further performances.
The opera house is one of three theatres in the complex, along with a Playhouse and "The Pit,, a flexible space. The NNTT has its own ballet company and chorus, but uses outside orchestras (usually the Tokyo Symphony Orchestra or the Tokyo Philharmonic, though for Asters they used Ono's own Tokyo Metropolitan Symphony Orchestra, who played wonderfully in-touch with the onstage action). Before 1997, Tokyo had no dedicated opera house, though plans to create one had been under consideration since the 1960s.
Most westerners, if they have an impression of Japanese opera at all, may think of Ikuma Dan's one-act Yuzuru (1952, produced in Zurich in 1957) or even Toshiro Mayuzumi's The Golden Pavilion (1976, written in German and produced in Berlin), based on Mishima's novel of the same name. Dan was even commissioned to write the opera Takeru to open the opera house in 1997. But for this latest project, Ono commissioned a new opera from prominent composer Akira Nishimura (b. 1953) and librettist Mikiro Sasaki and the theatre has worked closely with them on this project. Ono clearly knew the sort of work he wanted to move forward the reputation of the theatre and of Japanese opera.
Asters is a large work in two acts, running to almost two hours, scored for a huge orchestra and chorus and eight principals. At times there are over a hundred people on the stage, though at other times there are intimate moments with just two singers.
The story is based on a 1956 novella by the symbolist writer Jun Ishikawa (1899-1987) which broke a literary silence of over a decade after the war years (in Japanese, it is called Shion Monogatari; translated into English, it became Asters). In its description of the destructiveness of various kinds of evil, and especially the frustrations of youth, it offers a profound critique of both war and of the sham democracy that post-war consumerism brought to Japan.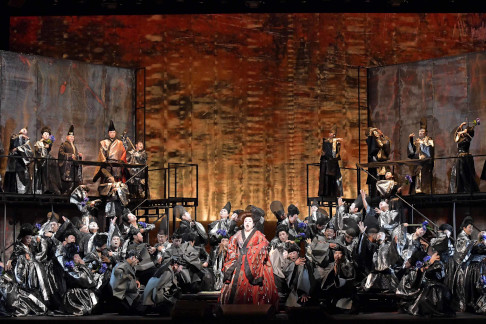 The main protagonist, the young prince Muneyori, is from a family of distinguished poets and he is married to the lustful and faithless Princess Utsuro. Rejecting both his wife and his poetry, encouraged by his mysterious uncle Yumimaro and sinister retainer Tonai, Muneyori sets out to pursue archery, coldly fascinated with killing first a white fox, then his retainers and finally his wife's lovers. He pursues the goal of firing at first one arrow, then two and finally three at once, the first symbolizing knowledge, the second killing and the third the "devil's arrow."
His quest brings him to a mysterious mountain, the other side of which everything is different from his current life. On this mountain he meets first a girl called Chigusa, actually the fox he killed, who gives up her desire to kill Muneyori as the two fall deeply in love. Chigusa offers to accompany him to the summit of the mountain and transforms herself into a bow for him. At the summit, Muneyori meets a man called Heita, a reflection of himself, yet a man of peace, with no desire for meaning, who simply fills his days carving the face of the Buddha into the mountain. Muneyori declares his wish to fire his three arrows into the face, and despite Heita's protestations manages to do so, bringing the work to a fiery and destructive conclusion.
So how far is Asters a Japanese opera, and what does this even mean? Composer, librettist, novella and commissioning director of the theatre are all Japanese, to be sure. But as a work of art how Japanese is it, and what might it contribute to a Japanese operatic "school"?
Although at first sight the setting of the story is medieval, feudal Japan, there are not really any specific indicators of this beyond the names of the characters. The Buddha in Act II indicates an Asian setting, but the story is essentially a fictitious one. The score is a mix of Japanese, Asian and western influences: Nishmura uses pentatonic scales at times, but he also uses atonality. Indeed, in the duet between Muneyori and his father, the disagreement of the two is underscored by the tradition-loving father singing in pentatonic, while Munetori is atonal. And while Nishimura is well-known for composing for Japanese traditional instruments such as the shakuhachi or koto, in Asters the orchestra is essentially a large western orchestra, though he does use the mokusho (wooden disk knocked with a stick) and hyoshigi (pair of wooden sticks like claves). Non-Japanese Asian elements also include the kecak dance and Mongolian overtone singing.
There is of course no reason why non-Japanese influences should "dilute" the work's essential Japaneseness. Vaughan Williams could write quintessentially English music with strong Bach and Ravel influences, and likewise Nishimura uses what he pleases to create an essentially homogenous style. The impression is of a work made in Japan, as a part of Asia, with a message for the world. This seems to be the message that the NNTT is hoping to get across; that Japanese-composed and Japanese-produced opera has something universal to say to the world. So how successful was the attempt?
Asters isn't an easy work: the symbolist nature of the story and of the characters require a fair amount of concentration. But the work never becomes dull: the story moves and the music expresses the inner drama. There are big moments, such as the opening banquet scene, the threnody after the first killings and the wonderful quartet in Act II between Muneyori, Chigusa, Utsuro and Tonai, but there are also plenty of quieter, more thoughtful moments. Three leitmotifs, the "asters theme," "Muneyori theme" and the "Devil's arrow theme" are used as a unifying and illustrative thread.
The production was overall magnificent: expressive and reflective sets by Tom Schenk (who worked long with Peter Brook, an influence that shows clearly) and imaginative costumes from Richard Hudson. Orchestra, chorus and principals all performed with energy and commitment. Tomohiro Takada as Muneyori projected the determination and emotional opaqueness of his character well; Kasumi Shimizu was a suitably sexually deranged Princess Utsuro; her lover Tonai was played with great humour and sinister overtones by Toshiaki Murakami. Ai Usuki's Chigusa had a sublime presence as the only fully sympathetic character of the opera. The smaller roles of Heita, Yumimaro and Muneyori's father were all in good voice too.
This is a production that could surely work well in a European or North American house before long, and let us hope that can come to pass. Let us also hope that Ono's wish to put out more Japanese operas is fulfilled and we can see the start of a new era for the genre.
Jamie Findlay

image=http://www.operatoday.com/2019Asters_2067_DS7_0525.jpg
image_description=Scene from Asters [Photo courtesy of New National Theatre, Tokyo]
product=yes
product_title=Akira Nishimura's Asters: A Major New Japanese Opera
product_by=A review by Jamie Findlay
product_id=Above: Scene from Asters
Photos courtesy of New National Theatre, Tokyo