I am ashamed of my doubt. Every program by Stephen Stubbs' ensemble Pacific MusicWorks is thoroughly researched, meticulously rehearsed, and refreshing to the ear. This one surpassed any reasonable expectations.
To begin with the soloists: Danielle Sampson and Tess Altiveros are both formidable singers technically, with an astonishing command of 17 th century vocal technique; but how could one anticipate that they would also have the vivid presence of a Ziegfeld sister-act?
Sampson's instrument is pure, virginal, but capable of conveying innuendo lusty as a wink with an infinitesimal bluesy bend of a note; Altiveros' sound is darker, creamy, sensuous, but she can fill it with so much drama that the stereotyped tropes of a Baroque lament offers a fully rounded portrait of a woman's pain. Together, they are sprezzatura personified.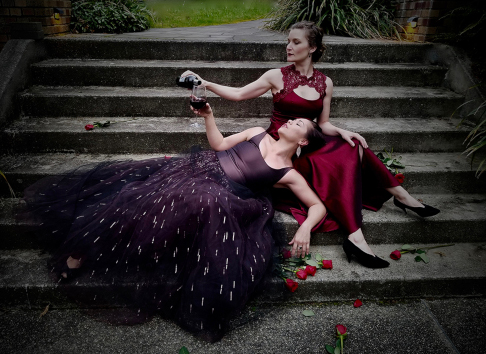 (left to right) Tess Altiveros and Danielle Sampson
Barbara Strozzi (1619-1641) is by now a known quantity, at least in "early music" circles, but I wasn't ready for the expressive range of her gifts: eight numbers spanning subjects from a lover's lamenting how his love has harmed the beloved to a song demanding that Cupid get up and active that reminds me of Cole Porter at his most outrageously risqué.
Less individual but still powerfully crafted were two arias and a sensuous hymn to the Virgin by the operatic pioneer Francesca Caccini. Antonia Bembo's fulsome encomium of Louis XIV Chiaro esempio is effective if embarrassing, a perfect illustration of the icky side of patronage.
Most surprising were three instrumental "sonatas" (she composed 12 in the course of her 60-year career) of the Ursuline nun Isabella Leonarda of Novara. Such instrumental "breaks" are common in early-music vocal concerts. They are never merely breaks in PMW evenings. The group's wonderful "house band" brought out the highly individual character of each brief suite, and the audience responded to each with growing enthusiasm, ending in a genuine and deeply deserved ovation.
Roger Downey
---
Leading Ladies: Barbara Strozzi and Female Virtuosi in 17th Century Italy
Danielle Sampson and Tess Altiveros, sopranos; Pacific MusicWorks (Tekla Cunningham and Adam LaMotte, baroque violin; Caroline Nicolas, violoncello and viola da gamba; Henry Lebedinsky, harpsichord and organ; Maxine Eilander, baroque harp; Stephen Stubbs, musical director, baroque guitar and lute) at St. Stephen's Episcopal Church, Seattle, Washington

image=http://www.operatoday.com/Leadingladies%202%20ifor%20OToday%20.jpg
image_description=Left to right: Caroline Nicolas, Adam LaMotte, Tekla Cunningham, Danielle Sampson, Tess Altiveros, Maxine Eilander, Stephen Stubbs [Photo by Elizabeth Ellis]
product=yes
product_title=Leading Ladies: Barbara Strozzi and Female Virtuosi in 17th Century Italy
product_by=A review by Roger Downey
product_id=Above (left to right): Caroline Nicolas, Adam LaMotte, Tekla Cunningham, Danielle Sampson, Tess Altiveros, Maxine Eilander, Stephen Stubbs
Photos by Elizabeth Ellis