This revival featured two original cast members returning to their roles,
Clive Bayley's Filippo and Ruxandra Donose's Eboli, with Leonardo Capalbo
as Don Carlo, Marina Costa-Jackson as Elisabetta, Brett Polegato as
Rodrigo, Branislav Jatic as the Grand Inquisitor, David Shipley as the Monk
/ Charles V and Jessica Leary as Tebaldo. Gianluca Marciano conducted the
orchestra of English National Opera.
Central to the production are Leslie Travers stylish and imaginative sets
which provide a series of striking backdrops for the intimate scenes yet
facilitate creating a remarkable amount of grandeur on a relatively small
stage. The production remains one of the most satisfying recent
incarnations of Verdi's grand opera that we have seen.
Without the Fontainebleau Act, we never see Don Carlo and Elisabetta in
their moment of untroubled bliss and the four act version of the opera has
inevitably to start in media res. Leonardo Capalbo ran on, vividly
emoting and we were in no doubt as to this Don Carlo's youth, humanity and
sheer personal intensity. It seemed to take Capalbo some time to get the
measure of the auditorium, and initially his singing came over as over
emphatic. But there was no doubting his commitment and the vibrancy of his
performance as he obsessed over Elisabetta. Capalbo brought a nice
intensity to his quiet singing, particularly in the tense Act Two scene
with Elisabetta, and by Act Three he was a changed man. Central to
Capalbo's performance was the journey that Don Carlo goes on, this
strutting peacock of a man learns control and balance, so that his final
scene with Elisabetta was moving indeed for the understated nature of their
pair's emotions, their control and maturity. This was Capalbo's role debut
and his interpretation will certainly grow but this was a striking
assumption. (Leonardo Capalbo will be singing the role in French with Opera
Vlaanderen in the Autumn).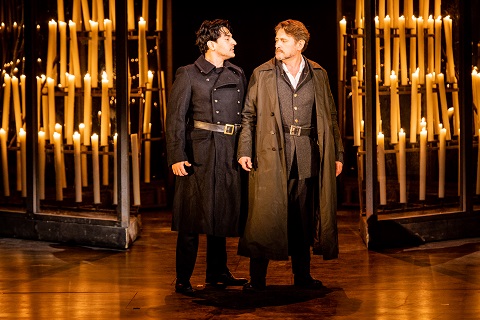 Leonard Capalbo (Don Carlos) and Brett Polegato (Rodrigo). Photo credit: Robert Workman.
Marina Costa-Jackson was a name that was new to me. Born in the USA and
raised in Italy, she is a relatively recent (2016) graduate from the
Academy of Vocal Arts in Philadelphia. Her Elisabetta displayed great
physical control, she was a woman who knew what was expected of her as a
king's daughter and the wife of a king, which meant that the moments when
she lost control, such as the scene with Don Carlo in Act Two and the
thrilling moment with Clive Bayley's Philippo in Act Three when these two
strong personalities square up to here, told indeed. Costa-Jackson's voice
has a significant vibrato, which warmed the sound considerably but
thankfully there was still a strong core to provide the sort of line that
this role needs. Her final aria was indeed stupendous, made all the more
moving for being restrained.
Clive Bayley reprised his strikingly controlled and controlling Filippo,
making him not so much a martinet as a man expecting the highest standards
in certain types of behaviour, and unable to understand others' failure.
Central to Bayley's performance was the moment, at the opening of Act
Three, when we see the private man rather than the public one and come to
appreciate the depth of his lack of understanding of his fellow men. When
Filippo laments that Elisabetta never loved him, the moment can be in
danger of seeming a little risible, but never here Bayley really wrenched
our guts.
Whilst her voice is not, strictly, Italianate Ruxandra Donose is one of the
most fully-rounded performances of Eboli around. This Eboli was intimately
woven into the drama of the whole opera, and you could see her delight in
savouring intimate and forbidden knowledge. Donose's upper register is
still beautifully flexible, thus making the Veil Song a delight, whilst
still giving us a nice evenness throughout the range. She brought a real
sense of drama to the whole role, so that the Act Three trio with Capalbo's
Don Carlo and Brett Polegato's Rodrigo was thrillingly tense indeed.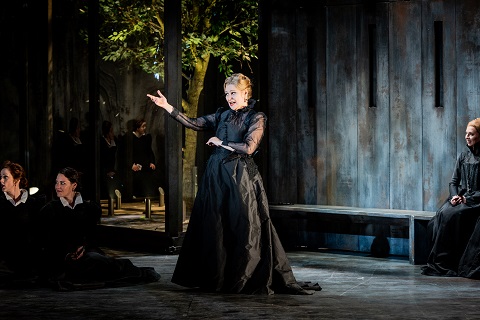 Ruxandra Donose (Princess Eboli). Photo credit: Robert Workman.
Brett Polegato's Rodrigo was very much the old soldier. His performance
robust and vigorous, and in their Act One duet he and Capalbo seemed to
almost be vying with each other for who could phrase the most robustly.
Occasionally I missed a more suave approach to the music, but there is no
doubting the vehemence and power of his Act One outburst to Filippo about
the Low Countries. His relationship with Capalbo's Don Carlo was perhaps
one of the least homo-erotic that I have seen in recent years, but his
final death scene was moving indeed.
Serbian bass Branislav Jatic sang the Grand Inquisitor. Visuall, de created
a vividly etched character, yet did not always manage to match his voice to
the image, but the scene between him and Philippo remained one of the
central points of the opera. Jessica Leary made a charming Tebaldo,
bringing out the character's youth. David Shipley was aptly firm voiced and
other-worldly as the Monk / Charles V. The smaller roles were all well
taken, with Rosanna Harris as the heavenly voice, Lawrence Thackeray as the
Count of Lerma and Roberto Abate as the Herald.
Jo Davies' production really facilitates the intimacy of the smaller scenes
in this opera, and one of the virtues of the finely balance casting was
that we had a series of very human dramas playing in front of us, all
depicted in vivid detail. Yet the big moments, didn't lack grandeur and the
stage rarely seemed over-crowded, with the multi-level set for the Auto-Da
Fe scene facilitating a miraculous amount of compression.
Key to this was the hard-working chorus, splitting itself into a variety of
group, yet always singing with focused virtuosity.
In the pit, Gianluca Marciano prized the impetus and impulse of this final
version of the opera, and he and the orchestra kept the drama moving
without ever making us feel rushed. The orchestra was on top form,
thrilling in the big moments yet able to scale things back and the
performance never threatened to overbalance what is essentially an intimate
account of Verdi's grandest opera.
There is a case to be made for country house opera being a bit more
imaginative in the way it distributes music and intervals, and I certainly
wish that a bit of creative thinking could be used to present Verdi's Don
Carlos in its five-act version. But until then, this production is one of
the most satisfying accounts of Verdi's grand opera around, and here with
finely balanced cast.
Robert Hugill
Verdi: Don Carlo
Don Carlo: Leonardo Capalbo, Elisabetta, Marina Costa-Jackson, Rodrigo:
Brett Polegato, Filippo: Clive Bayley, Eboli: Ruxandra Donose, Grand
Inquisitor: Branislav Jatic, Monk/Charles V: David Shipley; Director: Jo
Davies; Conductor: Gianluca Marciano; English National Opera Orchestra.
Grange Park Opera, 6 June 2019

image=http://www.operatoday.com/Clive%20Bailey%2C%20King%20Phillip%20II%20of%20Spain%20and%20Leonardo%20Capalbo%2C%20Don%20Carlos.jpg
image_description=
product=yes
product_title=Don Carlo: Grange Park Opera
product_by=A review by Robert Hugill
product_id=Above: Clive Bailey (King Phillip II of Spain) and Leonardo Capalbo (Don Carlos)
Photo credit: Robert Workman