Opera Las Vegas' recent production of Gaetano Donzetti's L'elisir d'amore did not disappoint. From first-rate
lead characters, clever staging, and a delightful women's ensemble,
this production was highly entertaining and enjoyable.
Nemorino, sung by tenor, Christopher Bozeka, established immediately his
comfort and command with this role in his opening aria, "Quanto
è bella," singing with a beautiful, clear tone that was marred
only slightly by balance issues between singer and orchestra.
This minor imbalance continued into Adina's first cavatina,
"Della crudele Isotta." Soprano Cecilia Violetta López was
a bit overshadowed by the orchestra during musical passages that sat mostly
in middle-voice, but her creamy and glorious tone soared above the
orchestra once out of her middle range. Ms. López then displayed
stunning dynamic control and exquisite shaping of musical phrases, in
addition to showcasing her acting chops with engaging facial expressions
and pure sass throughout.
Thankfully, the orchestral imbalance was rectified by "Come Paride
vezzoso," and was not an issue for the remainder of the opera.
A highlight of the first act was "Chiedi all'aura
lusingiera," Adina and Nemorino's duet. Their chemistry was
evident as Adina tolerated Nemorino's desperation. Here Bozeka came
into his own vocally with superb phrasing, amazing dynamic control, and a
breathtaking decrescendo, all the while maintaining his puppy-like
despondence.
Dulcamara, sung by bass-baritone Adelmo Guidarelli, was another high spot
of the opera. With an incredibly resonant timbre and strong sense of
comedy, the audience was definitely buying what this consummate salesman
was promoting. Although he was not perfectly in sync with the orchestra
during portions of "Udite, udite, o rustici," he was perfect
for this role.
Nemorino and Dulcamara's duet, "Voglio dire," was pure
fun. Their voices blended amazingly well and the clever and humorous
staging had everyone in the audience laughing.
The Act Two duet, "Venti scudi," featuring Nemorino and
Belcore, also deserves mention. Baritone Tobias Greenhalgh proved his
strong and persuasive prowess on stage. The juxtaposition between
Greenhalgh's patter outbursts and Bozeka's legato singing was
superior.
Here kudos must be given to director, Joshua Borths, for his fresh and
clever staging. This was most evident in the women's ensemble number,
"Saria possible?" They outshone their male chorus counterparts
consistently, and this number was no exception. Their stage entrance by
sneaking in and then all heads popping up at once, perfectly synchronized
to the orchestration, was purely adorable. And the women looked like they
were having a rollicking good time, especially when stuffing their bras
with tissue in anticipation of winning Nemorino's heart.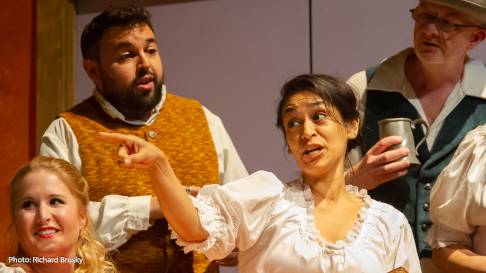 Another standout moment for López, Guidarelli, and Borths was Adina
and Dulcamara's duet, "Io son ricco e tu sei bella." Some
of the staging required a fair amount of athleticism, which looked
effortless. Here Dulcamara vindicated himself for any vocal wrong doings in
Act One. His patter phrases were spot on and incredibly exciting. I could
listen to that all day.
Praise here should also go to conductor, Joshua Horsch, as the orchestra
was consistent and solid throughout.
A touching moment was "Una furtiva lagrima," which was
gorgeously sung by Bozeka, displaying velvety tone coupled with simple and
highly effective vocal delivery. He received a well-deserved
"Bravo!" from the audience.
This was followed with another stellar moment from López. Her opening
fermata on "Prendi" sent shivers down my spine it was so
beautiful. There were several moments during her aria, "Prendi, per
mei sei libero" that could melt your heart.
Joshua Horsch, Joshua Borths, the cast, and the orchestra made this
performance a breath of fresh air and pure entertainment, amidst a town
bursting at the seams with glitz and glamour, star power and media frenzy
over the latest dayclub opening. L'elisir d'amore was
an evening of delightful singing and engaging staging, displaying a high
level of artistic excellence throughout.
Michelle Latour

image=http://www.operatoday.com/_D502979.png
image_description=Photo by Richard Brusky
product=yes
product_title=Fun, Frothy, and Frivolous: L'elisir d'amore at Las Vegas
product_by=A review by Michelle Latour
product_id=Photos by Richard Brusky