Nina joined Frankfurt Opera in 2018 as a staff director and she describes
some of the challenges of leading the company's revivals, not least the
very short amount of time – just a couple of weeks – that she has to
prepare a new cast and chorus. In the case of

Julietta

, one or two of the soloists and many of the chorus are familiar with
Klepper's production, which sets Martin?'s strange, surreal opera (in which
the inhabitants of a town have no memories) in what Nina describes as a
"theatrical dream world" which plays with the aesthetics of impersonal
spaces such as offices, nursing homes and cafeterias where otherwise
inconspicuous waiting-room plants grow and develop into a forest of dreams.
It's beautifully directed, she says, and the challenge is to find a balance
between honouring Martin?'s opera and doing justice to the work itself, and
respecting the original director's conception.
I ask Nina how she goes about preparing a revival? She explains that when
she arrived in Frankfurt eighteen months ago, all the productions were
'new' to her. There is usually a video recording of the premiere, so she
will watch one or two DVD versions and also study the original staff
director's book, which will indicate the blocking. Comparing the two will
sometimes reveal when a mistake has been made and Nina will aim, as far as
possible, to be loyal to the original, though she's concerned, too, to
allow the singer some 'freedom': "All singers are different, in terms of
their instinct and emotional response to a character, and I try to respect
that, as the original director would have done." So, while the choreography
needs to be observed, so that characters are in the right place at the
right time, a singer must have some freedom to be and feel that character.
On a few occasions Nina has had to call the original assistant director, if
a detail isn't clear – especially is the lighting design involved a lot of
darkness and shadow, making it difficult to see on the DVD exactly what was
happening!
There's a real satisfaction in getting the production ready for its revival
run, but with rehearsal time so restricted Nina confesses to finding it
frustrating when it's not possible to observe every detail of the original.
She must have found it satisfying to have the opportunity to mount her
first fully independent opera production in Germany recently – Le nozze di Figaro at Delphi Theater Berlin, which inaugurated
Opernfest, the International Festival of Young Opera Singers hosted by the
Berlin Opera Academy, and which was described by one critic as
'characterized by an economy of gesture married to an unbridled sense of
whimsical fun'.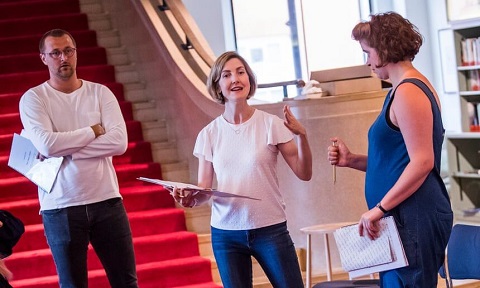 Nina Brazier in rehearsal. Photo credit: Tristram Kenton.
The autumn will be busy, as Nina will be travelling between Germany,
Austria and the UK: in September, for the reprise at Kings Place of

Dear Marie Stopes

– an opera by Alex Mills first performed at the Wellcome Collection museum
as part of the TÍte ‡ TÍte opera festival in 2018, commemorating the
centenary of the publication of Stopes' Married Love – and the
following month when the ongoing world tour of

East West Street


– a partly staged reading inspired by international human rights lawyer
Philippe Sands' award-winning bestseller about the Nuremberg trials –
arrives at the Southbank Centre and later tours to MuTh in Vienna in
November.
How did Nina come to be involved in these unusual creative projects? She
explains that Mills had seen and enjoyed her one-hour 're-imagining' of A Winter's Tale with The Hermes Experiment, involving four
musicians and five actors, at the TÍte ‡ TÍte Opera Festival in 2017, and
subsequently approached her to direct Dear Marie Stopes. With
issues relating to birth control and female sexual health still very much
current today, and as the proposal fitted her schedule, Nina accepted.
Mills' chamber opera sets emotionally charged letters, now stored in the
Wellcome Collection's archives, from readers asking Stopes for advice and
sharing their individual stories. Nina comments that many could have been
written today and that they are often utterly heart-breaking. The opera
opens with a harrowing letter from a woman who has had fourteen children,
nine of whom were still living, asking for help as a doctor had told her
that she will die if she has another child.
As for East West Street, Nina comments that it's surprising that
her path ever collided with that of Philippe Sands, prize-winning author of
book exploring the lives of three men involved in the Nuremberg Trials who,
while on opposite sides of the 'good-evil' divide, find solace in the same
piece of music: Bach's St Matthew Passion. Hans Frank, who had
been Hitler's personal lawyer, was known as the 'Butcher of Poland' and was
accused and convicted for his role in the murder of three million Jews and
Poles. Raphael Lemkin was an advisor to the American prosecutors who
championed the concept of genocide, a term he invented. Hersch Lauterpacht
was a member of the British prosecution team who argues for the concept of
'crimes against humanity'. As Nina describes the action in a programme
article for a performance at the 92nd St Y in New York: 'The two
men contemplated different moments in their lives: Frank awaited judgement
for his terrible role in the atrocities in Poland and a possible sentence
of death; Lauterpacht had just learned of the murder of his entire family –
by the man he was prosecuting. Music, it seems, does not discriminate.'
Sands originally presented his research as a lecture at Oxford Unversity,
and then expanded this by integrating a violist in a second reading at
Inner Temple. But, as the project grew he realised that it needed more
music. One of his childhood friends was the French bass-baritone Laurent
Naouri; Sands 'pestered' a reluctant Naouri to look at the text, and when
the singer finally agreed to take a look he recognised a musical thread
woven through the story and selected an eclectic range of pieces, from
Ravel to Beethoven, Rachmaninov to Leonard Cohen. Naouri involved a friend
from Paris, the renowned jazz pianist Guillaume de Chassy: East West Street was growing – and it was a work in need of a
director.
Katja Riemann and Nina Brazier, East West Street (offstage).
Sands didn't have many musical contacts, but one such was Paul Cremo,
dramaturg at the Metropolitan Opera New York. Asked if he knew of any
directors in the UK who might be interested, Cremo contacted English
National Opera where Nina was working as a freelance staff director. As
Nina puts it, she'd been badgering producing director Terri-Jayne Griffin
to see some of her work, and so when the call from Cremo arrived
Terri-Jayne recommended that Sands get in touch with Nina. Surprised to
find herself receiving a telephone call from the Metropolitan Opera, Nina
subsequently travelled to the Hay Festival in 2014, where the work was
performed, with Sands as narrator, piano and bass-baritone contributions,
some images, but no movement. It was fascinating but not very theatrical,
she remembers; but the next day, the group sat in the garden at Hay and
brainstormed development ideas, with contributions too from Naouri's wife,
Natalie Dessay.
One major decision was to introduce a second narrator: 90 minutes is a long
time, even with musical interjections, for the audience to listen to a
single voice, Nina suggests. Vanessa Redgrave agreed to perform the role of
female narrator for the performance in the Purcell Room, and while there
was not much time to rehearse, and Nina would not describe the work at this
point as 'staged', the resulting performance had greater "theatrical
shape". Sands began to receive invitations to present East West Street overseas, often in academic or judicial contexts,
and the ensemble travelled to Stockholm and, in the 70th
anniversary year of the Nuremburg Trials, to the original court room
itself. This was obviously an incredibly emotional performance: as Nina
explains, there were elderly people present who had themselves been at the
Trials. Awarded an Evening Standard Theatre Award, Vanessa Redgrave was
unable to participate in the Nuremberg performances; her 'replacement' was
German film doyenne Katja Riemann – when Nina asked her German uncle if he
knew of Riemann, he replied, "She's a genre of her own!"
Sands' book had now been published, and the ensemble accompanied him on
what was essentially a 'world book tour'. The emotional resonances of the
performance accumulated: Emmanuel Ax joined them as guest pianist,
performing East West Street for the first time in
November 2017 in Lviv in western Ukraine, the city of his birth, which he
had left as a child in 1956 and not since revisited. His encore, not
surprisingly, wrought tears from many as the city's, the people's and the
pianist's shared history came together. The impact of East West Street was absolutely unanticipated, says Nina. Sitting
on the lawn in Hay in 2013, no one knew what it would become.
Given that her initial training was in the field of drama (Drama at Exeter
University, followed by a Masters in Text and Performance at RADA), I
wonder how Nina came to be involved in opera? She explains, with
characteristic modesty, that finding herself in London, a recent graduate
hoping to make a career in the theatre and dreadful at networking, she
wrote what she describes as "terribly bad letters" seeking opportunities to
gain experience. The result of one such letter was an invitation from Ian
Riches, then Artistic Director at the Royal Court Theatre, to participate
in a two-week directors' course, working alongside playwrights, directors
such as Katie Mitchell, actors and writers, and involving workshops and
performances. During the course, hearing that John Wright was looking for a
director who could read music to assist him on a new contemporary opera, Arcane, by Paul Clark, another director, Vicky Jones,
suggested Nina. "My childhood in Wales had involved lots of singing and
playing music, but at that time I hadn't even been to the opera."
CosÏ fan tutte, Ryedale Festival Opera, 2019.
This first experience of opera "brought together everything I love about
theatre – I was completely overwhelmed with the way it heightened human
expression". Things snowballed from there: Nina assisted Charles Edwards on
his Rigoletto for Opera North in 2006, and thereafter has worked
as an Assistant/Staff director at Welsh National Opera, the Royal Opera
House, English National Opera, Bayerische Staatsoper, then more recently as
an Associate Director at Theater Bonn, and directed independent productions
at Ryedale Festival Opera, TÍte ‡ TÍte, The'tre de la Colline in Paris, 92 nd St Y and the Center for Contemporary Opera in New York, Kings
Place, Buxton International Opera Festival and the Royal Festival Hall,
among other venues. Her productions have earned stellar praise, withOpera Now admiring her 'genuine music theatre sensibility' ( A Telephone Call, TÍte ‡ TÍte 2015); Opera Magazine calling her a
'skilful director' (The Merry Widow, Ryedale Festival Opera 2015) Early Music extolling the 'impressively light directorial touch'
and the 'simplicity of the staging and direction [which] meant that the
music was allowed to speak for itself, portraying the characters in the way
that Handel's music suggests' (Alcina, Ryedale Festival Opera and
national tour 2016); and Opera Scotland noting her 'talent as a director
… emphasising clarity of plot outline' (La finta giardiniera,
Ryedale Festival Opera and national tour 2018).
October will see Nina back in Frankfurt, turning her attention to the
revival of David Hermann's 2017 production of Ernst K?enek's

Drei Kurzopern

. Her contract with Frankfurt Opera ends next summer, though she can
imagine herself staying in Germany longer to "learn the language better":
"there's a lot of pressure rehearsing a chorus of 60 in a language that is
not your own!" – particularly as German houses do not have full stage
management teams, unlike the UK where even for a revival production, the
director might work with as many as three stage managers and an assistant
director. Her work in Frankfurt will, Nina hopes, be a springboard for
subsequent directorial work in the UK and worldwide.
In the meantime, Londoners can enjoy

Dear Marie Stopes

on 21st September at Kings Place and

East West Street


on 21st October at the Queen Elizabeth Hall.
Claire Seymour

image=http://www.operatoday.com/Nina%20Brazier.jpg
image_description=
product=yes
product_title=An interview with Nina Brazier
product_by=By Claire Seymour
product_id=Above: Nina Brazier