Ariodante is surely one of Handel's most 'human' dramas.  It's not just that the libretto –anonymously adapted from Antonio Salvi's Ginevra, principessa di Scozia, after Ariosto's Orlando furioso – involves no supernatural interventions, but that the characters are genuinely sympathetic and 'real' as they journey through an extraordinarily wide range of emotions.  Set in Scotland, a realm where 'any woman who engages in union with a man and is not his wife, must be put to death', the action hinges on the supposed infidelity of Princess Ginevra.  There's a 'soap opera' feel as the intrigues and intimacies, betrayals and reconciliations unfold – by which I don't mean that it's melodramatic, but, rather, Handel's wonderful music draws one into a persuasive account of human entanglements and dilemmas, conflicts and resolutions. 
This streamed 'concert performance' at the Royal Opera House was originally intended to be presented as two staged performances, before a live audience, but the current lockdown put pay to that.  However, with the superb cast all 'off-score' and firmly 'in role', though not formally staged this performance had none of the static formality that the billing, 'Ariodante in concert', might have suggested.  And, the conductor Christian Curnyn summoned an immediacy and directness that made an 'in the theatre' vibe tangible.
Ariodante was returning to its 'home' after an almost 300-year absence.  Composed when Handel was at the peak of his creative powers as an opera composer, with three decades of experience behind him, Ariodante was premiered at the Covent Garden Theatre – the first theatre on the current Royal Opera House site – on 8th January 1735.  It received eleven performances and was revived in May the following year for two further performances.  It was not heard again until 1928, in Stuttgart, and did not return to British shores until 1964, when it was performed at the Barber Institute in Birmingham.
The opera is more than just a string of da capo arias.  There are duets – two in succession, unusually, in Act 3 – two choruses and a pastoral symphony, and the original production contained several dance sequences and act-closing divertissements, designed to involve Madame Marie Sallé and her company.  The latter were excised from this performance, reducing the evening's entertainment to 2 ½ hours – but, in fact several of the ballets were not presented back in 1735 either.
The first Ariodante was the castrato Giovanni Carestini.  Here the role was taken by the Irish mezzo-soprano Paula Murrihy who gave an utterly convincing performance of real musical and dramatic stature.  Ariodante's initial confident joy was pushed aside by an anguish that seemed soul-consuming but was itself superseded by ecstasy.  Assured and accomplished, Murrihy made the virtuosic passage seem 'easy' and natural, the long runs shaped with an impressive evenness, and had apparently boundless stamina.
Though there were some lovely diminuendos and flexible phrasing in `Scherza infida', I found the initial tempo just a tad too swift to really draw me into Ariodante's torment, though Murrihy's singing was certainly open-hearted.  And, the added forward movement in the B section, made the ritenutos and rubatos of da capo repeat feel a little exaggerated, exacerbated as they were by some strange swellings and retreats from the obbligato bassoon, and other expressive extremes, including some drawn out cadential appoggiaturas.  But, if Murrihy didn't quite convince me in this long aria of Ariodante's bleak despair, then the protagonist's utter joy in 'Dopo notte' was infectious and confirmed the soprano's flawless strength across the aria's three-octave range.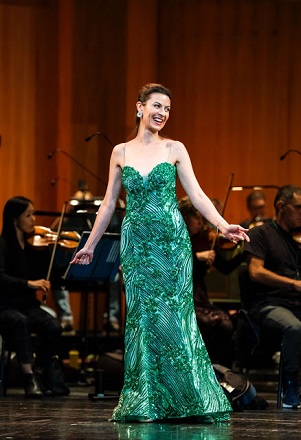 When Chen Reiss's Ginevra announced, at the opening of Act 1, that her heart was on fire with love, we could really believe it.  Her soprano shone with vivaciousness and her pin-point precision impressed.  Her passion turned to ferocity when she spurned Polinesso's advances, bristling with aristocratic indignation, then melted in the duets in which Chen and Murrihy blended.  Reiss conveyed blissful rapture and inner despair with equal control. 'Mi palpita il core' rippled with anxiety; 'Il mio crudel martora' genuinely palpitated with distress.
Sophie Bevan made Dalinda a more earnest character than is sometimes the case, and thus inspired sympathy with her moral conflicts.  Bevan seems to go from strength to strength: she displayed tremendous stamina here, in a role which sits permanently high in the voice.  Her soprano was gratifying and had a lovely lustre and warmth.  She brought real pathos to Act 3 when Dalinda realises that she has been duped.
The narcissistic Polinesso must be Handel's nastiest operatic character – a role which was originally sung by the contralto Maria Negri.  One might 'complain' that Iestyn Davies' singing was almost too beautiful, but – dressed in skinny jeans, velvet jacket, and sporting a perma-sneer, tousled fringe and six o'clock shadow – he managed to look sufficiently unhinged, especially when Polinesso revealed his plot to the smitten Dalinda and hooked her into his deceit.  The ironically refined instrumental accompaniment was matched by Davies' own tasteful ornament and expressive da capo developments.  Later, the countertenor whipped up a tremendous energy in his coloratura exultations.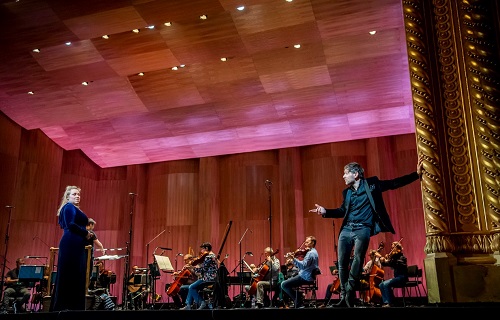 As the King of Scotland, Gerald Finley was authoritative and exerted his customary stage presence – his benevolent interruption of the self-absorbed lovers was convincing and charming.  Finley's baritone was both agile and commanding, and surprisingly powerful when pushed down into genuine bass territory.  The King's Act 2 lament was profound and moving.
Ed Lyon was a warm-hearted Lurciano, genuinely pained by Dalinda's rejection, then vigorous in urging the despairing Ariodante to seek revenge, his encouragement fired by the violins' thrilling racing.  Lyon's contributions were unfailingly agile, vocally relaxed and thoroughly engaging. Thando Mjandana completed the superb cast in the minor role of Odoardo.
With the smallish band of musicians from the Orchestra of the Royal Opera House placed on the reduced-sized wood-panelled stage, the instrumental sound was finely etched and vivid.  Curnyn's tempos were fairly swift but never rushed, and the fluency with which he moved between meters and movements created an engaging drama.  The players communicated the opera's frequent and striking changes of emotional tenor, textures and colours seemed endlessly varied, and in the recitatives there many beautifully expressive nuances.
This was a truly lovely performance.  A smashing 'night out'.
The performance is available on demand until 20th December 2020.
Claire Seymour
Ariodante – Paula Murrihy; Ginevra – Chen Reiss; King of Scotland – Gerald Finley; Dalinda – Sophie Bevan; Lurcanio – Ed Lyon; Polinesso – Iestyn Davies; Odoardo – Thando Mjandana, Christian Curnyn, Orchestra of the Royal Opera House.
Royal Opera House, Covent Garden, London (live stream); Friday 20th November.
Above: Paula Murrihy as Ariodante