The Choir of Trinity College Cambridge / Stephen Layton
Stephen Layton uncovers a rich seam of choral jewels in this collection of sacred music by Finnish choral composer and translator Jaakko Mäntyjärvi (born 1963), who describes himself as an "eclectic traditionalist". Over the last ten years or so his music for choirs has gradually seeped into British consciousness with occasional performances of his popular Shakespeare settings. Choral 'trainspotters' may have been aware of a handful of recordings devoted exclusively to his music. For those wishing to explore these further there is the early, hour-long a cappella cantata Salvat 1701 (concerning a plague that devasted Helsinki), the composer's English enthusiasmsin Eclectica from 2013, both sung by the Tapiola Chamber Choir, and a collection a year later of secular works entitled Canticum sung by an American ensemble and found on the Centaur label.
This recent recording from the Choir of Trinity College Cambridge is the first British exploration of Mäntyjärvi 's choral music and the first to focus entirely on his sacred output. Clearly tonal and with richly layered harmonies, derived from a sense of orchestral colouring, his music draws on a range of sources from plainchant to John Tavener, simultaneously referencing Catholic, Orthodox and Anglican traditions. While avoiding cloying indulgence associated with much contemporary choral music, his music is refreshingly quirky in unexpected harmonic turns and highly accomplished in its range of expression, the whole shaped from a thorough knowledge of choral textures and sonorities. Indeed, Francis Pott's rigorous booklet note observes Mäntyjärvi 's comment that "the choir is the instrument that I know from the inside".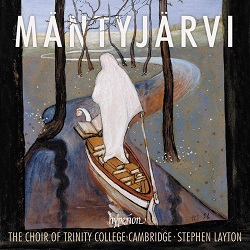 Taking up the lion's share of this disc (in terms of track listings) is the recently commissioned Trinity Service (1919); a complete setting of unaccompanied liturgical music for Evensong comprising an introit, preces and responses, a psalm chant, canticles and the anthem O lux beata Trinitas. Linking these is the composer's use of verbal repetition, dense, but never clouded sonorities and stepwise melodic movement – clearly audible in the brief introit Ave Maria and themodal scale patterns of the Magnificat. Low lying bass registers, conjuring music belonging to the Russian Orthodox liturgy, also unites this collection, with cavernous A flats at the end of the Nunc Dimittis, reminiscent of Rachmaninov's Vespers. Common to all is Mäntyjärvi's harmonic distinction, memorable in his Anglican chant for Psalm 128 and, elsewhere, for arresting false relations and one deliciously bluesy chord during the Lord's Prayer.
At some remove from this Trinity compilation is the darker, sinewy Stuttgarter Psalmen (2009) lasting some twenty-eight minutes and recalling the dramatic intensity found in the work of Sir James MacMillan. Whether Mäntyjärvi decided against the use of handbells for the first psalm 'Warum toben die Heiden?' (as indicated in the score and used in the premiere recording by Stefan Parkman and the Uppsala Academic Chamber Choir) is unclear, but there is no doubting the virtuosic response to its demands by these Trinity singers. One might question the strained tone in the desperate pleas of Psalm 22, but this is clearly intentional and just one of the composer's multi-varied and powerfully expressive devices. 'Richte, mich Gott' is no less atmospheric or weighty, qualities which the choir fully realise in performances of unflagging energy and flawless intonation. Indeed, with these polished accounts Layton succeeds in gleaning every last ounce of energy from his forces.
In these expansive psalm settings Mäntyjärvi's sense of pacing is unerring, so too in the shorter offerings such as the harmonically opulent Ave Maria d'Aosta, the Medieval swing of Benedic anima mea Dominoor the perfectly balanced design of Pulchra es. The disc ends with his 2007 setting of O magnum mysterium;its divine mysteryandGallic idiom spaciously delivered in a sumptuous account flanked byimpeccably refined altos and gloriously resonant basses. Above all, and characteristic of the entire recording, the control that Layton secures from these young singers, seemingly able to handle everything put in front of them in the same manner as their professional counterparts. These are world class performances allied to Hyperion's classy engineering and production, which together will generate a much-deserved recognition for this abundantly gifted Finnish composer.
David Truslove
'Ave Maria d'Aosta', 'Stuttgarter Psalmen', 'Benedic anima mea Domino', 'Pulchra es', 'Trinity Service', 'O Magnum mysterium';Stephen Layton (conductor), Choir of Trinity College Cambridge.
Hyperion CDA68266 [70:54]
Above: Jaakko Mäntyjärvi (c) Maarit_Kytoharju