Here's yet another very effective German opera post-Weber but not by Wagner! We hear and see so few of these! I was quite taken in the past two years with world-premiere recordings of Max Bruch's Die Loreley (1863) and Franz Lachner's Catharina Cornaro (1841), and with a new recording of a work that is better known (well, relatively), Heinrich Marschner's Hans Heiling (1833).
I find it fascinating how many once-prominent German and Austrian composers in the mid and late nineteenth century continued writing in ways that we think of as typical of the first three or four decades of the century (the era of Beethoven, Rossini, Mendelssohn, and Schumann). Some (e.g., Bruch) began to use devices that were, or would increasingly come to be, identified with Wagner—for example, recurring motives or specific orchestrational choices—without, however, adopting anything like Wagner's epic scale and constantly churning chromatic harmonic progressions.
I suspect that the seeming "conservatism" of such composers (when measured against Wagner) helped consign their works to the dustbin: either after some years of acceptance, in the case of Marschner, or almost instantly in the case of Raff and some others. Bruch, for one, spent his last years downhearted at being considered an old fogy.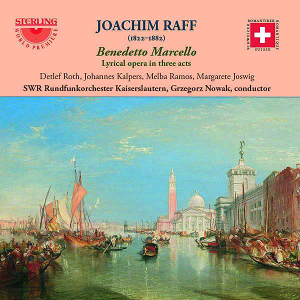 Joachim Raff (1822-82) was born sixteen years earlier than Bruch, but his opera Benedetto Marcello (1878) dates from the end of his career, when he was 56 years old. (He died four years later, of a sudden heart attack.) This was two years after the Ring Cycle got performed in its entirety at Bayreuth.
When Raff composed Benedetto Marcello, he had long ago distanced himself from Liszt, whose musical assistant he had been in his early years. He had also come to reject the complexities of harmony and phrase structure in Liszt's music and in Wagner's. And he had written a fair amount of salon music, a move that led people to look down on him as overly prolific and unoriginal. In part for this reason, several of his operas, including this one, went unperformed in his lifetime.
Today Raff is perhaps best known for two of his symphonies: no. 3, "Im Walde" (In the Forest), and no. 5, "Lenore." I cannot recall having listened to those works or anything else of his. But, hearing this opera now (in its 2002 world-premiere performance, unstaged), I can see that we are dealing with a master craftsman capable of bringing listeners a great deal of enjoyment. He even knows that keeping a comic opera on the short side is a sensible strategy. Die Meistersinger is two and a half times as long! (The Raff lasts only 98 minutes, once one deducts the prelude to Act 3, which the conductor has added. This lovely Barcarolle comes from Raff's Italian Suite for orchestra, yet another piece that went unpublished during Raff's lifetime.)
The libretto, concocted by the composer, is a delightful trifle. There are only four characters (plus an offstage men's chorus). All are historical figures: the composers Johann Adolf Hasse (tenor) and Benedetto Marcello (baritone), the stupendously famous operatic diva Faustina Bordoni, encountered here as a 27-year-old voice student (soprano), and Rosana Scalfi, here presented as a 20-year-old voice student and a fisherman's daughter (mezzo). (The real Rosana was from a wealthy family.)
The bulk of the plot turns on the question of which man will marry which woman. The result is no surprise, since Hasse and Faustina Bordoni would quickly become (and remain) perhaps the most renowned musical couple in the eighteenth century. (And, yes, Marcello and Rosana Scalfi married, too.) Hasse wrote numerous important operas for his prima donna and eventual wife, such as the admirable Cleofide (brilliantly recorded by William Christie) or another one that got released commercially in recent years: Attilio Regolo.
The most dramatic moment in Raff's opera occurs at the end of Act 2, when Marcello, infatuated with Faustina, fights a duel with Hasse over her. Hasse wins the duel but spares Marcello's life, "as proof of friendship" (and, presumably, of admiration). In Act 3 Marcello finally figures out that he can be quite happy with the modestly gifted but devoted Rosana. The opera concludes with the two couples wishing each other well as Hasse and Faustina go off to their great life-adventure together.
The music delighted me throughout. The overture contains various devices suggesting that Raff was listening to Beethoven, Mendelssohn, and other decades-old composers: there's a twice-occurring "Rossini crescendo", and some moments in it seem very Berliozian—even though we tend to think of Berlioz as a composer not easily or often imitated.
An intriguing yet curiously satisfying stylistic diversity pervades the rest of the work as well. The first vocal number in Act 2 begins with a passage of imitative counterpoint in the orchestra that is clearly meant to remind us of the era in question. Later, there is an "olden-style" canticle for offstage men's chorus (who are understood to be singing in the nearby church). And the vocal lines and sung words for the two sopranos play overtly with the question of whether plain melody is less accomplished than coloratura singing or conveys its own honest truth. One clear "progressive" element: the work is sung throughout—no spoken dialogue.
At times, I was reminded of Die Meistersinger, Wagner's own attempt at composing in a nostalgic style: diatonic harmony, regular phrase structure, and so on. Raff tends to sit comfortably in a key for a while, but brings harmonic variety by modulating (and fragmenting the melodic material, as in a sonata-form development) on the way to the next stable area. The predictability of frequent four-bar phrases is interrupted at times by, say, a three-measure phrase, especially in duets involving quick repartee. Certain broad lyrical tunes bear a family resemblance to ones in Der Freischütz and in some earlyish Wagner operas (e.g., Rienzi and Tannhäuser). Other sections are tuneful in a highly conventional way (e.g., more like Mendelssohn) because one or more characters is or are understood as singing a song, such as when Marcello sings a serenade under Faustina's window but then is startled to hear a barcarolle being sung by the diva and Hasse as the two drift by in a gondola. And, throughout the work, strings and solo winds surround a singer with intriguing figurations or charmingly echo her or his melodic line.
All in all, Benedetto Marcello confirms James Deaville's summary (in OxfordMusicOnline): "Raff was able to give to his music a strong sense of drive and direction, and his orchestration was quite effective, even though his forces did not normally exceed Beethoven's in size." To hear what Raff was capable of, I recommend starting with the ensemble that ends the first-act Finale. Here an engaging long melody is beautifully worked out for the four intertwining voices and, at the same time, feels utterly appropriate to this moment in the plot: Marcello has just invited the other three to a dinner party, at which Faustina will sing. Or try the intriguing prelude to Act 2 (with florid clarinet solo) and the scene for Faustina, who is then joined by the lovesick Hasse for a duet that ends with them singing together the words ewig dein (yours forever). Indeed, the whole opening of Act 2 would work wonderfully in concert form, giving a taste of what Raff was able to accomplish in light opera: a genre poised, in a sense, halfway between two worlds in which he was better known at the time, namely grand symphony and salon music.
The performance heard here occurred in the German city of Bad Urach in 2002. The reading is confident, with generally solid singing from vocalists I'd never heard of before. (The baritone who sings the role of Marcello has a fine high register but weak and sometimes approximately pitched low notes.) The Kaiserslautern radio orchestra plays with unity and grace under conductor Nowak. The only musical blemish is the extremely weak men's chorus (which was recruited from a local church for the purpose). I also wish there had been some tasteful sound effects to indicate such things as the gondola on the water or the subsequent duel. Fortunately, the synopsis, and the stage directions in the libretto, make everything clear.
One of the things that CDs can do best today is bring us a forgotten piece in a fine, well recorded performance, with a detailed booklet. Sterling—a small label located in Sweden—wins my admiration, as it did with an important Swedish opera by Olander (entitled Blenda). I have seen praise also for Sterling's release of an opera by the quirky composer-theorist G. J. Vogler, who taught Weber and Meyerbeer and is known to history as Abbé Vogler.
The booklet contains an excellent essay plus the libretto (all in German and English). But the translation of the synopsis and libretto needed an editor to clean up misspellings and unidiomatic wordings. Also, the track list mostly states the name of one character per track. There is thus no way to know that CD 2 track 17 is a gorgeous ensemble in which each of the four characters reflects on what step Marcello will take next. It begins with canonic entries, in transparent homage to the famous quartets in Mozart's Così fan tutte and Beethoven's Fidelio, but it grows distinctly more intense than either of those. It can be heard on YouTube.
The edition was prepared by Volker Tosta, who did the same for other important recorded premieres, e.g., Halévy's La reine de Chypre and the Lachner opera that I mentioned (Catharina Cornaro). We should not underestimate the thoughtful labor necessary to bring a long-forgotten back to life.
In short, here is a previously unknown German comic opera that can be set side by side with Peter Cornelius's The Barber of Baghdad (1858) and Hermann Goetz's The Taming of the Shrew (1874). Its modest proportions and technical demands, its high craftsmanship, and its sensitive presentation of human emotions would make it a hit in college opera studios or regional opera and light-opera companies.
Ralph P. Locke[*]
Melba Ramos (Faustina Bordoni), Margarete Joswig (Rosana Scalfi), Johannes Kalpers (Johann Adolf Hasse), Detlef Roth (Benedetto Marcello). Southwest German Radio Orchestra Kaiserslautern, Bad Urach Amandus Church Male Choir, cond. Grzegorz Nowak.
Sterling CDO 1123/24 [2 CDs]
[This review first appeared in American Record Guide.]
[Above image: Joachim Raff courtesy of Historisches Museum der Stadt Frankfurt]
[*]Ralph P. Locke is emeritus professor of musicology at the University of Rochester's Eastman School of Music. Six of his articles have won the ASCAP-Deems Taylor Award for excellence in writing about music. His most recent two books are Musical Exoticism: Images and Reflections and Music and the Exotic from the Renaissance to Mozart (both Cambridge University Press). Both are now available in paperback, and the second is also available as an e-book. His reviews appear in various online magazines, including The Arts Fuse , NewYorkArts, Naxos Musicology International (for subscribers to Naxos Music Library), and The Boston Musical Intelligencer .