The candles were in place; the rose blush lighting spread a warm glow in St Anne and St Agnes Church; mezzo-soprano Katie Jeffries-Harris was back from 'self-isolation'; and, the semi-circle of VOCES8 had reformed, to bring us Solstice – an evening of songs for winter, both intimate and joyous.
This instalment of VOCES8's Live from London – Christmas began with six newly commissioned works performed by VOCES8 with baritone Roderick Williams, at the VOCES8 Centre in the City of London.  I should begin by saying that this was absolutely immaculate singing and ensemble music-making.  If you haven't got a 'season ticket' you should get one now.  I may have had a few other small reservations, but I cannot fault the meticulous, well-informed, deeply committed singing that VOCES8 offered in these six premiere performances.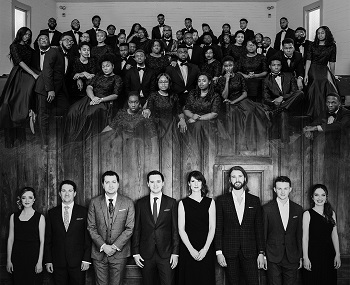 They began with Jocelyn Hagen's Mother's Song, which sets an anonymous, laconic Japanese text:
If snow falls on the far field
where travellers
spend the night,
I ask you, cranes,
to warm my child in your wings.
VOCES8 relished the way that Hagen crafts a gradual sonic expansiveness and establishes a visceral sense of musical space. The singers seemed embraced by the harmonious sweetness, the final chord coloured by a fluttering dissonance of expressive nuance. With their customary relaxed assurance, VOCES8 respected every tint and shade. Taylor Scott Davis' Solstice began and ended with the two sopranos – Andrea Haines and Eleonore Cockerham – singing in a unison of angelic blend, entirely 'one voice'. This whole performance was wonderful 'chamber music'. The harmonic and textural rovings established an otherworldly quality, and we seemed to shift 'out of time', but still the music had real presence: I feel that the hypnotic, magnetic pull of the music is best summarised by one line in the text by Milton Brasher-Cunningham which Davis' sets, "come sit in the dark with me and look at that moon", though the crystallising climax, "oh that we had a ladder to make a constellation of ourselves", was equally magical.
Paul Smith's Let's Walk Together Now sets a rather anodyne text by Daniel Simpson. Smith goes through familiar saccharine progressions, with a few nods to Samuel Barber's Adagio on the way. For this work, VOCES8 were joined by baritone Roderick Williams who took his place at the centre of the semi-circle and led the inspiring ricocheting soundscape of "We'll make home". Williams' own Winter Nights followed. A setting of a poem by Thomas Campion, the composition was, Williams explained – in a customary and very welcome pre-concert interview with the Tigger-like Barnaby Smith, and in a pre-performance introduction – intended to conjure the bonding embrace of fireside warmth. So, think a touch of Dickens meets a John Lewis Yuletide advert. The sonorous haze certainly embodied the buzz of fireside, family and friends that we may in fact be denied this year; Williams had set out to evoke positivity in the face of adversity and this he achieved. Some polyphony suggested tension, and Williams exploits the resonance of the massed lower voices, and the shine of upper group, with acuity, with movement, by turns restless and gentle, in the in-between middle voices. The bluesy colours convey a sense of companionship and comfort; but it was Jonathan Pacey's strong bass line which most impressed – holding all together as well as creating momentum.
Melissa Dunphy's Halcyon Days is a Rutter-esque ditty: a lovely ensemble narrative in which VOCES8 affectionately shaped the phrases and pointed the text; counterpoint and dialogue were counterposed with homophony, and the result was a beautifully concordant and consoling prayer. Williams re-joined the ensemble for Ken Burton's Descend to Earth and the baritone's characteristic attentiveness to the text brought intensity to the rhythmic movement.
So, what not to like? In terms of vocal precision, musical expression and communicativeness, absolutely nothing. But, given that six new works had been commissioned, one wonders why VOCES8 did not seek to engage with a more diverse range of compositional voices. If you like your cadences sugared with an added 9th or 7th, and a harmonic and textural palette of the 'Eric Whitacre meets Gerald Finzi' type, then you'll love these new compositions. And, the six composers have created some beautiful new music, but I found myself longing for a tinge of sharpness now and then – for the bare bleakness of winter alongside the season's fireside comforts.
VOCES8 add generosity, ambition and invention to their musical accomplishments. So, in the 'interval', this screening offered The German Gents, an all-male vocal quartet based in Berlin and here singing from Leipzig, an opportunity to show off their musical and vocal colours. Tausend Sterne sind ein Dom was tender and thoughtful: intensified at times, but never too much so. And, the quartet's attention to the text was exemplary. Their English diction was no less flawless in Jingle Bells, which was meticulously balanced and blended but might have had a dash more levity.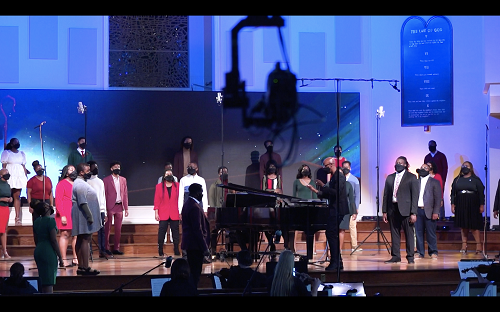 The challenges that Covid-19 has brought to musicians and singers around the word were writ large in the second half of the programme, which moved from the intimacy of St Anne and St Agnes to Oakwood University Church in Huntsville, Alabama.  If Roderick Williams strove for 'positivity' in Winter Nights then The Aeolian Singers of Oakwood University physically embodied that emotion in splendid, celebratory fashion.  Socially distanced, wearing masks, directed by Jason Max Ferdinand, and accompanied variously by small orchestral forces and by pianist Wayne Bucknor – who impressed with his imaginative interlude, merging of Chopin's Third Sonata and We Three Kings! – The Aeolians' sheer love of singing and ensemble music-making was as uplifting as the sonorous shine of their collective sound.
Dan Forrest's arrangement of Silent Night ebbed and flowed with terrific fluidity, delicate at first, enriched by a lovely solo cello melody and sparkling piano droplets, then urged by Ferdinand to bloom with glorious richness, the tempo surging forward, the strings swelling magnificently. In He Is, Carlos Simon develops the attribution of various names to Jesus – "Wonderful, Counsellor, the Mighty God" – which we hear in Handel's chorus 'For Unto Us' from Messiah, blending spiritual, gospel and jazz with originality. Leonard Brown was a communicative soloist, partnered by Malie Ewen whose high commentary on Brown's narrative was expressively sung. Again, Ferdinand showed fine appreciation for the overall structure, creating an infectious momentum and powerful vocal storytelling which culminated with striking harmonic drama.
Given the practical challenges that The Aeolians must have faced during the rehearsals and recording, the musical standards achieved were astonishing. Singing from memory, The Aeolians created a tremendous sense of generosity too, nowhere more so that in 'Mary Had a Little Lamb' (by Cedric Dent), with its orchestral expansiveness and choral fugue. Jacqueline Hairston's spiritual-like Nowhere to Lay His Head unfolded with wonderful naturalness – 'musical breathing', almost – an animated relationship developing between soloist Roderick George and the ensemble as the music progressed to an ecstatic conclusion. I might prefer a sparser version of Gustav Holst's In the Bleak Midwinter, but there was no doubting the attractiveness of Darmon Meader's arrangement with its interesting harmonies and piano à la Keith Jarrett, and soloists Kobe Brown and Matrickie Louissant sang with warmth.
Tiffany Richter's energised solo in Mary Had a Baby (arranged by Roland Carter) inspired The Aeolians to transform the song into a spiritual experience, creating a wonderful sense of jubilation and faith, and this was carried over into an expansive but ever meticulous rendition, with orchestral accompaniment and video complement, of Joy to the World (arranged/orchestrated by Camp Kirkland). They may have been the other side of the Atlantic, but with their rousing contribution to VOCES8's Solstice celebration, The Aeolians offered a consoling musical hug.
Claire Seymour
VOCES8: Jocelyn Hagen – Mother's Song, Taylor Scott Davis – Solstice, Paul Smith – Let's Walk Together Now, Roderick Williams – Winter Nights, Melissa Dunphy – Halcyon Days, Ken Burton – Descend to Earth
The German Gents: Tausend Sterne sind ein Dom, Jingle Bells
The Aeolians: Trad (arr. Dan Forrest) – Silent Night, Cedric Dent – Mary Had a Little Lamb, Carlos Simon – He Is, Hugh Martin and Ralph Blane – Have Yourself a Merry Little Christmas, Jacqueline Hairston – Nowhere to Lay His Head, Trad (arr. Darmon Meader) – In the Bleak Midwinter, Trad/Chopin/Bucknor – We Three Kings (solo piano: Wayne Bucknor), Trad (arr. Roland Carter) – Mary Had a Baby, Trad (arr. Camp Kirkland) – Joy to the World
VOCES8 Centre, London & Oakwood University Church, Huntsville, Alabama, US (live stream and recording); Saturday 5th December 2020.