Led by Artistic Director Anthony Friend, Bandstand Chamber Festival, which presented a memorable series of concerts in the bandstand at Battersea Park this Summer, has returned with a Winter series. Joining forces with St John's Waterloo, they are presenting Spotlight Chamber Concerts at St John's. The festival was planned to start in November, but lockdown forced a postponement of the initial concerts and the Spotlight Chamber Festival opened on Monday 7 December 2020 with a programme of Schubert song, Schwanengesang plus two extra songs, 'Fahrt zum Hades'and 'Auf dem See', performed by baritone Roderick Williams and pianist Susie Allan, with Momentum artists mezzo-soprano Kathryn Rudge and bass Edward Hawkins.
Momentum is a collective of classical artists created by soprano Barbara Hannigan. Recognising that the present climate, with far fewer engagements, will favour well-established artists Momentum aims to support the younger generation of artists by having a leading artist share their main-stage performance opportunities with younger artists.
So, on Monday, Roderick Williams shared the platform with Kathryn Rudge and Edward Hawkins. Williams aligns to the prevailing view of Schubert's Schwanengesang as simply a collection of songs assembled after the composer's death by his publisher (I have heard the opposite view, that it is a coherent cycle, argued appositely by tenor Mark Padmore; that is part of the work's fascination). This means that splitting Schwanengesang between three singers works, and whilst Williams sang the majority of the songs, Rudge and Hawkins took one each as well as adding an extra song each.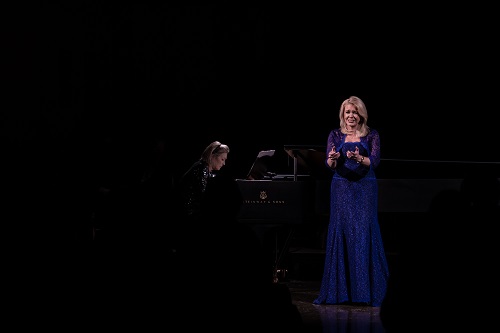 Presentation at the concert was highly dramatic, they are not called Spotlight Chamber Concerts for nothing. The audience, suitably distanced, surrounded the performers on three sides, the singers and pianist were dramatically lit with audience members in near darkness. The result was intended to be immersive and dramatic, which it was. That there were no printed programmes was, of course, something of a bonus, we were able to follow the words on our phones so that to the singers the audience must have looked like assembled shadows with just spots of light.
Schwanengesang was Schubert's publisher's title, something catchy to capitalise on the composer's death. The cycle (or collection) consists of settings of seven poems by Ludwig Rellstab (1799-1860) and six settings of Heinrich Heine (1797-1856) which Schubert was working on just before he died. Schubert had already tried, and failed to get the Heine settings published and there exists a fine copy of the thirteen in Schubert's hand which suggests he was thinking of trying to market them like that. But here we run against our lack of knowledge, did he think of it as a cycle or was he simply being pragmatic? He knew he was ill and having a set of 13 songs to sell was useful. It was the publisher who added the final song, a setting of a poem by Johann Gabriel Seidl (1804-75).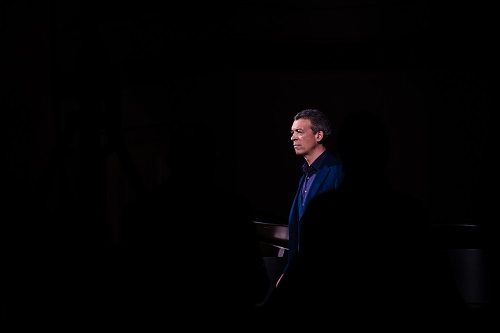 If I had to described Roderick Williams' overall approach to Schwanengesang it would be quietly intense. The songs were often deeply meant, and some were mesmerising in the way he made you hang on every work, yet climaxes were kept in place and reached only when necessary. This was not a big, blustery performance but a powerfully interior one, someone confiding in us. The way the event was staged contributed to this, and throughout Williams was superbly partnered by Susie Allan who mirrored his approach and made some piano preludes and postludes simply riveting. As you would expect from this artist, we could hear every word whilst all was beautifully phrased too.
So, the cycle began with Roderick Williams, an account of 'Liebesbotschaft' which was ardent, yet civilised, an intense personal communication. There was a hint of the gothic in the sombre 'Kriegers Ahnung', whilst 'Frühlingssehnsucht' was urgent, yet highly concentrated, with the last line of each verse given in an unnerving manner.
'Ständchen' was sung by Kathryn Rudge, her quiet phrasing and mellow tone giving the work a serious rather interior feel.
Williams returned for 'Aufenthalt' which was vivid yet intense, without a hint of the operatic that some singers bring to the song. 'In der Ferne' developed from a thoughtful opening to a rather moving conclusion where Williams emphasised the beauty of tone and phrase. 'Abschied' was very quiet and very fast, and absolutely riveting, with some fabulous piano playing from Allan.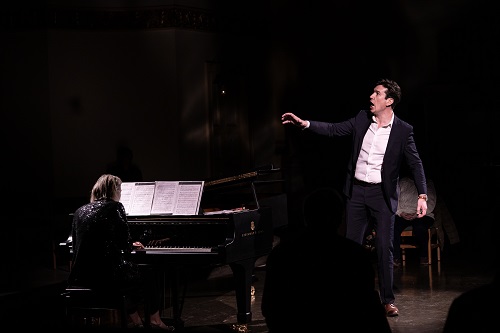 Edward Hawkins then sang the first of the extra songs, 'Fahrt zum Hades' (from 1817 with words by Schubert's friend Johann Mayrhofer). Hawkins combined a simply haunted look with strong drama and fabulous phrasing. He continued on the platform as we returned to Schwanengesang with 'Der Atlas' where Hawkins continued the dramatic intensity of his first song.
'Ihr Bild', as Roderick Williams pointed out, is truly a strange song and very adventurous. Williams and Allan made it haunted and bleak, even though Williams' phrased things finely, developing into something strongly powerful at the very end. 'Das Fischermädchen' was all seductive charm, with just a hint of danger in the last verse.
Kathryn Rudge returned for the second extra song, 'Auf dem See'(another song from 1817 setting Goethe). This was beautifully flowing, yet highly serious with moments of real ardour.
Williams then returned for the final section of Schwanengesang. 'Die Stadt' was highly atmospheric, yet with threatening moments in the piano, and a real inner tension to Williams' performance. Whilst his account of the final verse was powerfully strong, Allan's postlude returned us to the opening mood. 'Am Meer' was notable for its uncomplicated beauty at first, becoming more intense and ending bleakly powerful. 'Der Doppelgänger' had a hushed quietness to it that was so intense it was tense and disturbing.
Williams and Allan ended with a simple story, 'Die Taubenpost' except of course it wasn't simple and there was no really happy end in Williams' thoughtful performance.
Robert Hugill
Roderick Williams (baritone), Susie Allan (piano), Kathryn Rudge (mezzo-soprano), Edward Hawkins (bass)
Schubert – Schwanengesang, 'Fahrt zum Hades', 'Auf dem See'

Spotlight Chamber Concerts at St John's Waterloo, London; Monday 7th December 2020.
Above: Susie Allan, Kathryn Rudge, Edward Hawkins and Roderick Williams. All images (c) Matthew Johnson.