January can be a dull and depressing month, and this year it is particularly difficult to keep faith that a light will eventually shine through the darkness. But, a soul-lifting warmth was offered both by the gentle glow of the candelabras which illuminated the impressively spacious Großer Saal of the Historische Stadthalle in Wuppertal, the venue for this latest Met Stars Live in Concert broadcast, and by the vocal opulence of soprano Sondra Radvanovsky and tenor Piotr Beczała which more than matched the glittering setting.
We began with Verdi. Radvanovsky demonstrated not just the sumptuousness and flexibility of her glossy soprano but also her courage, entering with a shattering cry, "Pace", at the opening of a wonderfully crafted 'Pace, pace, mio Dio' (La forza del destino), swelling with urgency, then fading with despair, and taking us immediately into Leonora's heart as she makes her pained plea for death to bring her the peace in heaven that she has been denied on earth. Accompanied by pianist Vincenzo Scalera, who played with sensitivity and responsiveness throughout the recital, Radvanovsky communicated every ounce of Leonora's desperation and pain as she rues the cruel misfortune which has assailed her. Three times she railed at "Fatalità", first angrily, then softening in defeat, and finally, the harmony moving in new directions, with resignation. One was always aware of the weight and fullness of her dramatic soprano, but she used it judiciously, balancing power with an exquisite messa di voce,and combining technique and artistry in portamento sighs of heart-grabbing expressiveness. Lamenting that she has sought peace in vain, Radvanovsky floated to a shining high Bb on "pace", held time still, and then deepened the colour before fading through the falling portamento. Agitated by the arrival at the hermitage of an unknown intruder, she cursed, "Maledizione!", rising fearlessly, with just the slightest vocal preparation, to a defiant high Bb and sustaining it without falter right to the end of the piano's tumultuous playout.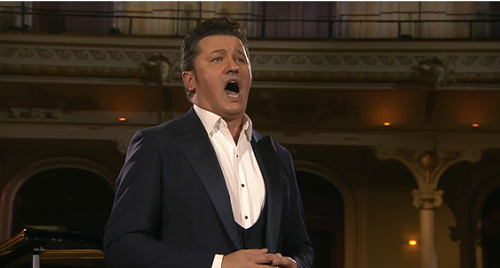 Piotr Beczała's opening item was no less impressive.  'Oh! fede negar potessi … Quando le sere al placido' from Act 2 of Luisa Miller, in which the rejected Rodolfo despairs and reminisces about happier times, requires arresting drama followed immediately by lyrical beauty, and Beczała's steady tone and smooth line stood him in good stead.  The recitative was passion-driven, the tone firm and the upper register particularly strong, but he softened for the aria's reflections, guided by Scalera's gentle introduction which helped us imagine the missing orchestral colours, and the tenor moved the phrases persuasively towards their pained protestations against Luisa's betrayal.  The expressive cadenza, "Ah! mi tradia!  Mi tradia!", throbbed with intensity.
The duo sang an aria each from Giordano's Andrea Chénier relishing both the lyric and dramatic demands. Chénier's 'Come un bel dì di Maggio' – in which he reads one of his poems to Roucher as they languish in prison, awaiting their execution – was lent added poignancy by Beczała's preceding words, in which he hoped and prayed that this year the world may heal, and invited the distant audience to share "the healing power of opera" and the doomed poet's belief in "the beauty of humanity". The Polish tenor was indeed beautifully tender and expressive: the flowing phrases were smoothly articulated before expanding with agility and strength towards the climactic optimism and resilience of the close. Radvanovsky was no less captivating in Maddalena's 'La mamma morta'. Scalera's introduction had just the right balance of melancholy and religiosity, while Radvanovsky was able to cohere Maddalena's vulnerability and valour, revealing the depth of her musical and expressive insight, and vocal stamina. She crested the high arches with absolute focus and flowing lyricism, and shaped the many nuances with refinement and discernment, in a totally absorbing performance. The two singers came together for the opera's final duet, 'Vicino a te s'acqueta … La nostra morte', which had a sustained emotional intensity that was both credible and compelling.
Radvanovsky and Beczała clearly enjoyed their duets.  In Amelia and Riccardo's fervent Act 2 duet, 'Teco io sto … Non sai tu che se l'anima mia … Oh qual soave brivido' (Un ballo in maschera), Beczała's tenor acquired a beautiful softness revealing Riccardo's inner conflicts when reminded that his love is a betrayal of his closest friend, while his pressing complaint, "Quante volte dal cielo implorai/ La pietà, che tu chiedi da me!" (How many times from heaven I implored/ Pity, that you ask from me!) rose to the forte peaks with tremendously confident expansiveness.  The plush acoustic enhanced Radvanovsky's already ample vocal bloom and warmth, but it was the precision and control of her pianissimo phrasing that most touching – the floating lyricism of her vulnerable plea, "Ma tu, nobile, Me difendi dal mio cor!" (Protect me from my heart), for example – and which compelling expressive authenticity from Beczała.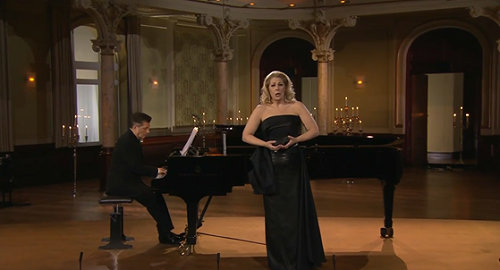 A feast of verismo opened the second half of the programme. Nothing confirmed Radvanovksky's skill and sensitivity more undeniably that the final, desperately fraught phrases of Manon Lescaut's 'Sola, perduta, abbandonata' which are rent by wild, opposing emotions. Soaring through Puccini's terribly visceral acknowledgement, "Ah! tutto è finito", the soprano then suddenly withdrew from fierce heat to tender softness, "Asil di pace ora la tomba invoco …" (In the grave may I find peace), before Manon's life-spirit surged again, "No! non voglio morir". The pathos of the futile resistance was enhanced by Scalera's delicate echoing of the vocal motifs against the piano's evocation of the strings' dark sombreness. The soprano adopted a generally slow tempo here, and in Cilea's 'Io son l'umile ancella' (Adriana Lecouvreur), but she held her audience unwaveringly – and it's hard to imagine anything more spellbinding than the swell and ebb of Cilea's closing phrase. Scalera was similarly communicative in Turiddu's urgent 'Mamma, quel vino è generoso' (Cavalleria Rusticana), which Beczała sang with unrelenting emotional focus. It was good to hear the Polish tenor sing in his native tongue, too, and to hear a rarity. In 'Szumia jodly na gór szczycie' from Stanisław Moniuszko's Halka, Jontek – the outsider in an unhappy love triangle with Halka and the rich landowner Janusz – sits outside the church where Janusz is to marry, waiting for the deceived Halka's arrival. Scalera made the folk fragments sing yearningly while Beczała first seemed to darken his tenor, then relax his voice for Jontek's sweeter memories of childhood pleasures, before summoning an impassioned force as he vowed to follow Halka into the heat of the fire.
Speaking of her hope that the world may soon "hear itself" again – "there is no substitute for hearing the human voice live" – Radvanovsky was visibly moved, and she wiped away a tear as she prepared to sing Dvořák's 'Song to the Moon' from Rusalka, "my favourite aria", which she dedicated to her late father. She gathered herself admirably, but I challenge any listener to keep at bay a choked sob and tear during this tender, spacious performance by Radvanovsky. It was a tough act for Beczała to follow, but in the 'Prince's aria' he produced a sweet softness that had sometimes been lacking earlier in the concert, although – aided by Scalera's terrifically vivid accompaniment – we were left in no doubt of the Prince's emotional turbulence. In the final duet, where a kiss both makes love immortal and a life vanish, soprano and tenor came together once more to communicate, with luxurious strength and fragile delicacy – especially some wonderful head voice delicacy from Beczała – the ecstasy and the torment of human life.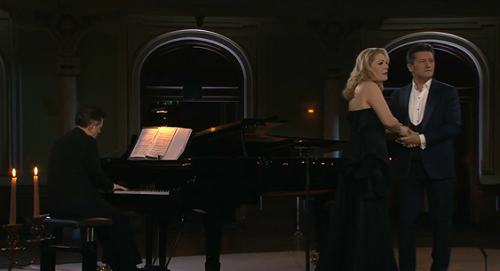 Soprano Christine Goerke was an engaging host, introducing with obvious pleasure the excerpts from duo's performances at the Met that we had an opportunity to enjoy during the concert interval. And, the camerawork was good, especially given that, as General Manager Peter Gelb had explained, the 'control tower' was 4000 miles away from the performance venue, producer and co-producer were located in New York and Washington DC respectively, and there was a one and a half second time delay via the satellite relay. When one misfortunate stagehand found himself stranded in mid-shot on the Hall's gallery, it was a touching reminder of the human determination to enable such performances to go ahead.
Goerke brought proceedings to a close with the observation that after such a performance, the audience at home must be even more eager to return to the opera house. Absolutely. But, Radvanovky and Beczała had consoled us by confirming that, in the soprano's own words, "even through this darkness, music is the light".
Claire Seymour
Piotr Beczała (tenor), Sondra Radvanovsky (soprano), Vincenzo Scalera (piano)
Verdi: 'Pace, pace, mio Dio' (La forza del destino), 'Oh! fede negar potessi … Quando le sere al placido' (Luisa Miller), 'Teco io sto … Non sai tu che se l'anima mia … Oh qual soave brivido' (Un ballo in maschera); Giordano: 'Come un bel dì di Maggio', 'La mamma morta', 'Vicino a te s'acqueta … La nostra morte' (Andrea Chénier); Puccini: 'Sola, perduta, abbandonata' (Manon Lescaut); Mascagni: 'Mamma, quel vino è generoso' (Cavalleria Rusticana); Cilea: 'Io son l'umile ancella' (Adriana Lecouvreur); Moniuszko: 'Szumią jodły na gór szczycie' (Halka); Dvořák: 'Song to the Moon', 'Prince's Aria', Final Duet (Rusalka)
Live streamed from Historische Stadthalle, Wuppertal, 23 January 2021.  Available on demand until 5 February 2021.
ABOVE: Sondra Radvanovsky at the Historische Stadthalle in Wuppertal